China's New Special Economic Zone Evokes Memories of Shenzhen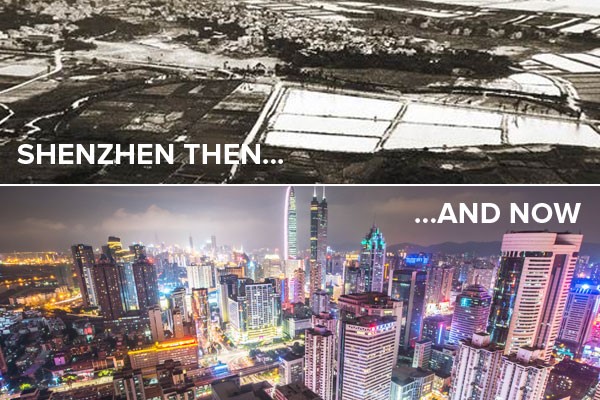 Forty years ago, Shenzhen, China, was a sleepy fishing village of 30,000. But in 1980, then-Communist Party leader Deng Xiaoping designated the southern town as one of four special economic zones (SEZs), thereby giving it special tax benefits and preferential treatment to foreign investment. In the years that followed, Shenzhen expanded at an alarming pace. Its GDP per capita grew a jaw-dropping 24,569 percent between 1978 and 2014, and by 2016 its population stood at nearly 12 million.
Today Shenzhen is universally held up as one of capitalism's great success stories. Because of Deng's willingness to liberate its economy and open Shenzhen up to foreign investment, the once-poor, now-thriving megacity is known as a world-class tech hub, home to the Shenzhen Stock Exchange and one of the busiest financial centers in the world.
Learn how China became a capitalist nation in our slideshow!
Now it looks as if China aims to catch lightning in a bottle once again by designating a brand new region as a SEZ. On April 1, President Xi Jinping announced plans to transform a little-known farmland called Xiongan into a glittering technology and innovation hub, complete with new businesses, universities and state-of-the-art transportation.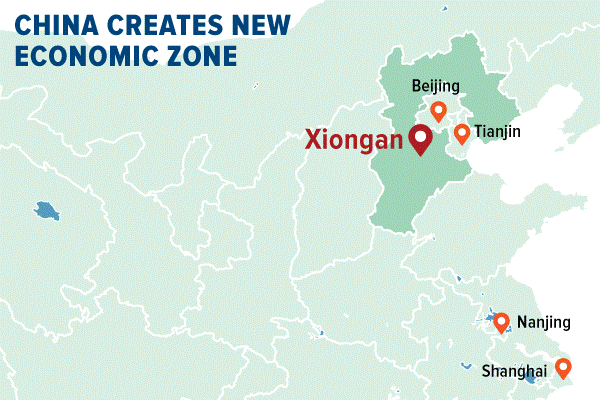 The Xiongan New Area, which will eventually cover 2,000 square kilometers—more than twice the size of New York City—is intended to relieve congestion in the capital of Beijing and nearby Tianjin. Among other potential consequences include spreading the country's economy northwest, away from the bustling coastal cities, and boosting gross domestic product (GDP) growth, which has been trending down for the past several quarters. In the first quarter of 2017, China beat market expectations by expanding 6.9 percent year-over-year—a far cry from the double digit growth in years past, but impressive nonetheless.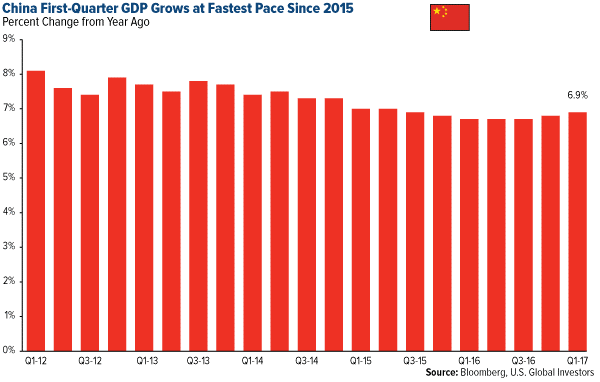 Potential Investment Opportunities Expected
Like Shenzhen before it, Xiongan is expected to offer phenomenal investment opportunities. Remember, we're talking about a brand new megacity literally built from the ground up. According to UBS estimates, the project will require as much as $580 billion over the next 20 years. As you might imagine, massive amounts of raw materials and resources will be needed, including steel, glass, cement and more. Steel demand alone should increase imports of the metal between 12 and 14 million metric tons per year if mass construction begins in the next 10 years, according to Citi Research analysts.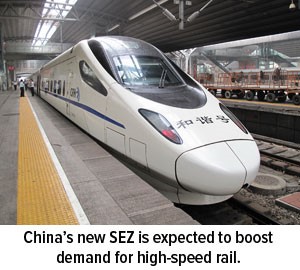 Shares of several Chinese construction, infrastructure, utilities and transportation companies immediately spiked following the announcement. China Railway Group has gained close to 5 percent since the announcement. China Shipbuilding Industry Corp., which recently said it will move its headquarters to Xiongan, has risen nearly 3.5 percent. Huge moves have also been made by Tianjin Port Development Holdings and China National Building Material Co. Perhaps the biggest gainer was building materials supplier BBMG, which soared more than 34 percent April 3, then an additional 10.5 percent the following day.
Cement prices in China are already having one of their best starts in years and are positioned to exceed 2013 levels, which would benefit materials companies such as China National Building Material Co. and BBMG.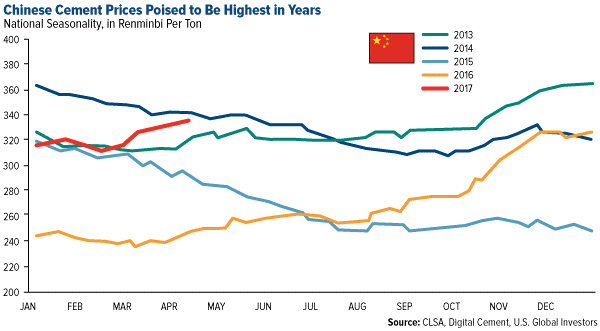 Chinese Real Estate on Fire
Even before the Xiongan announcement, Chinese real estate and home valuations were soaring, with home prices in 70 major cities rising 11.3 percent year-over-year in March. Nine out of the 10 best performers this year in the Bloomberg World Real Estate Index are Chinese firms. Since the start of the month, land developer China Resources Land is up 3.6 percent. Developers Evergrande, Sunac and Country Garden—all of which have exposure to Xiongan New Area and the surrounding regions—are up close to 80 percent so far this year.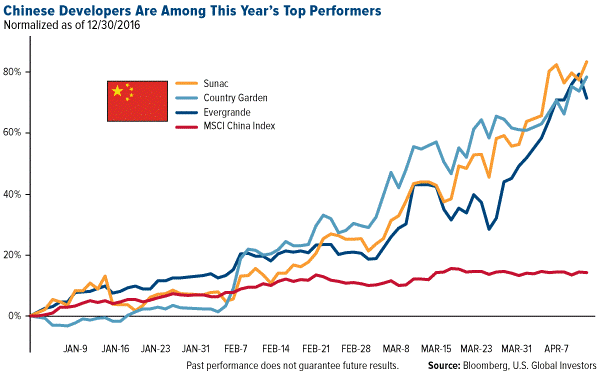 Real estate speculators have reportedly descended on the new economic zone, gobbling up property at such a dizzying rate that the local government has had to step in and temporarily restrict transactions. It's possible a real estate bubble could be forming, but with memories of Shenzhen's grandeur swimming in investors' minds, expectations are understandably sky high.
Learn how you can participate in Xiongan's development!
********
All opinions expressed and data provided are subject to change without notice. Some of these opinions may not be appropriate to every investor.
The Bloomberg World Real Estate Index is a capitalization-weighted index of the leading real estate stocks in the world.
The MSCI China Index captures large and mid-cap representation across China H shares, B shares, Red chips, P chips and foreign listings (e.g. ADRs). With 150 constituents, the index covers about 85% of this China equity universe.
Holdings may change daily. Holdings are reported as of the most recent quarter-end. The following securities mentioned in the article were held by one or more accounts managed by U.S. Global Investors as of 3/31/2017: China Railway Group Ltd., China Resources Land Ltd.
U.S. Global Investors, Inc. is an investment adviser registered with the Securities and Exchange Commission ("SEC"). This does not mean that we are sponsored, recommended, or approved by the SEC, or that our abilities or qualifications in any respect have been passed upon by the SEC or any officer of the SEC.
This commentary should not be considered a solicitation or offering of any investment product.
Certain materials in this commentary may contain dated information. The information provided was current at the time of publication.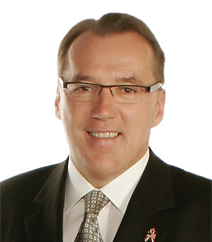 Frank Holmes is the CEO and Chief Investment Officer of U.S. Global Investors. Mr. Holmes purchased a controlling interest in U.S. Global Investors in 1989 and became the firm's chief investment officer in 1999. Under his guidance, the company's funds have received numerous awards and honors including more than two dozen Lipper Fund Awards and certificates. In 2006, Mr. Holmes was selected mining fund manager of the year by the Mining Journal. He is also the co-author of "The Goldwatcher: Demystifying Gold Investing." Mr. Holmes is engaged in a number of international philanthropies. He is a member of the President's Circle and on the investment committee of the International Crisis Group, which works to resolve conflict around the world. He is also an advisor to the William J. Clinton Foundation on sustainable development in countries with resource-based economies. Mr. Holmes is a native of Toronto and is a graduate of the University of Western Ontario with a bachelor's degree in economics. He is a former president and chairman of the Toronto Society of the Investment Dealers Association. Mr. Holmes is a much-sought-after keynote speaker at national and international investment conferences. He is also a regular commentator on the financial television networks CNBC, Bloomberg and Fox Business, and has been profiled by Fortune, Barron's, The Financial Times and other publications. Visit the U.S. Global Investors website at http://www.usfunds.com.
More from Silver Phoenix 500: