Lower Lows Still To Come For Silver & Gold
Yes I want to be abundantly clear, as some still question my perspective, even though I have reiterated this time and again:  I believe metals will see lower lows before this 3+ year correction will end.  And, simply because I noted that I was keeping an open mind in January as to the market proving me wrong by completing an impulsive move off the November lows did not change my primary perspective.  So, I believe I have been rather consistent and clear that my expectation was and has been that lower lows have yet to be seen to complete this 3+ year correction.
However, I do not have a solid downside pattern in place to make me convinced that the run to lower lows will be seen in this downside move.  Yes, I know that we have come down quite nicely from the highs this year, as we expected.  I even repeatedly warned members in our Trading Room not to get sucked into the strongly bullish sentiment in January.  I noted that this rally looked no different than the one that topped in July of last year, or any of the other counter-trend rallies we experienced over the last several years.  And, I even noted how alone I felt making such a statement in January, since everyone was so euphorically bullish about miner and metals at the time.  Yet, dropping from a market high does not necessarily equate to having begun the run to new market lows.
As for the more immediate perspective, you may have seen on Friday that I kept noting an upside set up in the GDX, which may have been on the verge of invalidating.  I continually reiterated my skepticism about a market break down until that pattern invalidated.  The market literally came within one penny of invalidating a potential 1-2, i-ii set up to the upside, but, amazingly, it never did. That upside set up could provide us with a gap up situation on Monday, which may be an opportunity for a long side day-trade in the GDX. The point of invalidation is a break of 20.42.  But, what strikes me about this set up is that we had a relatively good 5 wave structure off the 2/18 low, followed by a decline which retraced just about 99% of that rally.  This was then followed by another relatively good 5 wave structure, which was also retraced 100% by a 3 wave decline, with a bottom of 20.42 seen on Friday. As long as 20.42 holds support, it could provide us with a minimum upside target around 21.50, with the potential to exceed that should this be a more significant bottom.
This one set up is what made me very cautious about downside follow through in metals on Friday.  So, it leaves me with questions of whether a corrective rally is about to begin, or if something much bigger to the upside is about to begin, such as the (c) wave of the bigger b-wave we had been discussing for GLD. We should have more information this coming week, but whenever I am in doubt about a pattern, I will usually allow the market to clarify itself before putting good money to use.  And, of course, should this pattern break below 20.42, it opens up the door for further declines in this segment.
When I look at silver, it provided that lower low that I discussed last weekend, which now gives me a 5 wave structure off the January high.  While it is clearly not as clean a 5 wave structure that we normally see in silver, there is no doubt that I can count 5 waves off the January high.  That is, assuming we begin a corrective rally right away.  Further declines would suggest that this is a corrective wave to the downside, but even a corrective wave can still re-test the 2014 lows. And, should silver break below the 15.50/15.80 support levels, I think we have a good shot at testing the 2014 lows.
So, while it is certainly possible that we are heading to lower lows in the metals, I have nothing by way of wave structure that suggests that is the case in the very near term.  Furthermore, the positive divergences that have developed on silver's 144 minute chart support that 5 wave structure down as being just about completed, and further supports that a rally should begin shortly.  So, the evidence seem to point to the fact that we should be expecting some kind of rally before we are set up to break down to the lower lows we expect.
In the meantime, I intend to use the next rally phase to fully hedge my long term positions.  Furthermore, once we see a i-ii, 1-2 set up to the downside in the metals, at that point, and only at that point, will I position net-short this market one last time.
See Avi's charts illustrating the wave counts on the metals below: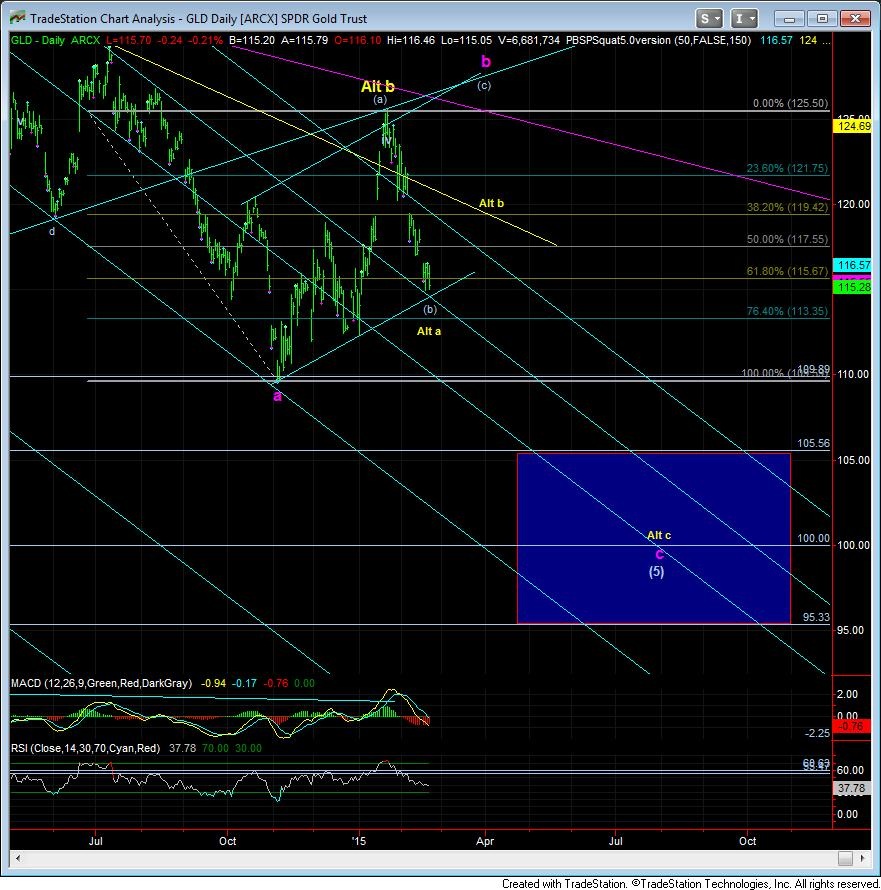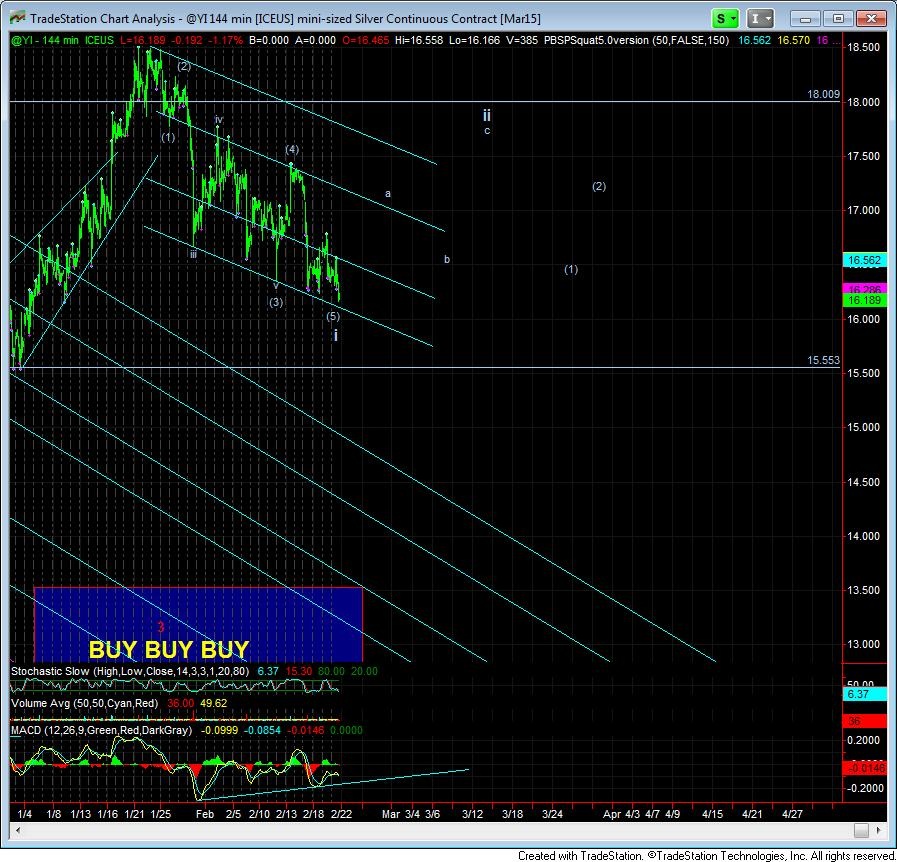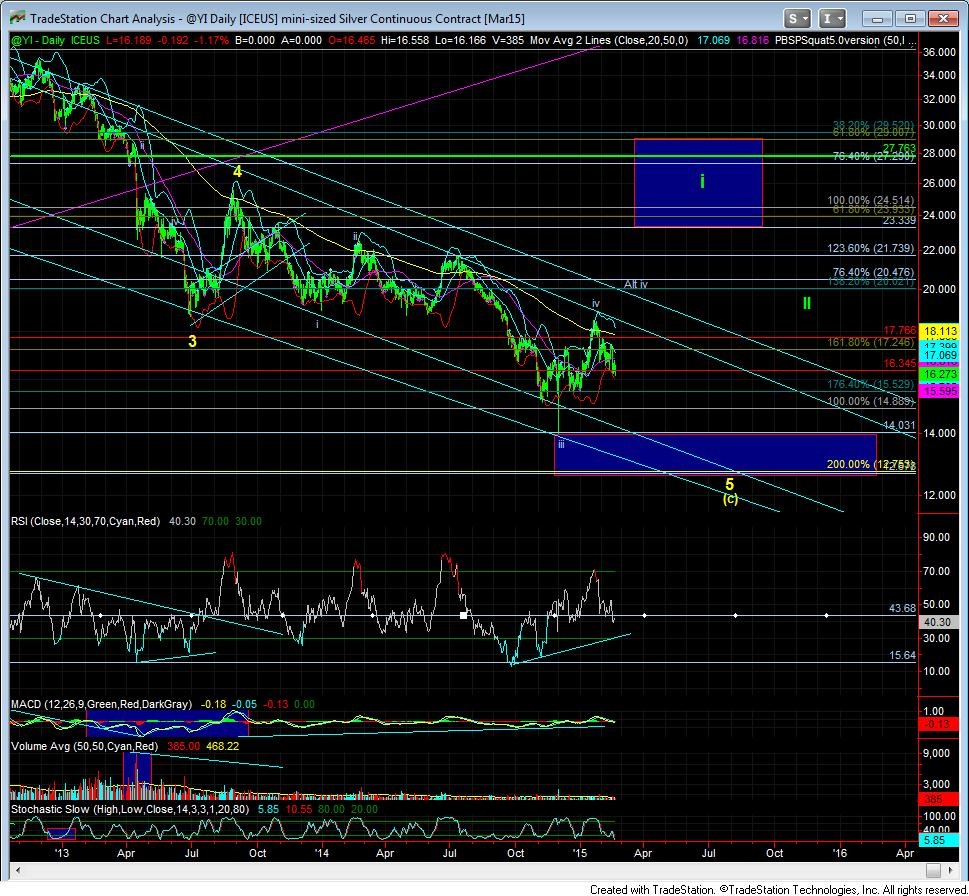 ********
Courtesy of ElliottWaveTrader.net
Avi Gilburt is a widely followed Elliott Wave technical analyst and author of ElliottWaveTrader.net (www.elliottwavetrader.net), a live Trading Room featuring his intraday market analysis (including emini S&P 500, metals, oil, USD & VXX), interactive member-analyst forum, and detailed library of Elliott Wave education. See: https://www.elliottwavetrader.net
More from Silver Phoenix 500: