Perth Mint Silver Bullion Sales Rise 43% In March
– Perth Mint's silver bullion sales rise 43% in March

– Perth Mint's monthly gold coin, bars sales fall 12%

– Gold silver ratio of 32 – 32 times more silver ounces sold

– Gold: 22,232 oz and Silver: 716,283 oz – bullion coins and minted bars sold

– Gold is 2.6% higher and silver surged 3.1% in the shortened week with markets closed for Good Friday tomorrow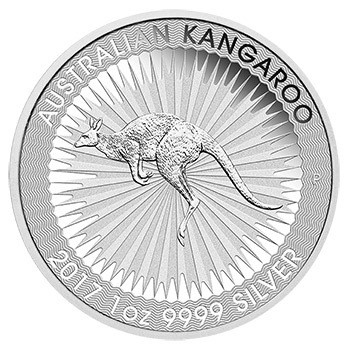 The Perth Mint's silver bullion sales of coins and bars surged 43% in March. Silver sales climbed about 43 percent in March to 716,283 ounces from 502,353 ounces in February, according to a Perth Mint blog post.
Gold bullion coins and minted bars fell in March to the lowest since August last year. Sales of gold coins and minted bars slipped about 12 percent in March to 22,232 ounces from 25,257 ounces a month earlier, the mint said on its website.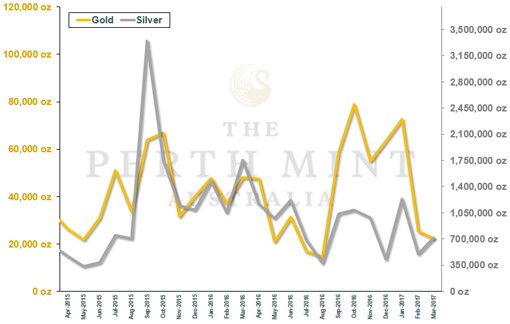 Chart shows total monthly ounces of gold and silver shipped as minted products by The Perth Mint to wholesale and retail customers worldwide. It excludes sales of cast bars and other activities including sales of allocated/unallocated precious metal and Perth Mint Silver and Gold Certificates.
The Perth Mint is the largest gold refinery in Australia, the world's No. 2 gold producer after China. It is one of the largest gold and silver refineries in the world.
Gold and silver prices have surged this week on a weaker dollar and as appetite for risky assets such as equities waned due to geo-political concerns in the Middle East and Asia and deepening tensions between the U.S. and Russia.
Gold is 2.6% higher and silver price is 3.1% in the shortened Easter week with markets closed for Good Friday tomorrow.
Geo-political risks that were dormant are becoming more active. This is leading to renewed risk aversion which should see further gains for gold and silver.
********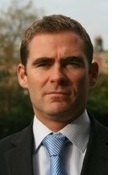 Mark O'Byrne is executive and research director of www.GoldCore.com which he founded in 2003. GoldCore have become one of the leading gold brokers in the world and have over 4,000 clients in over 40 countries and with over $200 million in assets under management and storage.We offer mass affluent, HNW, UHNW and institutional investors including family offices, gold, silver, platinum and palladium bullion in London, Zurich, Singapore, Hong Kong, Dubai and Perth.
More from Silver Phoenix 500: