Silver Bullion Surges 3.5% To Over $20/oz
Silver surged 3.5% yesterday rising 65 cents and closing at $20.04/oz and gold rose by 2% or by $23 to close at $1,348.80/oz after poor economic data in the US underlined deepening concerns about the economic and indeed the monetary outlook.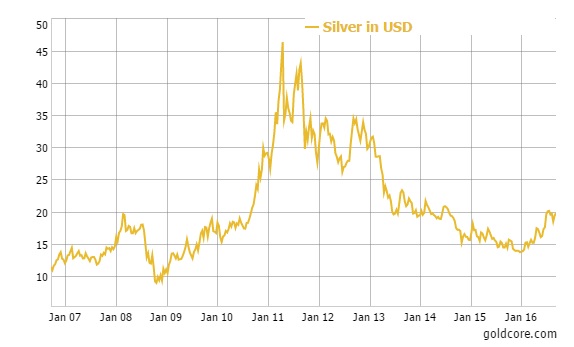 Silver in USD – 10 Years
Gold price ended near its late session high of $1351.83 and has consolidated near these levels in Asia overnight and Europe this morning. Silver surged to as high as $20.124 and has since given up some of the gains but remains near the $20 level at $19.95/oz.
The precious metals also saw gains in other currencies. Euro gold rose to about €1,200/oz and sterling gold to £1,004/oz.
Platinum gained $33 to $1095, and palladium also surged.
Yesterday's abysmal reading regarding the service sector of the U.S. economy following the lackluster jobs report last Friday means that the Fed is likely to remain "looser for longer." We were quoted by Marketwatch yesterday about gold entering the "seasonal sweet spot" against a highly uncertain geopolitical and financial backdrop:
Still, Mark O'Byrne, a director at GoldCore in Dublin, pointed out to MarketWatch on Tuesday that gold is in a seasonal sweet spot with autumn often being gold's best season and the month of September tending to be "one of the best months for gold in recent years."
"Given the backdrop of one of the most uncertain macroeconomic, systemic, geopolitical and monetary outlooks both the U.S. and the world have ever seen, we are likely to see gold do well in its traditionally seasonal strong period," he said in a recent blog.
Gold and silver rose sharply on Friday after the U.S. added just 151,000 jobs in August, according to the Labor Department's report on non-farm payrolls. Much fewer than the 180,000 new jobs that economists were expecting and much lower than the 200,000 that is needed to keep up with new immigrants and others entering the jobs market. The precious metals saw a safe haven bid again yesterday after the Institute for Supply Management's non-manufacturing survey, which clocked in at the lowest reading since 2010.
Gold and silver's technical picture is now very positive – silver's technical picture especially. A close above $21/oz could see silver quickly move to the next level of resistance of $23/oz. Longer term, we expect silver to return to and surpass the nominal silver bullion high of $50/oz seen in 1980 and very nearly again in April 2011 (see chart).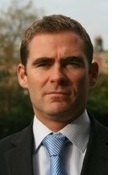 Mark O'Byrne is executive and research director of www.GoldCore.com which he founded in 2003. GoldCore have become one of the leading gold brokers in the world and have over 4,000 clients in over 40 countries and with over $200 million in assets under management and storage.We offer mass affluent, HNW, UHNW and institutional investors including family offices, gold, silver, platinum and palladium bullion in London, Zurich, Singapore, Hong Kong, Dubai and Perth.
More from Silver Phoenix 500: