Silver, Gold & Crude Oil Taking A Breather at Support
Last week all three resources pulled back after posted gains the week before. This week will be interesting with gold trading at support, silver just above and oil looking like its going to come down and test support as well. This week I figure we will see some bounces or breakdowns occur.
Gold ETF Trading Fund - GLD
Gold is currently at support and really giving the support line a run for its money. If this trend line support is broken I figure we will see $87.50, which is the next technical support level.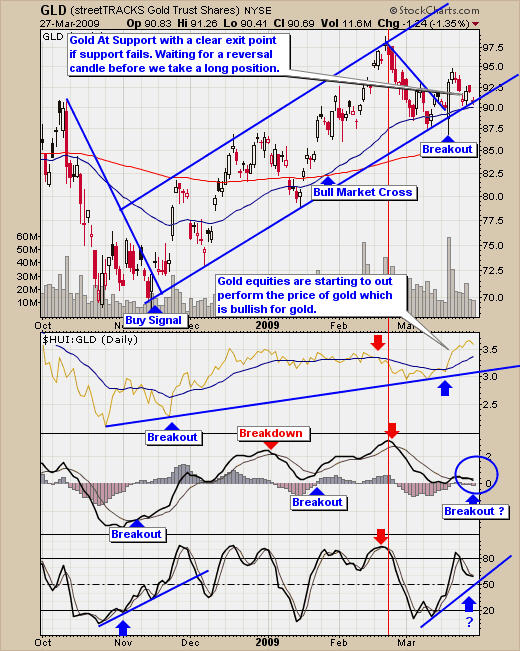 Silver Trading ETF Fund - SLV
Silver is trading just above support. It would be good, if we could have some sideways action and then form a reversal candle sending silver higher. This would generate both a buy signal and low risk setup.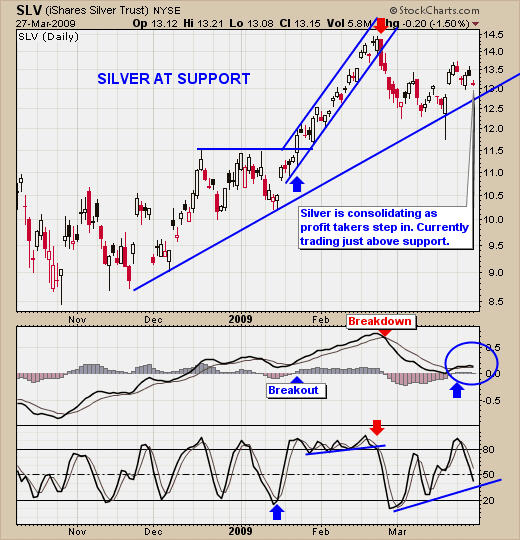 Crude Oil Price
Crude oil has been making its way higher over the past few weeks and we are well in the money on the USO trade. Oil looks to be rolling over here and we could see prices drop very quickly, as this VERY POPULAR commodity has speculators all over it trying to make a quick buck.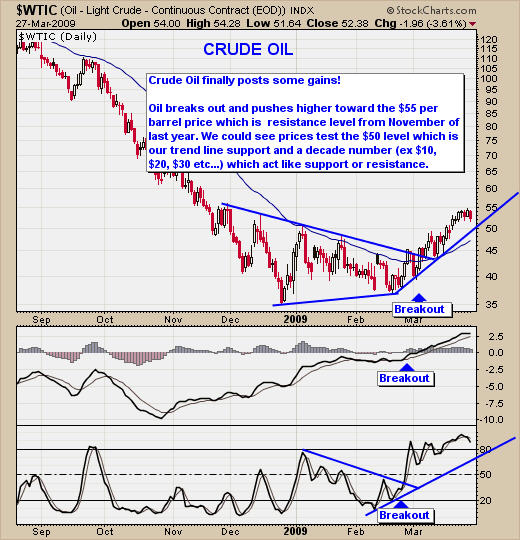 Trading Conclusion
This week we will be watching for bounces/reversals for all three commodities. If things work out, we could be adding some new long positions this week or early next week. But if prices continue to roll over here, we will be taking profits and sitting on the sidelines until new setups happen.
The broad market (Dow Jones Industrials) looks to be over bought in the short term and momentum is currently negative. The Dow, SP500 and Russell 2000 have rallied up to a key resistance level, while the NASDAQ has posted some big gains and almost trading positive for the year. The market overall is mixed, so short term trades, be ready for some whipsaw action.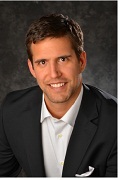 Chris Vermeulen, founder of AlgoTrades Systems., is an internationally recognized market technical analyst and trader. Involved in the markets since 1997. Chris' mission is to help his clients boost their investment performance while reducing market exposure and portfolio volatility. Chris is also the founder of TheGoldAndOilGuy.com, a financial education and investment newsletter service. Chris is responsible for market research and trade alerts for of its newsletter publication. Through years of research, trading and helping thousands of individual investors around the world. He designed an automated algorithmic trading system for the S&P500 index, which solves his client's biggest problem related to investing in the stock market: the ability to profit in both a rising and falling market. He is the author of the popular book "Technical Trading Mastery – 7 Steps To Win With Logic". He has also been featured on the cover of AmalgaTrader Magazine, Futures Magazine, Gold-Eagle, Safe Haven,The Street, Kitco, Financial Sense, Dick Davis Investment Digest and dozens of other financial websites. Chris is a graduate of Seneca College where he specialized in business operations management.
More from Silver Phoenix 500: