'Tis the Season to Trade the Seasonal Charts, Dow, Gold, Silver, Oil and Gas
The market has had a fantastic week so far for stocks and precious metals. The financial and energy sector are underperforming which is a concern, but we continue to hold our positions and will wait until a reversal to lock in our gains.
Things seem to be lining up for stocks and precious metals to take a breather, which is in line with the Dow Jones Seasonal chart below.
Let's take a look…
Dow Jones ETF
You can see from looking at the chart the repeated pattern of price rallies, leading to exhaustion and a test of support, followed by another repeat of the pattern. It looks as if the broad market is setup for a test of support which could happen within 2-4 days. Then as we near the holiday prices will start to drift higher. This pattern occurs more often than not as seen on the Dow Jones Seasonal chart below.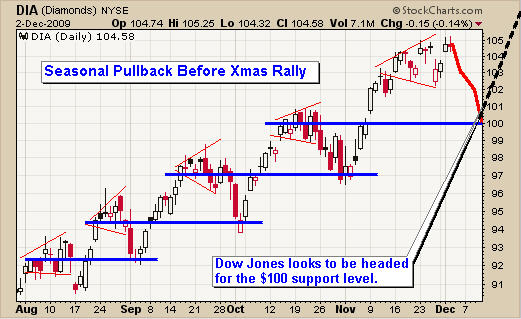 Dow Jones Seasonal Trends
This chart clearly shows weakness in the first half of December and continued strength moving forward. This has not really happened in the past two years which means we are overdue for continued strength.
That being said, the previous two years were bear markets and we are now in a bull market. So the tendency is for buying to continue into year end.
GLD ETF Fund
Gold continues to push higher surprising many of us. It seems as though money is rushing into metals and buyers are not particularly concern about price. While this is great for short term traders and those of us in the trade, we must remember that the faster things go up, the quicker they correct.
Don't get me wrong, I don't think gold is going to crash, I just think we could get a 10% correction before moving much higher. Gold is also trading near the upper end of the trend channel and could have a 2-4 day consolidation with the broad market before pushing much higher.
SLV Exchange Traded Fund
Silver has been underperforming yellow gold but is still a solid investment. It is also trading near the upper end of the trend channel and could have a 2-4 day consolidation with the broad market.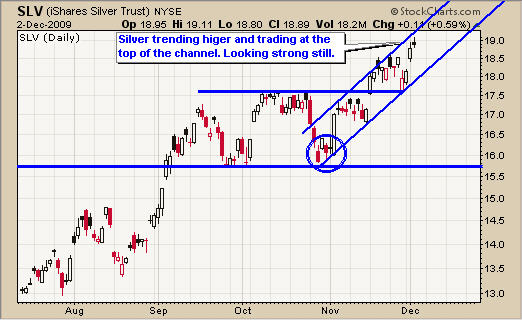 USO & UNG Funds
Oil continues to flag from its breakout back in October. This is a bullish pattern. Last Friday we saw oil open much lower then rally back into the trend channel. This is called an outside day and many times this happens to stocks and commodities as it shakes out the weak traders before starting another rally higher. We will keep a close eye for any low risk entry point.
Natural Gas had a nice rally last week which I mentioned looks a lot like a short covering rally. The price action this week suggests it was and has now made a new low. Today on CNBC it was reported that a new source of natural gas has been discovered. This resource is 20 times larger than the biggest source in the US. Enough gas to last the US over 100 years. This added to the selling on both natural gas and oil today.

Trading Conclusion
Precious metals continue to perform well -- and it's important to note that PM stocks are now moving higher with gold. They have been lagging for some time, but are on fire again. Great to see!
The Dow Jones index and several others look ready for a breather. The timing of these overbought charts bodes well for the seasonal December pause before the holiday rally. Time will tell.
Energy and financials are both underperforming the market and without their participation we will not see the indexes move much higher.
Continue to hold precious metals positions, but be ready to lock in profits if we see the market reverse sharply. I am watching energy for a play, but no setups at this time.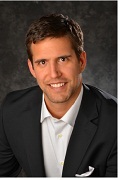 Chris Vermeulen, founder of AlgoTrades Systems., is an internationally recognized market technical analyst and trader. Involved in the markets since 1997. Chris' mission is to help his clients boost their investment performance while reducing market exposure and portfolio volatility. Chris is also the founder of TheGoldAndOilGuy.com, a financial education and investment newsletter service. Chris is responsible for market research and trade alerts for of its newsletter publication. Through years of research, trading and helping thousands of individual investors around the world. He designed an automated algorithmic trading system for the S&P500 index, which solves his client's biggest problem related to investing in the stock market: the ability to profit in both a rising and falling market. He is the author of the popular book "Technical Trading Mastery – 7 Steps To Win With Logic". He has also been featured on the cover of AmalgaTrader Magazine, Futures Magazine, Gold-Eagle, Safe Haven,The Street, Kitco, Financial Sense, Dick Davis Investment Digest and dozens of other financial websites. Chris is a graduate of Seneca College where he specialized in business operations management.
More from Silver Phoenix 500: