Why Italy's Bank Crisis Could Be A 'Ticking Time Bomb'
Just as the dust begins to settle on Brexit, Italy's banking system looms as the next threat to global financial markets.
Previous attempts to resolve Italy's banking sector woes have proven to be less than effective. Non-Performing Loans on the balance sheets of Italian banks represent over 8% of the total loan portfolios. However some analyst fear that this is set to grow to a whopping 15% in the near future.

Results of a stress tests by the European Banking Authority due on July 29 are expected to shed more light on the capital needs of the Italian banking sector, potentially serving as a spark to renewed financial turmoil.
While foreign exposure to Italian banks is relatively low, the bigger worry is that a backlash over a bailout leads voters to revolt, empowering the euroskeptic 5 Star Movement, a political party that is growing in popularity, which has called for a referendum on eurozone membership.
Could we be moving from Brexit to Italeave?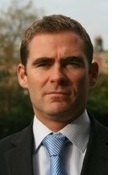 Mark O'Byrne is executive and research director of www.GoldCore.com which he founded in 2003. GoldCore have become one of the leading gold brokers in the world and have over 4,000 clients in over 40 countries and with over $200 million in assets under management and storage.We offer mass affluent, HNW, UHNW and institutional investors including family offices, gold, silver, platinum and palladium bullion in London, Zurich, Singapore, Hong Kong, Dubai and Perth.
More from Silver Phoenix 500: