Barrick Reports Sixth Straight Quarter Of Earnings Outperformance
Strengths
The best performing precious metal for the week was platinum, up 1.53%.
Platinum rose above $1,300 an ounce for the first time in six years on bets that a recovery in industrial demand and stricter emissions rules will tighten supply. The precious metal is up 21% so far in 2021. After years of surpluses of platinum, COVID-19 shutdowns in South Africa saw the deficit widen to 400,000 ounces last year.
Barrick Gold, the most profitable major gold miner, reported a sixth straight quarter of earnings outperformance after boosting production and reducing costs in the fourth quarter. Barrick met its full-year guidance and achieved a 3.8% drop in costs, with all-in-sustaining costs of $929 an ounce. Newmont, the world's largest gold producer, also posted strong fourth quarter earnings with revenue up 14% to 3.38 billion. Bullion averaged $1,876 an ounce in the last quarter, reports Bloomberg, helping miners stay profitable.
Weaknesses
The worst performing precious metal for the week was gold, down 2.39%. Gold fell to the lowest in more than two months on Tuesday due to a stronger dollar and better-than-expected economic data and fell to a 7-month low later in the week. Bullion has had its worst start to a year in 30 years, down already 6% year-to-date. Gold is also suffering from a rally in Treasury yields.
BlackRock Inc.'s $17 billion iShares Silver Trust, which garnered the attention of Reddit investors, saw a near-record outflow of $712 million in the past week, after absorbing $1.5 billion the prior week in its biggest-ever inflow. The prospectus for the physically-backed-by-silver fund has been updated to warn that the fund's authorized participants may be unable to acquire enough of the metal. As a result, the trust "may suspend or restrict the issuance" of baskets of shares, according to Bloomberg.
Six people were killed in a fire at a gold mine in China's eastern province of Shandong. The province will conduct safety checks of all underground non-coal mines and stop production at facilities until they are inspected reports Bloomberg.
Opportunities
The platinum-group metals market could remain "balanced to tight" through 2026, even as battery-powered electric vehicles penetration rates grow at 13% by 2025, Morgan Stanley analysts including Christopher Nicholson say in note. Platinum, palladium and rhodium may swing to a surplus from 2027 to mid-2040s on strong demand for green energy technology. There's also potential for fuel-cell electric vehicles to obtain "technological dominance" in heavy-duty vehicles and a portion of light commercial vehicles may push platinum demand to 4.5 million to 11.5 million ounces by 2050.
AKH Gold, backed by one of Egypt's richest men Naguib Sawiris, signed four contracts to explore in nine blocks of Egypt's gold-rich eastern desert. Bloomberg reports the deals were among 10 contracts signed by the oil ministry this week. Last year the country introduced new regulations that boosted investor interest by limiting levies and removing the requirement that miners form joint ventures with the government.
Exploration company Midas Gold Corp has been renamed Perpetua Resources Corp and debuted on the Nasdaq Thursday. The Idaho-based company aims to restore an abandoned mine in the state to produce both gold and the only mined source of antimony in the U.S.
Threats
DoubleLine Capital chief Jeffrey Gundlach has changed his mind on gold and considers Bitcoin a better trade after the crypto crossed above $52,000 this week. Gundlach tweeted he'd been a long-term gold bull and U.S. dollar bear but has turned neutral on both. Bitcoin may well be "the stimulus asset," he said, a reference to the cryptocurrency's rally amid pandemic-induced stimulus. As seen in the chart below, Bitcoin continues to rise while gold loses steam.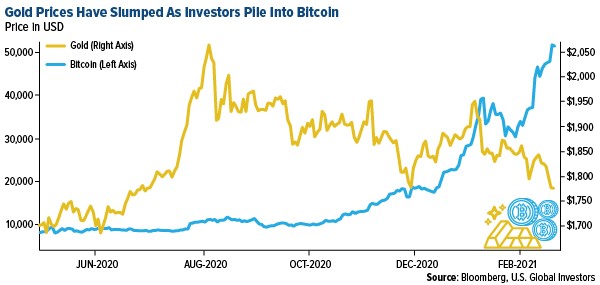 Gold's recent decline could post challenges for miners to keep investor interest. Despite just reporting strong earnings, Newmont is down 5.5% this year while Barrick is down 10%.  Lower gold prices create pressure for miners to keep up profits and dividend payments.
Warren Buffett's Berkshire Hathaway has exited gold entirely, less than a year after moving into the space. According to the latest filings, Berkshire sold its Barrick Gold shares entirely in the fourth quarter after purchasing 21 million shares in the second quarter of 2020.
*********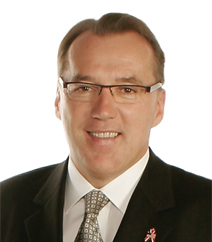 Frank Holmes is the CEO and Chief Investment Officer of U.S. Global Investors. Mr. Holmes purchased a controlling interest in U.S. Global Investors in 1989 and became the firm's chief investment officer in 1999. Under his guidance, the company's funds have received numerous awards and honors including more than two dozen Lipper Fund Awards and certificates. In 2006, Mr. Holmes was selected mining fund manager of the year by the Mining Journal. He is also the co-author of "The Goldwatcher: Demystifying Gold Investing." Mr. Holmes is engaged in a number of international philanthropies. He is a member of the President's Circle and on the investment committee of the International Crisis Group, which works to resolve conflict around the world. He is also an advisor to the William J. Clinton Foundation on sustainable development in countries with resource-based economies. Mr. Holmes is a native of Toronto and is a graduate of the University of Western Ontario with a bachelor's degree in economics. He is a former president and chairman of the Toronto Society of the Investment Dealers Association. Mr. Holmes is a much-sought-after keynote speaker at national and international investment conferences. He is also a regular commentator on the financial television networks CNBC, Bloomberg and Fox Business, and has been profiled by Fortune, Barron's, The Financial Times and other publications. Visit the U.S. Global Investors website at http://www.usfunds.com.
More from Silver Phoenix 500: