Silver continues to wind and grind its way toward a major multi-year low. The chart pattern is increasingly clear for those with the proper perspective. Unfortunately, over the short-run, silver is doing what it tends to do best: frustrate the majority of investors into abandoning the sector, just at the wrong moment.
As in the other major lows which have occurred over the subsequent decade, many will be caught unprepared for the next wave of the advance when it occurs, due to the human tendency to only follow markets which are moving sharply higher. In reality, the best time to be following and investing in a market is when it is grinding into a support zone, so as to be positioned when the next wave manifests.
This is exactly where the silver market finds itself today.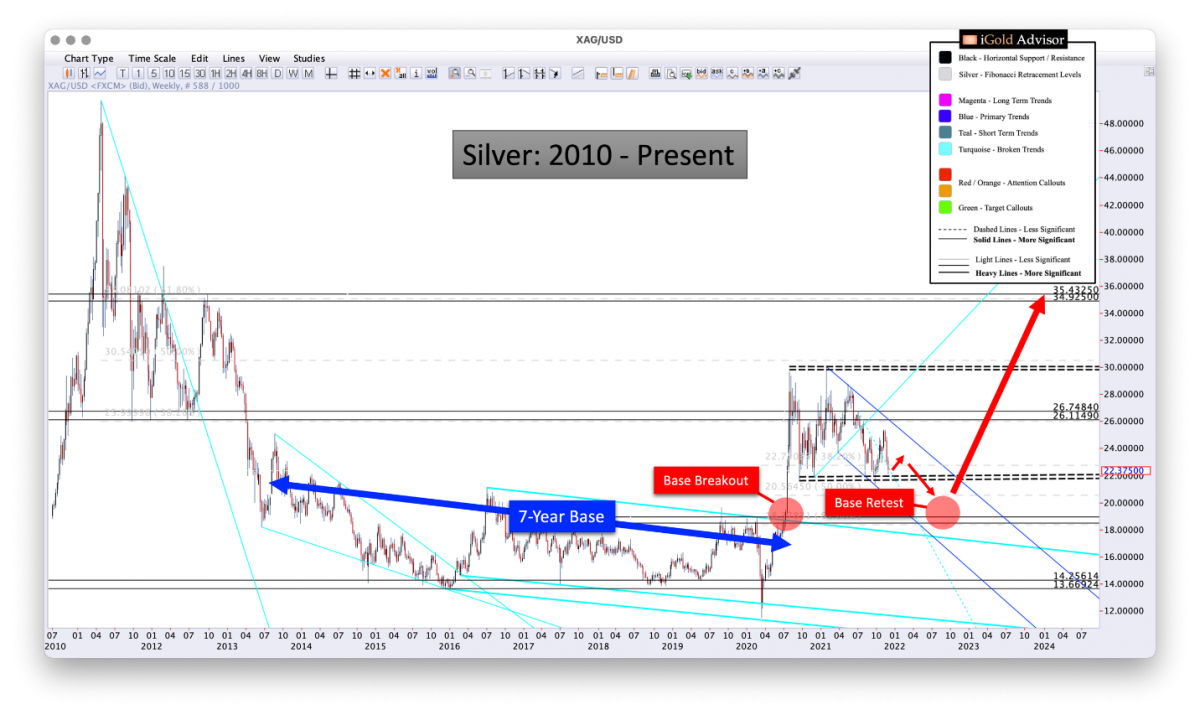 Silver Retesting 7-Year Base
The most important point to remember about the present silver cycle is that the precious metal is currently retesting a 7-year base breakout which occurred just over one year ago.
The slightly slanted 7-year base can be seen clearly on the long-term chart above (blue). Note the grinding-type of price action which featured many overlapping waves beginning in 2013 when silver fell below $24 per ounce. Lower… higher… lower… higher… and finally lower to the 2020 Coronavirus panic-induced bottom near $11 per ounce. These overlapping waves with little to no net change in price are classic characteristics of a long-term basing pattern in technical analysis.
Following the Coronavirus selloff, as...