Chart Analysis Of The Markets
China Approaching Long-Term Support - The Shanghai Stock Exchange Composite Index closed the week at 2,725, down -24% from the January 2018 highs and -47% from the highs of 2015. The Index has not yet reached long-term support, which would come in closer to 2,400, approximately -12% below current levels.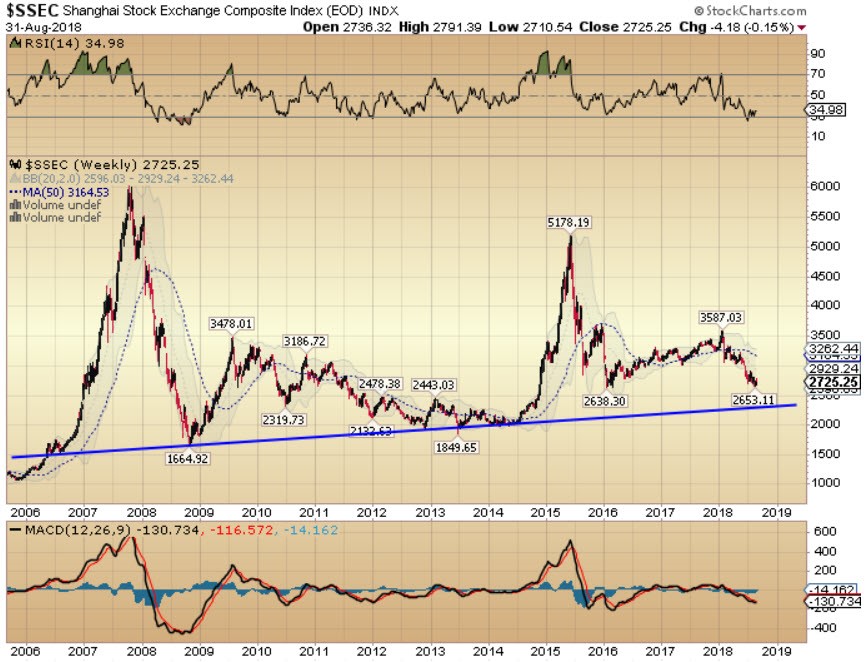 Agricultural Commodities on Sale - In a world where many asset classes have been driven to valuation extremes as a result of record central bank money printing, a select few have been left behind. Agricultural commodity prices, in particular, are about as cheap as they have ever been. DBA, the Agricultural Commodity Fund ETF, hit new multi-decade lows in price this week. DBA is a US dollar denominated ETF comprising 10 individual commodities including Soybeans, Corn, Coffee, Wheat, Live Cattle and Sugar.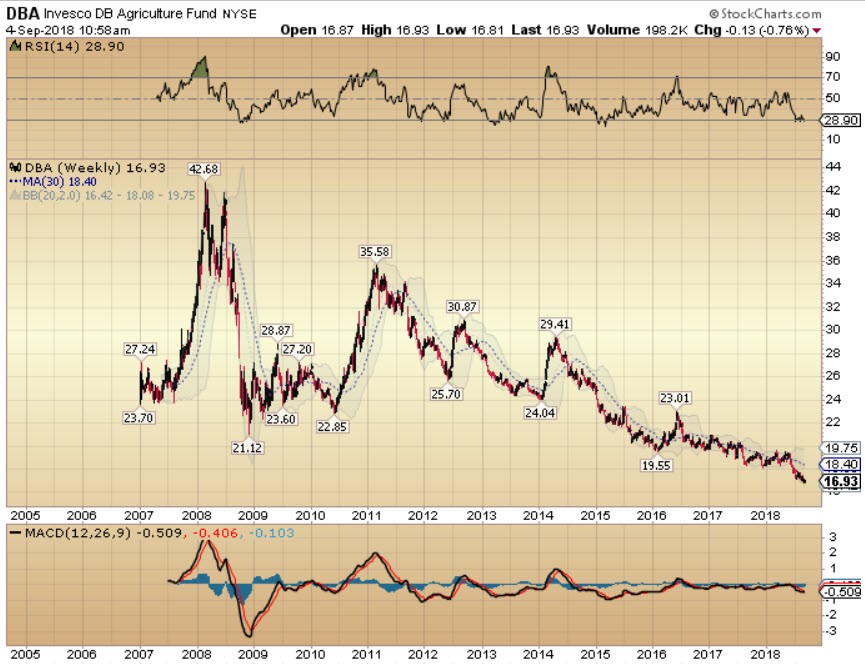 Divergences Appearing - The OEX is a lesser known stock market index in the United States, which comprises the top 100 stocks trading on the NYSE by market capitalisation. The OEX Index made new all times highs in August 2018 but as you can see on the chart, despite new all-time highs,, the relative strength and momentum indicators are not confirming the move. Volume is also dropping off as the market rallies, suggesting the trend is running out of steam.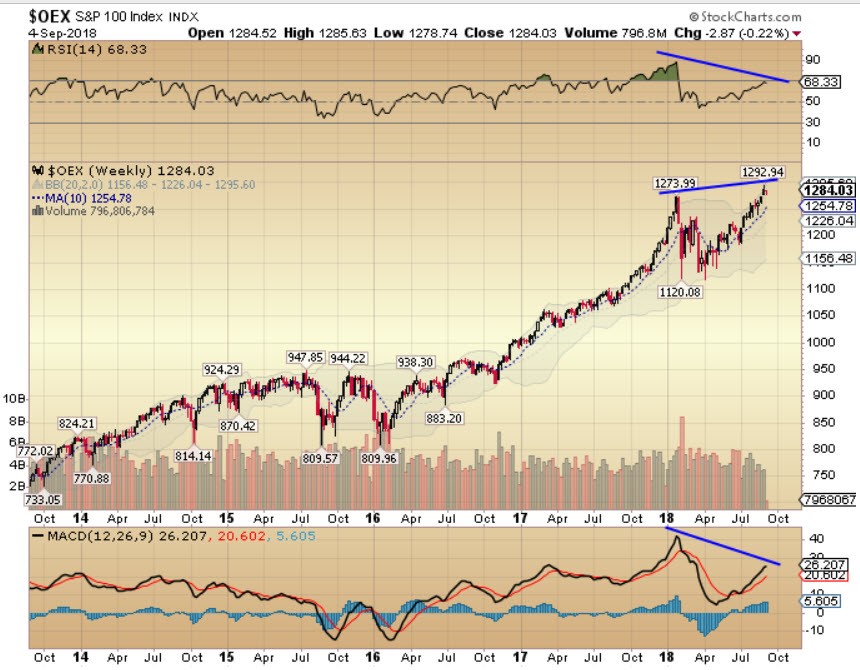 Do You Remember Sun Microsystems? - As I watch Amazon, Apple, Microsoft and Google continue to rip higher week after week, I am reminded of a quote from Scott McNeely, CEO of Sun Microsystems back during the dot com mania of the late 1990's. Sun Micro was one of the tech darlings back then and eventually reached a peak valuation of 10 times revenues, an incredible multiple, even for a high margin tech software company. A couple of years after the tech bust, McNeely made the following comment: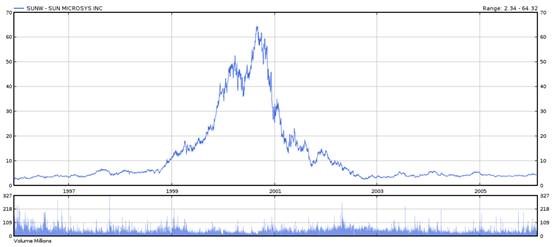 Relative Strength Waning in Europe - European stocks have been consolidating below multi-decade resistance for the last 24 months. I have written that a break out above 415 on the Eurostoxx 600 Index would be a very bullish development and I would take a position in EU shares in the Active Asset Allocator if a break higher was confirmed. European shares have so far failed to muster the strength to break out and now appear to be losing strength and at risk of breaking down. I have marked on the chart key periods when the Relative Strength Index (RSI) has traded below 50. Each time coincided with a sharp break lower in the Eurostoxx 600 Index.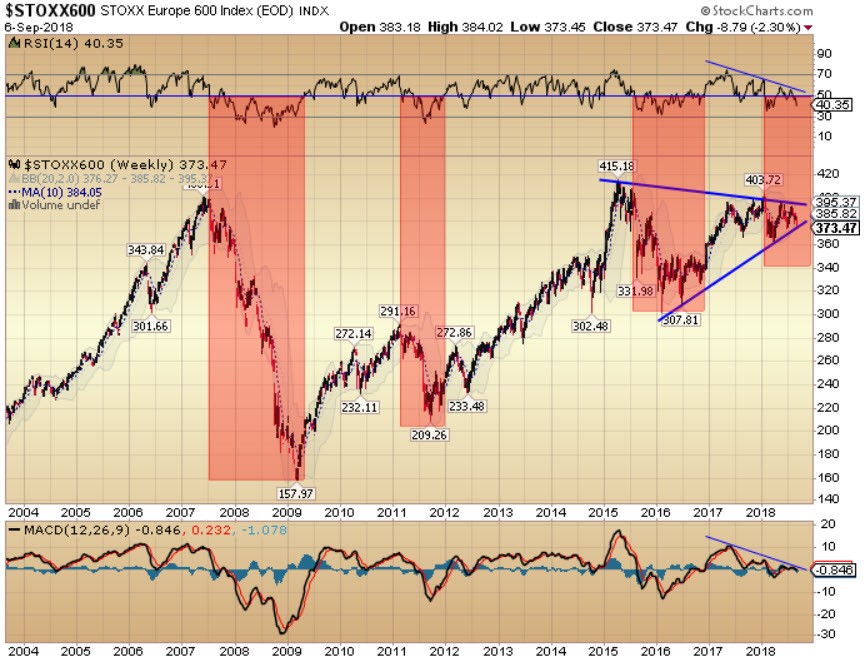 FORWARDED THIS MESSAGE? SIGN UP.
Join a growing list of savvy readers and get exclusive content for free. No spam, ever. Just great stuff.

Brian Delaney, CFA
Director, Secure Investments
Tel: +353 86 821 5911
Website: www.secureinvestments.ie
Email: brian@secureinvestments.ie
LinkedIn: Brian Delaney, CFA
Twitter: @briandelaney_
More from Silver Phoenix 500