The "Child's Guide to Technical Analysis" Looks at Silver...
If you have ever wanted your child to study Technical Analysis so that they can become a millionaire like you, instead of maybe ending up living off you for half their lives and bringing their washing home etc, but have not summoned up the courage to attempt to introduce the subject to them, because of fears of their eyes glazing over when confronted with lots of squiggly lines and a barrage of esoteric indicators, now is your chance because even a 7-year old can grasp what we are going to look at in this article today.
On the long-term chart we can see that silver is in a fine, strong, long-term uptrend that should soon force an upside breakout above the clear line of resistance approaching the $15 level, leading to another substantial advance that will likely be similar in scale and duration to the powerful run up from September 2005 through May of last year. This being so it clearly makes sense to be long silver and silver stocks here, only considering closing out positions in the event that silver breaks down from the uptrend. The fact that gold has broken out to new highs and silver hasn't and is therefore seemingly weaker is not a cause for concern, as silver usually lags gold and breaks out later, as happened before the last strong advance.
It should therefore be as easy as Mary Poppins exclaiming supercalifragilisticexpialidocious (not to be confused with SimpsoncalifragilisticexpialaD'OHcious) to convince your child of the virtue of breaking open their piggybank to buy their first or maybe a small pile of silver bars or coins, and then you can both watch with glee as the price breaks out upside and ascends, plotting the latest price together on a chart on the kitchen table, added to which your child will have all the fun of admiring their silver bars or coins in their secret hiding place. When you finally sell them for a fat profit, the goal of generating a natural interest in your child in the subject of Technical Analysis will have been accomplished in a most agreeable manner.
After you have successfully broached the subject with little Johnny or Suzy, and having read them a bedtime story about Bernard Baruch, John D Rockefeller or even more inspiringly Dick Grasso, you could do a lot worse than slip back to the kitchen and make yourself a mug of cocoa, take the silver chart with the clear trend channel off the fridge door, and consider stockpiling some bars, coins or even ingots for yourself.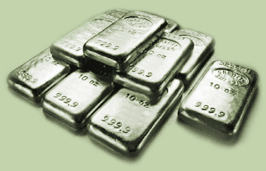 Clive Maund, Diploma Technical Analysis
Copiapo, Chile, 3 November 2007
More from Silver Phoenix 500