This Chinese Sector Continues To Score
Over the summer the Chinese market experienced a major hiccup, causing concern that many Asian industries would be slow, or unable to recover. Since the June collapse, however, there is one sector that continues to score with investors, both here and overseas – sportswear.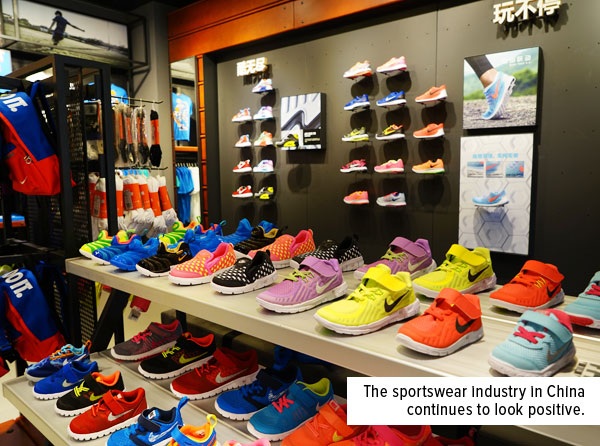 The Great Soccer Revival
Back in March the Chinese government announced its plan to improve the country's outlook on sports, beginning with soccer.  The soccer reform plan issued by the State Council separated the Chinese Football Association from the General Administration of Sports of China, according to China Daily.
Hopes for the reform include decreased corruption and increased professionalism within the sport of soccer, or "football" as it's called in China. Perhaps too, Chinese sports enthusiasts would be able to witness their men's soccer team regain ground, having only competed in one FIFA World Cup back in 2002.
The Chinese education ministry has also played a role in this "soccer revival." The ministry signed a three-year deal with sportswear brand Adidas to help promote soccer in schools, "with the hope of creating interest in the sport," according to Barclays luxury goods analyst Julian Easthope.
Anta Sports, the world's fourth-largest sportswear brand (that just launched its soccer line in November), is one of the direct beneficiaries of such reforms, in addition to better-known names like Adidas, Nike and Puma. Anta has seen steady growth since the beginning of this year – keeping pace even throughout the rough summer downfall.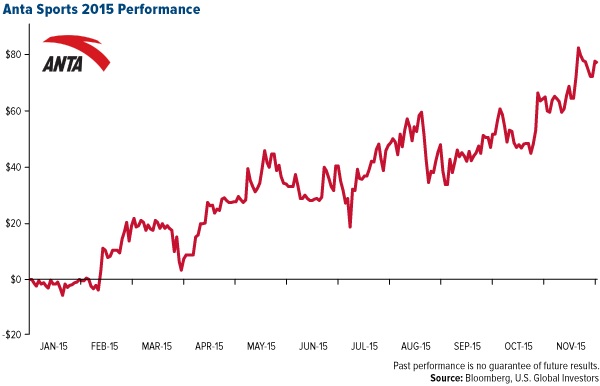 Follow the Leaders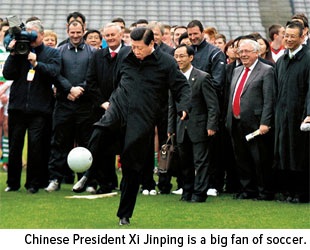 Perhaps another reason the people of China are paying more attention to soccer now is current leader Xi Jinping's love for the sport. Average Chinese citizens look up to their leaders, and often will follow or play their leaders' sport, explains portfolio manager Xian Liang who grew up in Shanghai.
Mao Zedong, for example, was best known for his passion for swimming. "In the 1950s and 60s public swimming pools were built all over Shanghai, just because Mao Zedong was a devoted swimmer and swam across the Yangtze at the age of 73," says Xian.
Similarly, Deng Xiaoping, paramount leader of China from 1978 to 1992, was remembered for playing bridge, a card game also enjoyed by Warren Buffett and that Deng learned in France as a young student and revolutionary.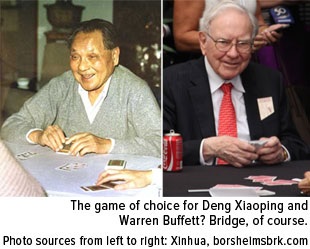 Mao and Deng enjoyed soccer, too. Mao played goalie in high school and Deng collateralized his clothes to pay for a soccer game ticket in Paris in his earlier years.
China's Catching Up to America's Love for Sports
Past game preferences aside, it's clear that Xi's ongoing spirit for soccer, paired with the opportunities presented by recent reform, is transforming China's outlook on sports as well as consumer habits.
Although America still beats China when it comes to sportswear spending per capita, China is catching up. Spending per capita in China is U.S. $17 per year, compared to U.S. $285 per year spent by Americans, according to Barron's. Nevertheless, Deutsche Bank highlights Chinese sportswear sales at 16 percent, surpassing that of the broader retail market.
As a more health-conscious, sports-oriented society continues to emerge, Chinese luxury shoppers could also find new interest in sportswear brands that fit their active lifestyles a bit differently than say, Louis Vuitton and Gucci would.
No matter how you look at it, the industry is changing and sportswear brands continue to score, while other sectors have come up short.
********
Past performance does not guarantee future results.
All opinions expressed and data provided are subject to change without notice. Some of these opinions may not be appropriate to every investor. By clicking the links above, you will be directed to third-party websites. U.S. Global Investors does not endorse all information supplied by these websites and is not responsible for their content.
Fund portfolios are actively managed, and holdings may change daily. Holdings are reported as of the most recent quarter-end. The following securities mentioned in the article were held by one or more of U.S. Global Investors Funds as of 09/30/2015:  ANTA Sports Products Ltd, NIKE Inc.
More from Silver Phoenix 500