Commodities, FOREX And Stocks Forecasts
We should now begin to see a drop in WTI over the next couple of months and into 2017. So far the last few weeks have been as forecast and the next down phase we have been modelling for months is now due.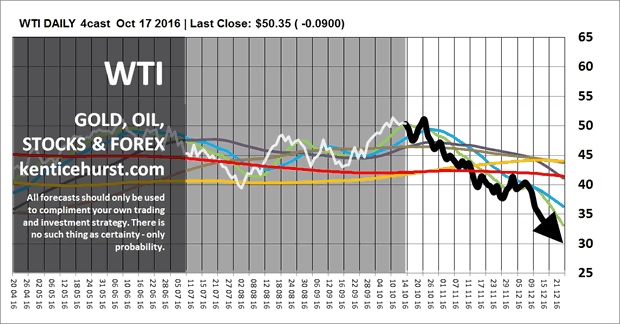 We continue to forecast a period of Dollar and Yen strength over the next few months, which will have an impact on many of the markets we forecast. We have been forecasting for some time that the UK Pound would be the weakest of the major currencies going forward. Subsequently, we got our drop last week, a little earlier and deeper than forecast…but none the less well within our forecast parameters.
Our forecast for a new down leg down in the Euro against the US Dollar has remained on track for some time. Although we didn't quite get our last little bounce, we do now appear to be beginning the next Dollar bull phase, which could see parity within months.
We are forecasting a correction in global stocks over the next six months. Moreover, we think the SPX along with most of the major indices have put in a top, which fits in well with our commodity and FOREX forecasts.
Our S&P500 forecast has for some time been indicating that we are on the verge of a period of weakness. However, it may take a few more weeks before we begin to see the market drop in earnest. Our forecast has again remained on track for weeks now - and we are still expecting a drop over the next few months.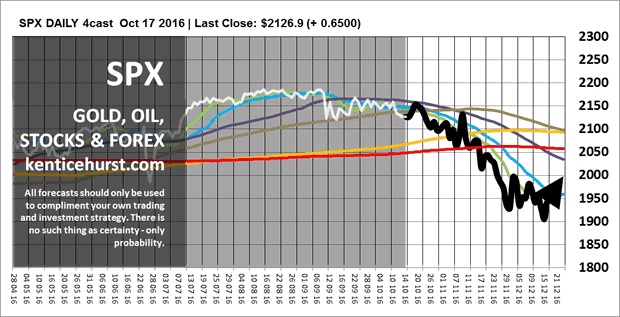 We are still forecasting a new down leg in commodities, a stronger US Dollar and an even stronger Yen during the fourth quarter of this year. Furthermore, we anticipate these dynamics will create the conditions for some key markets to sell off for a period which will relieve some over-bought conditions necessary for a healthy market.
Our short-term forecasts are a representation of our medium and long-term forecasts, which always show the full picture, when prices tend to be more random day to day than they are week to week or even month to month. Our short-term forecasts are always anchored against these larger patterns that barely change from week to week, which allows us to be so confident with our shorter-term forecasts in spite of the increased randomness in the short-term.
Ken Ticehurst been a gold trader for over a decade and is currently developing a unique gold price forecasting system using fractal analysis and unique algorithms. He creates forecasts using different patterns that occur over daily, weekly and monthly time frames. In his view news does not move prices over the long-term, but rather that prices move news over the long-term. Human nature demands an explanation for every price move. It is his philosophy that day to day and even week to week moves are just noise disguising the long-term trends.
Ticehurst has a BSc.(Hons.) in Product Design from the University of the West of London with a commercial background in data analysis and research. Ken has been involved in markets as diverse as classic cars, construction and real estate. He has seen bubbles grow and deflate time and again, subsequently giving birth to his galvanizing interest in the underlying sentiment that drives the fear and greed phases. Ken's website is:
http://www.kenticehurst.com
More from Silver Phoenix 500: