Crude Oil Reverses - Was That THE Bottom?
Trading position (short-term; our opinion): No positions are justified from the risk/reward perspective.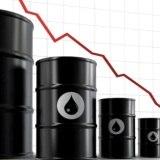 Crude oil declined yesterday, but the session was not without a rebound. In fact, the move higher continues also today as black gold is at almost $44. Have we just seen a major triple bottom in crude oil?
This could be the case, but for now it's not very likely. We are not seeing substantial signs of strength while we should have been seeing them it if we were after a major bottom. It seems likely, however, that we are seeing a local bottom. Let's take a closer look at the charts to find out (charts courtesy of http://stockcharts.com).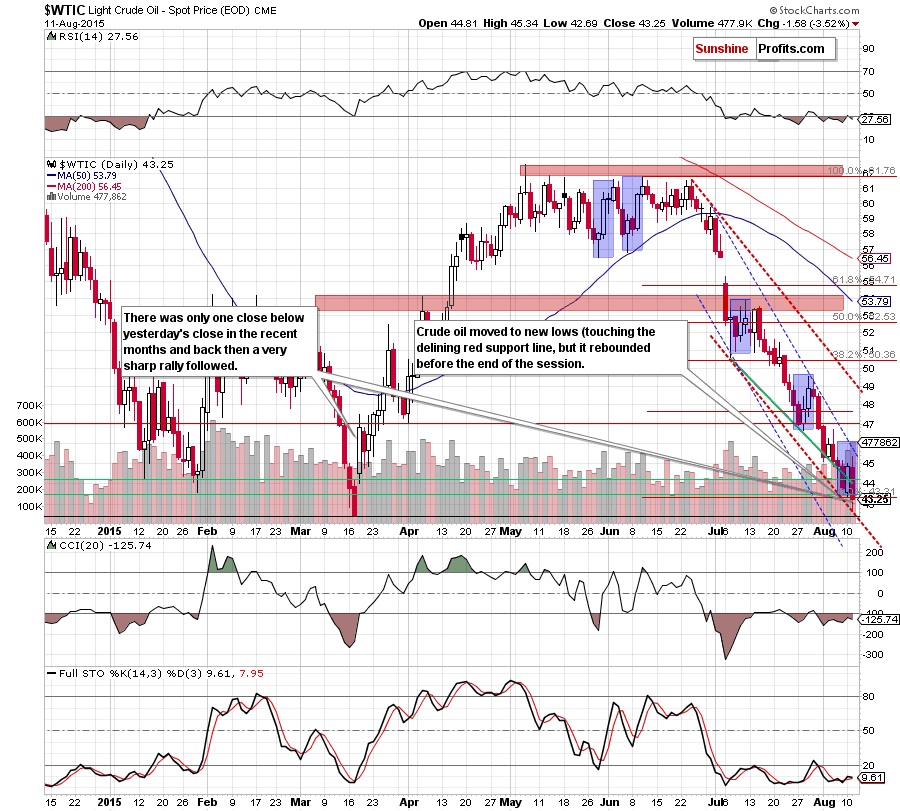 In our previous commentary, we wrote the following:
(...) Crude oil is about to reach its strong support, so we can expect to see a corrective upswing relatively soon (...) Precisely, crude oil moved below the first of the horizontal support levels, but is about to reach the combination of the second one (Jan 2015 low) and the declining red support line, which could trigger a bigger corrective upswing.
From today's point of view, we see that the commodity reversed and rebounded after a drop to the above-mentioned support area. Thanks to this upswing, light crude invalidated earlier breakdown under the first of the horizontal lines and the green support/resistance line based on the previous lows. This is a positive signal, which suggests that we could see further improvement - especially when we factor in the size of volume that accompanied yesterday's move (it was much bigger compared to what we saw in previous days). Additionally, the RSI and Stochastic Oscillator generated buy signals, suggesting that reversal may be just around the corner.
If this is the case and the commodity increases from here, the initial upside target would be around $45.52, where the upper line of the blue declining trend channel is. However, if this resistance is broken (and given the significance of the support levels that are being currently reached it seems quite likely that it will be broken), the next upside target would be around $47.05-$47.71, where the Apr low and the 23.6% Fibonacci retracement (based on the entire Jun-Aug decline) are.
The above remains up-to-date. Crude oil moved once again to the declining red support line and reversed. It continues to rally also today (being at $43.70 at the moment of writing these words) and while a daily rally is not very significant on its own, in light of the support levels that were just reached, it is a bullish signal.
Summing up, the situation in crude oil is now more bullish than not for the short term, but it's not bullish yet to justify opening long positions in our opinion. We believe that the outlook for crude oil is not bearish enough to justify opening another short positions either. In fact, we believe that taking profits off the table yesterday was a good idea. We will continue to monitor the market, look for another profitable trading opportunity and report to you accordingly.
Very short-term outlook: mixed

Short-term outlook: mixed

MT outlook: mixed with bearish bias

LT outlook: mixed with bearish bias
Trading position (short-term; our opinion): No positions are justified from the risk/reward perspective. We will keep you - our subscribers - informed should anything change.
******** 
  Curtesy of http://www.sunshineprofits.com/
Nadia is a private investor and trader, dealing in currencies, commodities (mainly crude oil), and stocks. Using her background in technical analysis, she spends countless hours identifying market trends, major support and resistance zones, breakouts and failures. In her writing, she presents complex ideas with clarity that enables you to easily understand market changes, and profit on them. Nadia is the person behind Sunshine Profits' 3 premium trading services: Forex Trading Alerts, Oil Trading Alerts, and Oil Investment Updates.
Przemyslaw Radomski, CFA, is the founder, owner and the main editor of SunshineProfits.com.
More from Silver Phoenix 500: