FOREX Large Speculators Reduced US Dollar Bullish Bets Last Week For 2nd Week
USD net speculator positions edged down slightly last week to $40.27 billion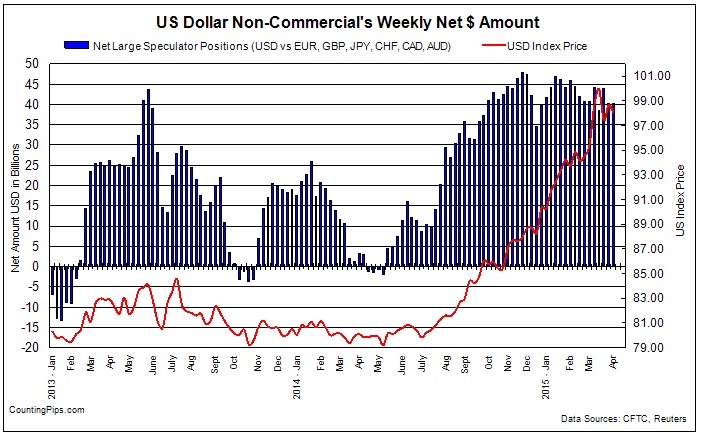 The latest data for the weekly Commitment of Traders (COT) report, released by the Commodity Futures Trading Commission (CFTC) on Friday, showed that large traders and currency speculators slightly decreased their overall net bullish positions for the US dollar last week as the US dollar bets fell for a second week.
Non-commercial large futures traders, including hedge funds and large speculators, had an overall US dollar long position totaling $40.27 billion as of Tuesday April 7th, according to the latest data from the CFTC and dollar amount calculations by Reuters. This was a weekly change of -$0.10 billion from the $40.37 billion total long position that was registered on March 31st, according to the Reuters calculation that totals the US dollar contracts against the combined contracts of the euro, British pound, Japanese yen, Australian dollar, Canadian dollar and the Swiss franc.
The latest data leaves the US dollar speculative level just slightly over the $40 billion level for a third straight week. The total spec level has only fallen below the $40 billion mark once (on March 24th) this year as speculators have maintained a strong bullish sentiment for the dollar.
Overall Speculative Net US Dollar Contracts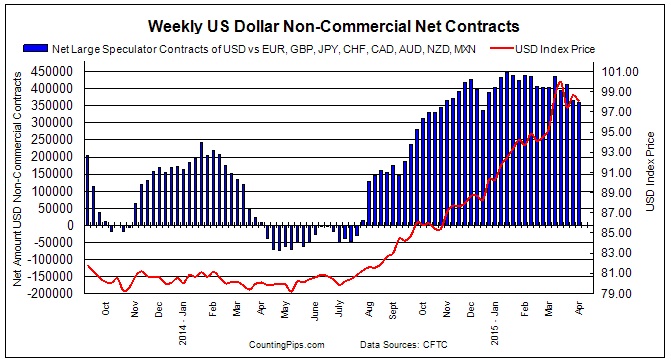 In terms of total net speculative contracts, overall US dollar contracts fell last week to a total of +361,335 contracts as of Tuesday April 7th. This was a weekly change of -5,305 contracts from the total of +366,640 contracts as of Tuesday March 31st. This total US dollar contracts calculation takes into account more currencies than the Reuters dollar amount total and is derived by adding the sum of each individual currencies net position versus the dollar. Currency contracts used in the calculation are the euro, British pound, Japanese yen, Swiss franc, Canadian dollar, Australian dollar, New Zealand dollar and the Mexican peso.
All information contained in this article cannot be guaranteed to be accurate and is used at your own risk. All information and opinions on this website are for general informational purposes only and do not in any way constitute investment advice.
********
Courtesy of http://countingpips.com/
More from Silver Phoenix 500