Gold, Silver, Oil & Natural Gas Trading Analysis
The rising tide lifts all boats, and that is exactly what we saw last week. Gold, silver, oil, natural gas, and stocks all put in a solid bounce last week.
All our funds put in solid moves with GLD, SLV and GDX all breaking out of their down trend channels which is bullish. While they have generated breakout buy signals we continue to wait for more price action to unfold before putting our hard earned money to work. Each of these funds currently have over 3% down side risk so no position will be taken at this time.
During breakouts is when "Breakout Trader's" take positions which surges prices higher once the resistance level is broken. While this method can produce big gains, I tend to avoid this method because of two critical points. First, downside risk is generally 8+%, and second breakouts have a high failure rate.
That being said we continue to let our funds/commodities unfold so we can enter when risk is below 3% and the odds are more in our favor.
GLD - Gold Trading ETF
GLD broke out last week generating a buy signal. While this is great to see, I continue to wait for a test of the breakout which should set us up with a low risk entry point similar to the one we had in May. We have 4 Blue arrows and are waiting for my signature low risk setup.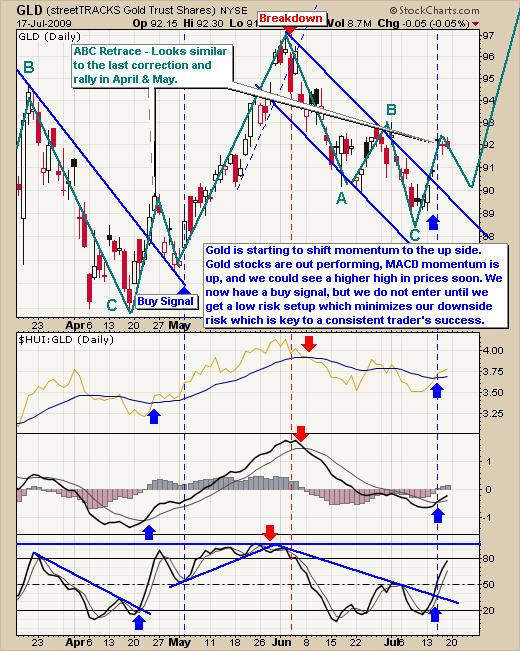 GDX - Gold Stocks ETF
Gold stocks have bounced and are currently out performing the price of gold which is bullish for gold. Gold stocks like the gold miners typically are a leading indicator for gold bullion. We are now waiting for a low risk entry point.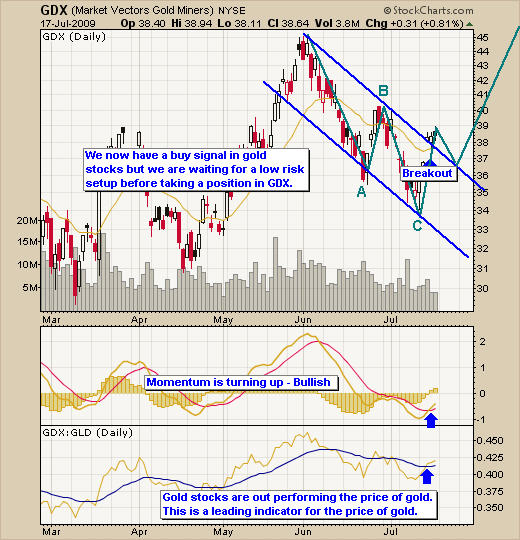 SLV - Silver Trading ETF
Silver is in the same position as gold and gold stocks. We are now waiting for a low risk entry point.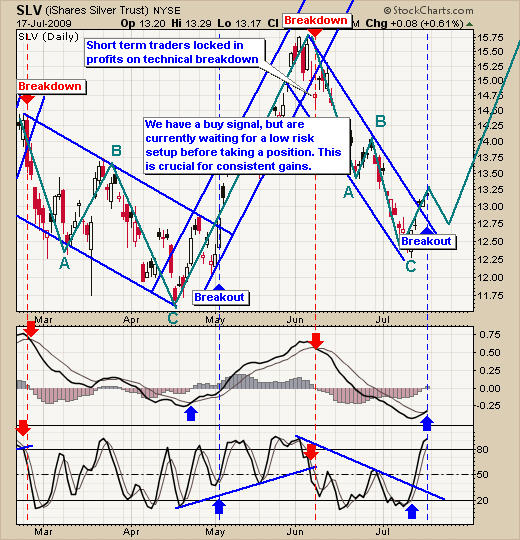 USO - Crude Oil Trading ETF
The crude oil etf pulled back to the support zone which we expected a few weeks back. We are now seeing a bounce off this support zone but oil is currently trading at resistance which is the 50 day moving average. Momentum is still down therefore we must give this fund more time to fully correct before pulling the trigger and taking a position.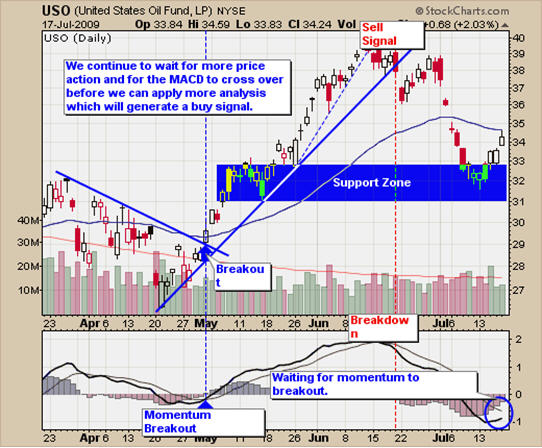 UNG - Natural Gas Trading ETF
Natural gas had a big technical breakdown a couple weeks ago and it needs more time to build a foundation/bottom before a low risk entry setup will be generated.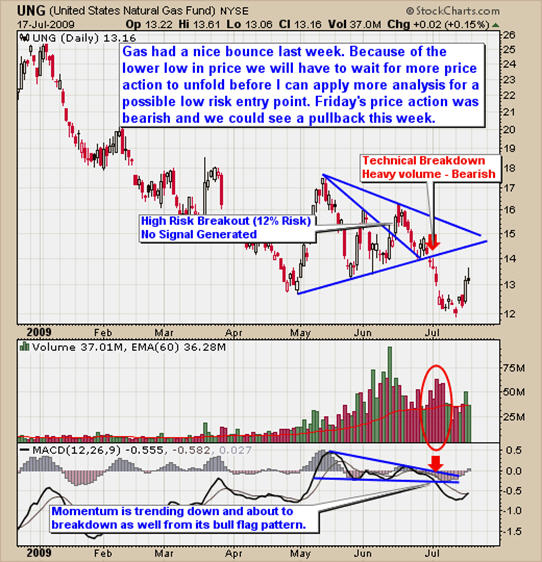 Technical Trading Conclusion
Precious metals broke out to the up side which we have been expecting. Precious metals and PM stocks are now on a buy signal but at the current prices, risk is much too high. We continue to wait for my low risk setup which provides the best odds for the commodity/ETF to follow through with its breakout. We could get a buy signal for these funds within 4 days if we are lucky but I expect it will take longer than that.
Oil and gas are farther away from a buy signal. Both broke down hard in the past couple weeks and a lot of damage was done. These commodities/ETFs need some time to build a new foundation/bottom before we can start looking for a low risk entry point.
If you would like to receive my Free Trading Reports or my Trading Signals Newsletter please visit my website at: www.GoldAndOilGuy.com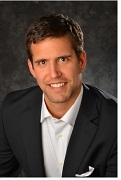 Chris Vermeulen has been involved in the markets since 1997 and is the founder of Technical Traders Ltd. He is an internationally recognized technical analyst, trader, and is the author of the book: 7 Steps to Win With Logic
Through years of research, trading and helping individual traders around the world. He learned that many traders have great trading ideas, but they lack one thing, they struggle to execute trades in a systematic way for consistent results. Chris helps educate traders with a three-hour video course that can change your trading results for the better.
His mission is to help his clients boost their trading performance while reducing market exposure and portfolio volatility.
He is a regular speaker on HoweStreet.com, and the FinancialSurvivorNetwork radio shows. Chris was also featured on the cover of AmalgaTrader Magazine, and contributes articles to several financial hubs like MoneyShow.com.
More from Silver Phoenix 500: