Hi Ho, Silver!
Gold is the ultimate asset and investors who took my $1778 buy recommendation are looking good.
The big question now is:Will the traditional Chinese New Year rally occur, or will there be a test of the recent lows?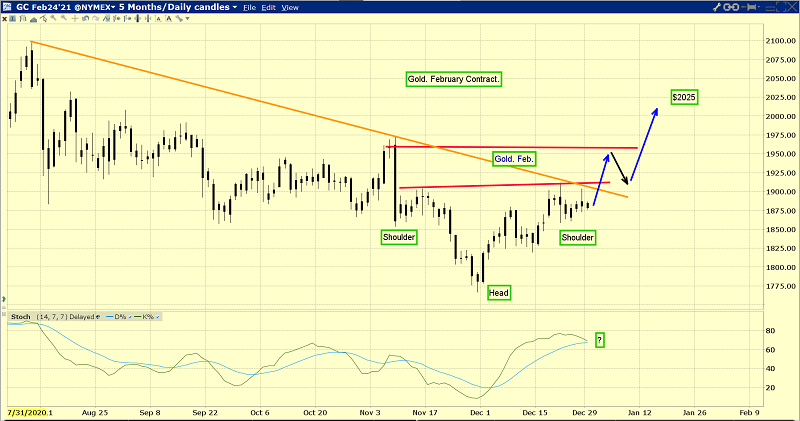 The daily gold chart.
If gold moves above the neckline of this inverse head and shoulders bottom pattern, Chinese New Year and western hedge fund buying should push the price to $2025, and maybe to the all-time highs near $2100.
A rally over the neckline would also take out the main downtrend line, and that would bring in additional buying by technical players.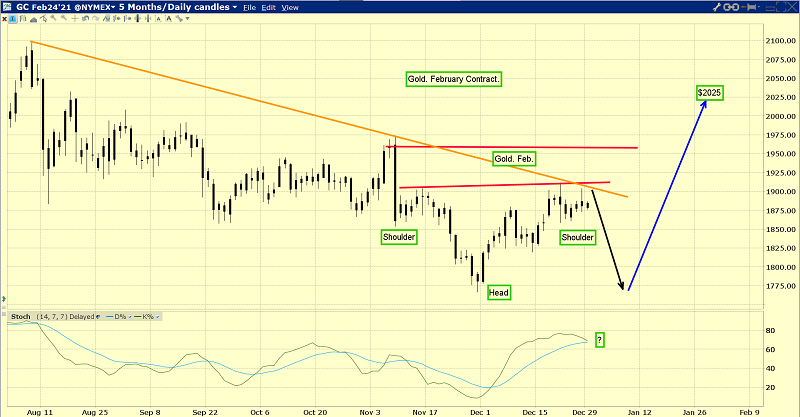 The "scenario number two" chart.
If the neckline and trendline resistance overwhelms the buyers, a double bottom pattern is likely.
The good news is that both the H&S pattern and the double-bottom have the same target price of about $2025.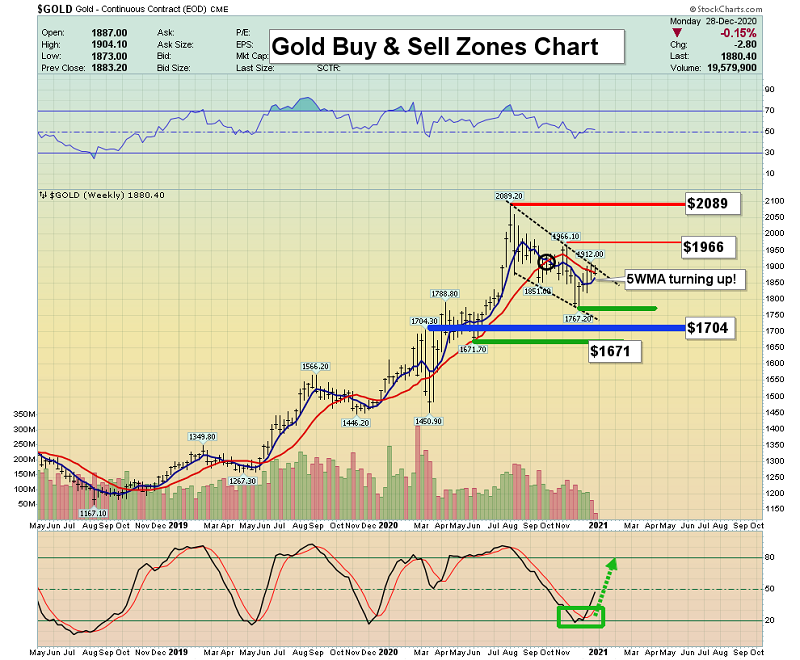 Weekly charts should form the "meat and potatoes" of any technical investment program, and this gold chart is particularly impressive.
Note the nice upturn in the five-week moving average (5WMA).
As good as gold looks, silver looks even better!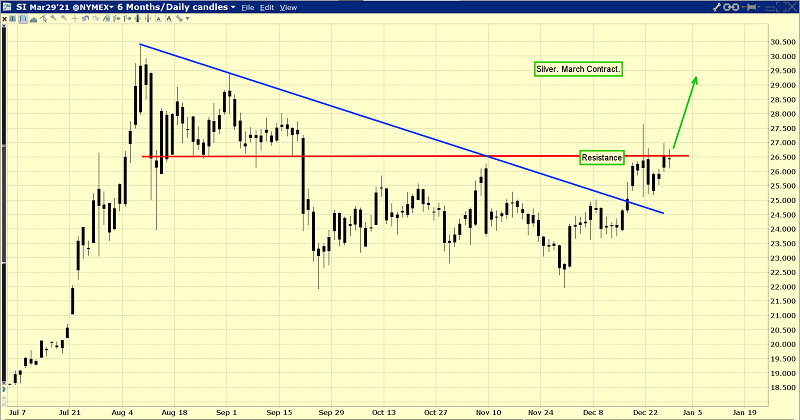 The daily silver chart.
Silver has already pushed above the main downtrend line and seems poised to push above resistance at about $26.50.
QE and government borrowing have created significant inflation in bond, stock market, real estate, and OTC derivative markets.
Institutional money managers have purchased only in limited amounts of gold and silver (and related miners) because they do not see inflation in traditional indexes like the CPI.
The CPI (consumer price index) needs to be revamped to reflect goods and services used by the average citizen…
But even if it stays as it is now, I'm projecting enough of an up tick in the CPI index to produce significant institutional interest in the miners.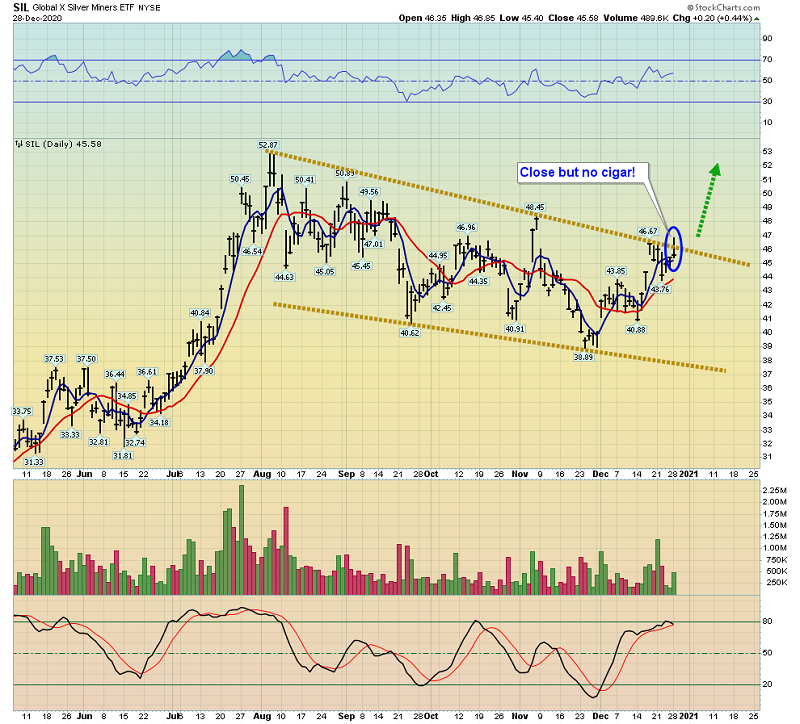 The interesting SIL ETF chart.
Silver stocks appear ready for a major upside breakout…and it almost happened yesterday!
The bottom line is that the"Main Streets of the world" seem to be experiencing a transition from deflation to inflation.
Silver and silver mining stocks are key assets to own in this environment.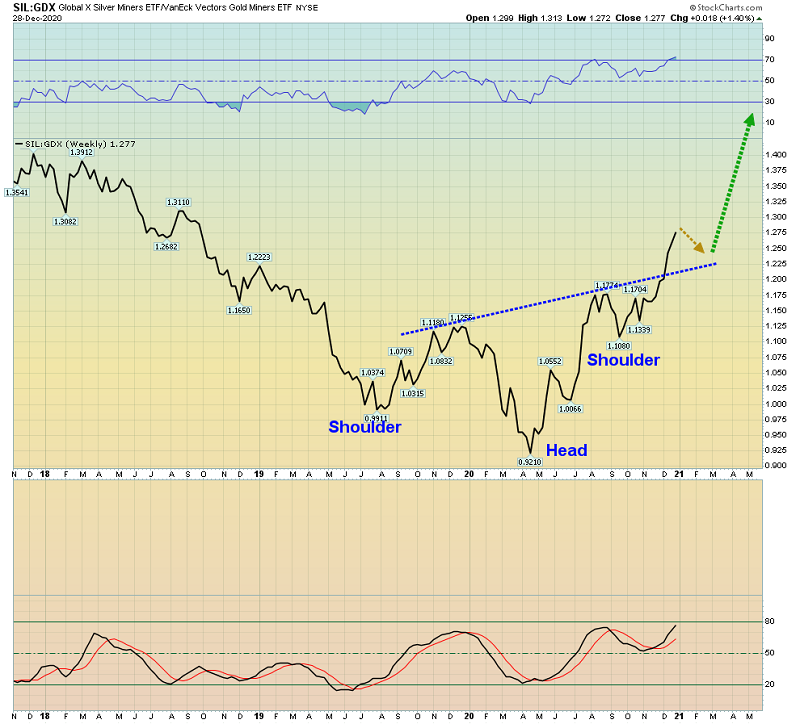 The fabulous SIL versus GDX line chart.
There is now an upside breakout in play from a significant inverse head and shoulders bottom pattern.
I've urged investors to ring silver investment bells for Christmas.Now, I'm suggesting everyone ring in the new year in exactly the same way.Get ready to enjoy higher silver prices that are likely here to stay!
Special Offer For Gold-Eagle Readers: Please send me an Email to freereports4@gracelandupdates.com and I'll send you my free "Gold and Silver Stocks Rock!" report.  I highlight leading junior gold stocks, and silver stocks that look even better!  I include solid tactics to manage risk and increase reward.
Note: We are privacy oriented.  We accept cheques, credit card, and if needed, PayPal.
Written between 4am-7am.  5-6 issues per week.  Emailed at aprox 9am daily    
Email:
Rate Sheet (us funds):
Lifetime: $1299
2yr:  $299     (over 500 issues)
1yr:  $199     (over 250 issues)
6 mths: $129 (over 125 issues)
To pay by credit card/paypal, please click this link:
https://gracelandupdates.com/subscribe-pp/
To pay by cheque, make cheque payable to "Stewart Thomson"
Mail to:
Stewart Thomson / 1276 Lakeview Drive / Oakville, Ontario L6H 2M8 Canada
Stewart Thomson is a retired Merrill Lynch broker. Stewart writes the Graceland Updates daily between 4am-7am. They are sent out around 8am-9am. The newsletter is attractively priced and the format is a unique numbered point form.  Giving clarity of each point and saving valuable reading time.
Risks, Disclaimers, Legal
Stewart Thomson is no longer an investment advisor. The information provided by Stewart and Graceland Updates is for general information purposes only. Before taking any action on any investment, it is imperative that you consult with multiple properly licensed, experienced and qualified investment advisors and get numerous opinions before taking any action. Your minimum risk on any investment in the world is: 100% loss of all your money. You may be taking or preparing to take leveraged positions in investments and not know it, exposing yourself to unlimited risks. This is highly concerning if you are an investor in any derivatives products. There is an approx $700 trillion OTC Derivatives Iceberg with a tiny portion written off officially. The bottom line:  
Are You Prepared?
*********
More from Silver Phoenix 500