Maund On Silver
Much of what is written in the parallel Gold Market update applies equally to silver and that will not be repeated here.
Silver's major reversal pattern, which, like gold's, is a Head-and-Shoulders bottom, is different to gold's in the detail that it is flat-topped – the "neckline" or top boundary of the pattern is a horizontal band of resistance. Otherwise they are broadly similar in meaning, which is hardly surprising as gold and silver are "joined at the hip", the big difference from an investor's point of view being that silver is a leveraged play on a gold move.
While gold took center stage yesterday (18th), silver also did well, rising sharply on good volume, as we can see on its 9-month chart below. Once this rally gets to the "neckline" of the Head-and-Shoulders bottom pattern, which is the first resistance level shown, the base pattern will be complete, and action yesterday suggests that silver will then proceed to break out upside from the pattern, probably swiftly, but when it does it will soon confront a major hurdle, which is the strong and clearly defined line of resistance at about $26 at the April breakdown point. This resistance is strong because this price level generated three significant reversals to the upside prior to the April breakdown. Having said that, action across the sector was so bullish yesterday that we can confidently expect silver to break above the $26 level in due course. When it does it will be an important bullish milestone, as once it gets above this level, it is likely to accelerate to the upside.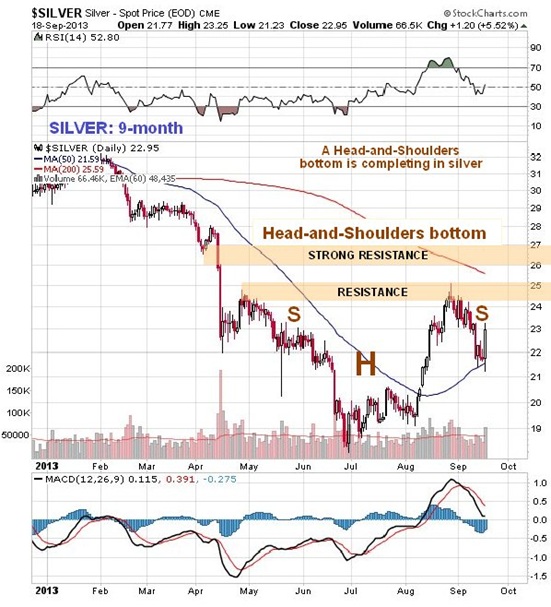 The 13-year chart for silver shows that, although it suffered a severe correction following its April – May 2011 blowoff top, like gold it never broke down from its long-term uptrend, and so it never entered a long-term bearmarket as some claimed. Instead what has happened is that it dropped back to a zone of strong support which has put a floor under it and is now turning the price back up again. This is similar to what happened following the severe drop in 2008. This chart also makes clear that once the price succeeds in breaking above the resistance at about $26 and also above the red downtrend line currently at about $28, it will be free to accelerate to the upside, although it will have continued resistance to contend with until it breaks out above its former highs.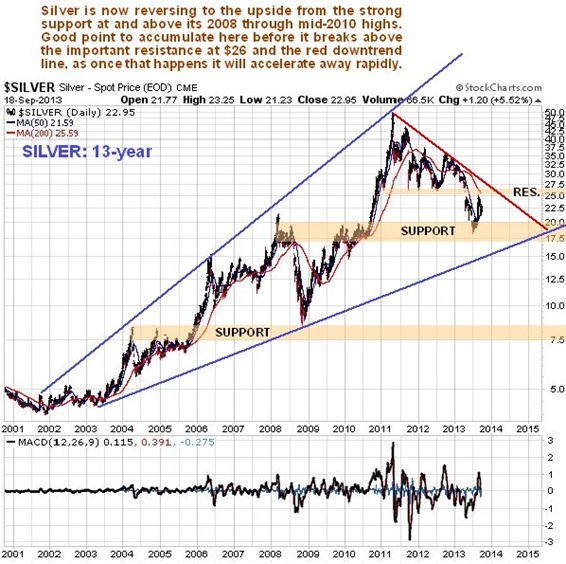 Silver COTs (not shown) are still quite strongly bullish, although they have now moderated somewhat following their extremely bullish readings of late June.
Public opinion towards silver has improved significantly in recent weeks, but has not reached levels of bullishness that give rise to concern.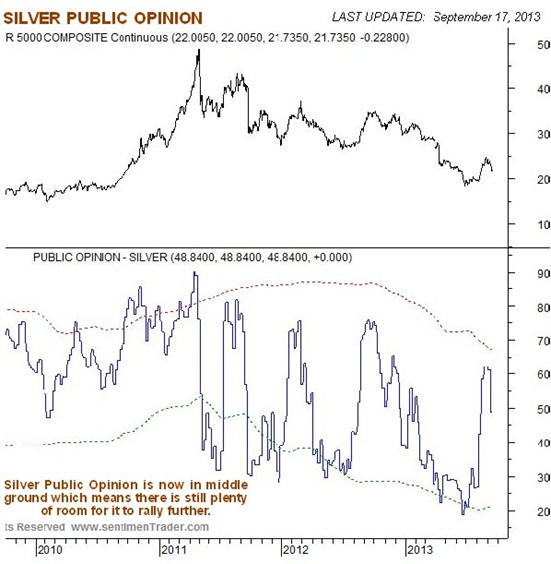 ********
No responsibility can be accepted for losses that may result as a consequence of trading on the basis of this analysis.
More from Silver Phoenix 500