Platinum Price Forecast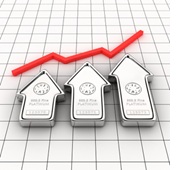 This is Part II of an editorial I did in May 1997, entitled "Platinum: The Rich Man's Gold" (click the title to read that analysis.)  
The cardinal characteristic of platinum is its extreme SCARCITY. Consider:
The annual supply of platinum is only about 130 tons - which is equivalent to only 6% (by weight) of the total Western World's annual mine production of gold - and less than 1% of silver's yearly worldwide mine production. Another amazing platinum trivia is the fact that more than twice as much steel is poured in the U.S. in only one day than the total world's platinum production in one year – platinum is indeed scarce!
Platinum-Group Metals Production by Country (Kilograms)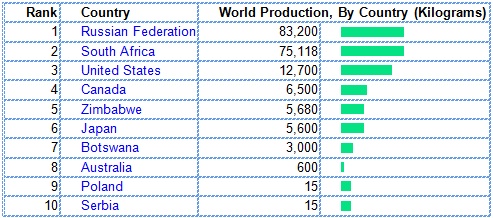 (Note: Platinum-Group Metals include Platinum, Palladium, Iridium, Osmium, Rhodium & Ruthenium)
Source: United States Geological Survey (USGS) Minerals Resources Program
Two countries account for 82% of worldwide yearly supply of Platinum-Group Metals. Russia accounts for 43% and South Africa for 39% of global production. 
Platinum Supply and Demand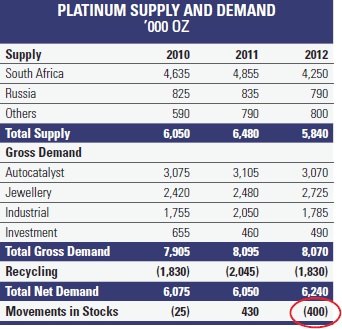 Platinum Demand by Region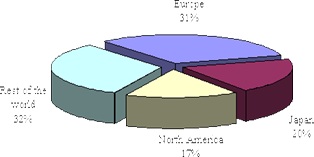 Platinum Usage Categories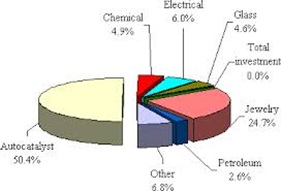 By far the most important platinum usage is by the global automotive industry
Heretofore the greatest automotive platinum demand came from then USA, Europe and Japan.  However, China's accelerated growth in its economy and per capita income will soon dramatically change the stats below.
Passenger cars per 1,000 people in 2013: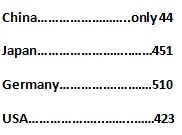 However, China's total auto use and annual vehicle production has begun to go viral in recent years.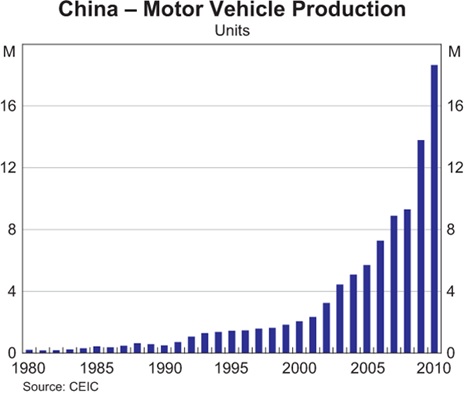 In light of China's parabolic vehicle production vis-à-vis 1.3 Billion population, one may project an increasing supply deficit level for this critical industrial metal used in all cars worldwide, which has been in deficit since 2012.  China car production has gone viral with a CAGR of nearly 20% since 1990 (by far the highest in the world).
China New Auto Sales 2013: Chinese Consumers Bought Over 20 Million Vehicles In 2013 As Foreign Automakers Jockey For Market Share
China's market for new passenger cars and light trucks far outpaced the U.S. in 2013. In January Chinese consumer bought twice as many vehicles. In February and July, the two months where the U.S. and China came closest to each other in terms of monthly sales, Chinese bought about 200,000 more vehicles. Chinese buyers bought an average of about 527,000 more vehicles per month between January and November.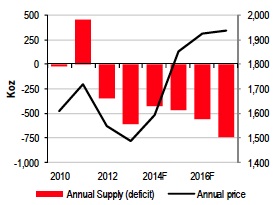 Hence, the price of platinum will eventually go ballistic in the not too distant future, reflecting acute platinum shortages and growing government pressure to reduce air pollution caused by cars.
HSBC Bullish On Platinum, Palladium Prices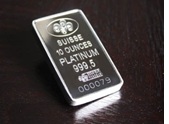 HSBC Maintains Bullish Forecasts For Platinum Group Metals, forecasting an average of US $1,595/ounce in 2014 and $1,850 for platinum and $900 for palladium in 2015. Furthermore and based on the above  mentioned Future Platinum/Palladium Price Accelerators, the price of platinum may well go parabolic into orbit in future years as China's exploding automotive industry fuels  absolute global total demand.
Another Factor To Contribute to Continuing Production Deficits And Soaring Prices: Perennial Labor problems in South Africa. South Africa holds about 80% of the world's known platinum reserves, accounting for about 70% of global output, used for catalytic converters in vehicles, jewellery, oil refining and as a key source of hard currency for the country, among other applications.
"South African production in 2014 is either going to stagnate or decrease further. The platinum industry is in crisis for a second year going and there is no end in sight," Guzek told Mining Weekly Online. The following recent alarming news headlines describe the dire situation for Platinum/Palladium production in South Africa today.
Geopolitical and Labor Crises Will Continue To Drive Palladium Prices Higher 
Amplats to declare force majeure
Palladium Prices Pushed Higher By Geopolitical And Labor Crises  
Amplats mulling whether to keep Rustenburg mines amid strike
PLATINUM mines warn they can't serve suppliers 
AMPLATS - Strike causes Amplats to declare force majeure
IMPLATS - Platinum Lifted By News Impala May Buy On Open Market To Supply Customers  
Anglo American considers closing platinum mines in South Africa (world's largest)
Future Platinum/Palladium Price Accelerators:
Continuing yearly deficits
Escalating South Africa labor problems with fear mines may shut down
Exploding investment demand via more Platinum/Palladium ETFs
China's viral auto growth
US government minting more platinum coins in view of recent sales success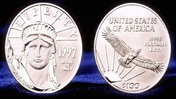 To be sure, the growing demand for platinum remains unabated…Ergo, its price must inevitably rise.
Investors Will Soon Be Piling Into The Platinum & Palladium Markets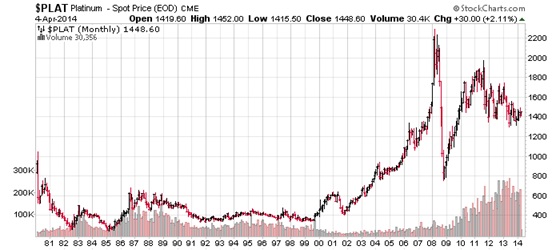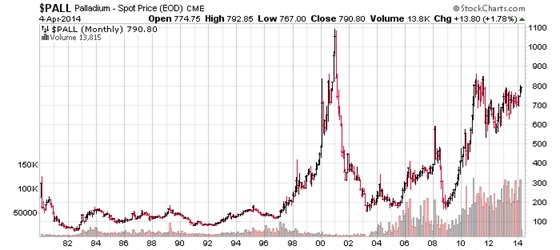 In light of all the above,  Platinum could conceivably appreciate to $5,500-$6,000/oz during the next 5 years. And Palladium might conceivably revalue to $4,500-$6,000/oz by 2020. Moreover, global currency contagion devaluations will surely play a timely role in how fast the values of Platinum and Palladium increase.
More from Silver Phoenix 500