Silver: The Best Is Yet To Come
America was built by "citizen champions".  Should the current gold price action be described in a similar way, as a "rally of champions"?  I think so.
Technically, gold is arguably overbought.  It may be due for a correction according to cycle analysis, and yet the world's mightiest metal just keeps moving relentlessly higher.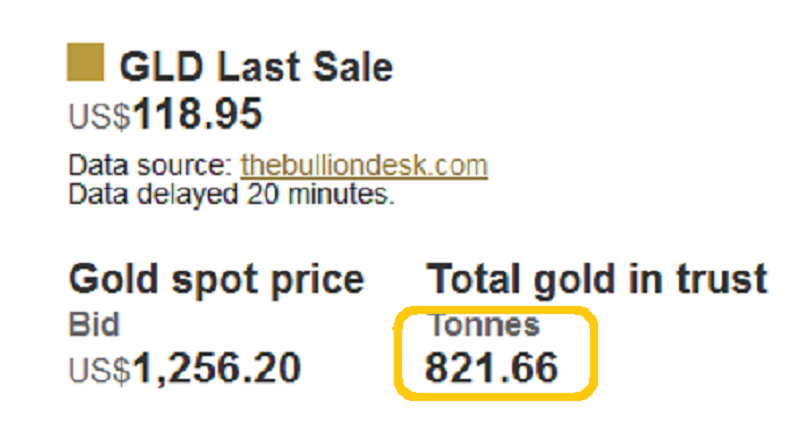 That's a snapshot of the SPDR fund tonnage.  Solid buying has boosted the holdings to more than 820 tons.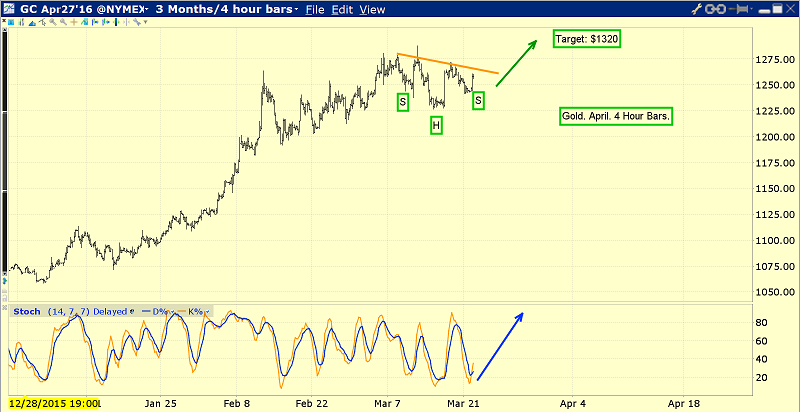 Also, a potential "rally accelerant" has suddenly manifested itself, in the form of an end to the Indian jeweller strike.  This is the key four hour bars gold chart.
It could be persuasively argued that gold has essentially traded sideways because of the strike.
Now that the strike is over, demand appears to be rising in the world's most important gold market, and gold is rising up nicely, from a small inverse head and shoulders bottom pattern.
My $1320 area target remains within reach on this rally.  In the big picture, I think that as bullish as Janet Yelllen's first rate hike was for gold, her next one could turn the gold price rally into a serious "barnburner"!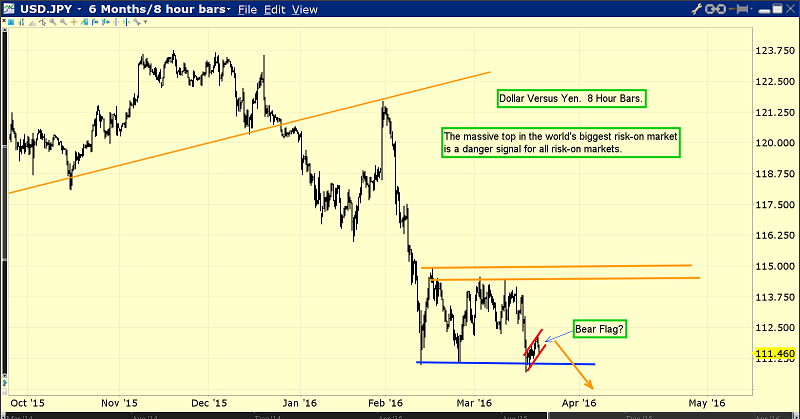 This eight hour bars chart of the dollar versus the yen has ominous implications for the dollar.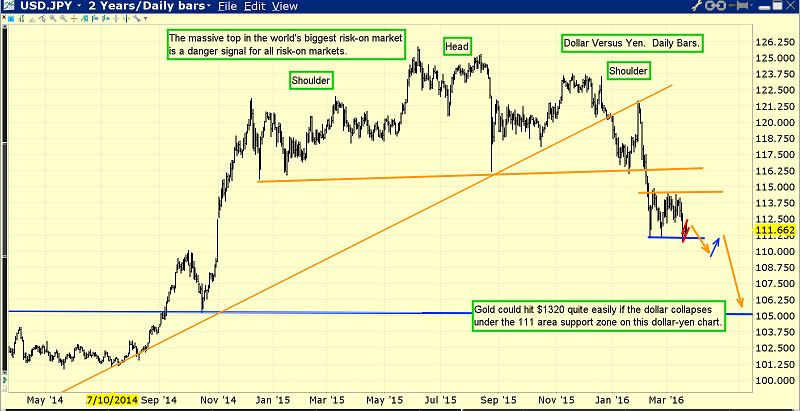 A bear flag is in play.  In the big picture, it's almost impossible for gold to experience a major setback, when the dollar is tumbling against the yen.  That's a longer term chart of the dollar versus the yen, using daily bars.
An enormous top pattern is now in play, and dollar rallies are quite frankly best described as "pathetic".
A breakdown from the current 111 – 115 range could unleash a new wave of dollar selling, yen buying, and gold/silver buying.  That could easily push gold towards my $1320 target, and leave the dollar wallowing in the 105 -107 zone on the dollar-yen chart.
If a much bigger leg of the gold price lies ahead, silver will begin to dramatically outperform gold.  Is there any evidence that such an event is on the horizon?  Yes, there is!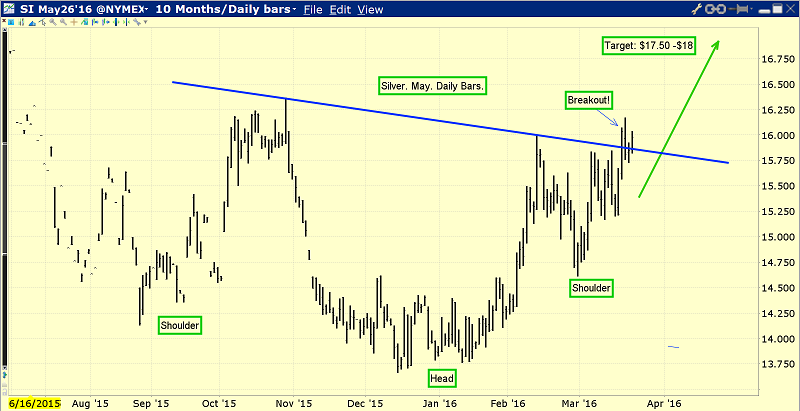 That's a daily bars chart for silver, and to say it looks inviting is arguably the understatement of the year.
There's a beautiful inverse head and shoulders bottom pattern in play, with a technical target of $17.50 - $18. 
Silver price enthusiasts should note that India is a massive silver buyer, so the end of the jeweller strike there could have an enormous impact on silver demand. 
Silver is not just the poor man's gold.  In my professional opinion, it's the world's second mightiest asset, and it should be part of all investment portfolios.  
If an investor owns no silver at all, they can pay any price for a small amount of it.  After that, they can use my unique "pyramid generator" for systematic capital allocation.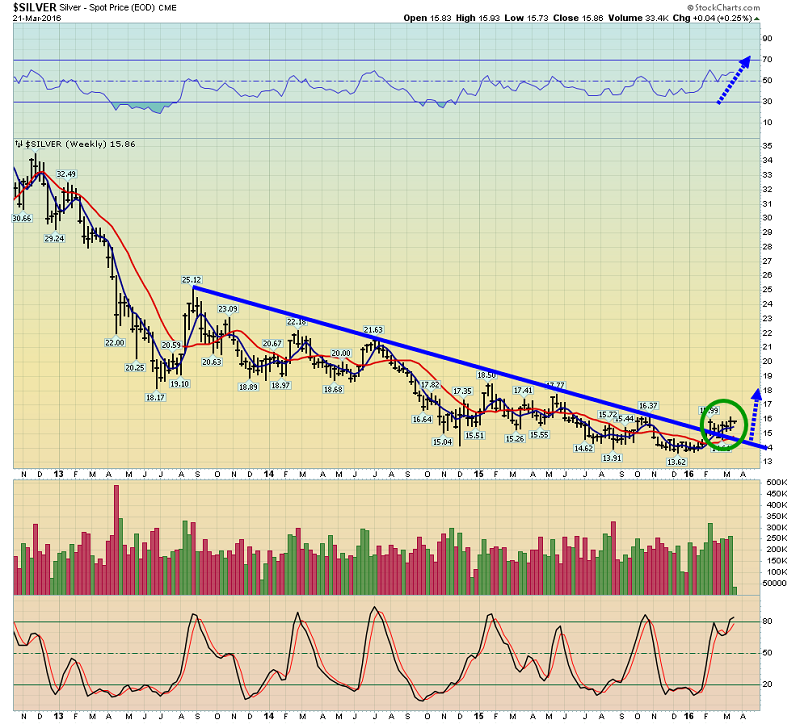 Here is another view of the silver price action.  This weekly bars silver chart is extremely interesting.  Here's why:
There's a major trend line breakout in play, and the inverse H&S bottom pattern on the daily chart appears to be acting as a kind of "Launchpad" for the weekly chart breakout.
Note the beautiful position of both the RSI indicator at the top of the chart, and the 14,3,3 Stochastics series at the bottom of the chart. 
Major breakouts tend to have this kind of "textbook" technical set-up, with RSI on the weekly chart well below the overbought zone, and the Stochastics oscillator staging a "flatline" event in an overbought condition.  Once the $18 target has been acquired, I think silver will pause, and then move towards $25.
Silver price fans should also look at the SIL-NYSE silver stocks ETF, which is poised to lead bullion to more upside gains.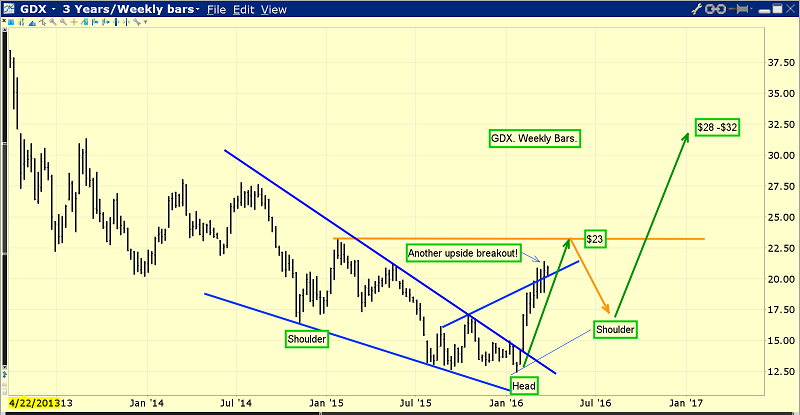 GDX continues to make superb upside progress towards my $23 target, on this weekly bars chart.  Investors who may have become demoralized and sold their gold stocks at losses should not wait for any type of correction to get back into this powerful market.  Here's why:
Rather than selling off from the $23 area, GDX could instead form a high right shoulder, far above the $23 area.  This is exactly what the silver bullion chart action is implying is going to happen!  It's clearly a glorious time for the Western gold community, and I'm becoming quite convinced that's it's about to become…even more glorious!
********
Special Offer For Gold-Eagle Readers:  Please send me an Email to freereports4@gracelandupdates.com and I'll send you my free "Oil My Golden Wheels!" report.  Oil may be poised to add serious upside pressure to the commodity sector rally.  I highlight 3 key oil stocks and 3 gold stocks that look poised for great gains, with key buy and sell tactics for each of them!
Note: We are privacy oriented.  We accept cheques.  And credit cards thru PayPal only on our website.  For your protection.  We don't see your credit card information.  Only PayPal does.  They pay us.  Minus their fee.  PayPal is a highly reputable company.  Owned by Ebay.  With about 160 million accounts worldwide.
Written between 4am-7am.  5-6 issues per week.  Emailed at approx 9am daily.
Email: stewart@gracelandupdates.com  
Rate Sheet (us funds):
Lifetime: $799
2yr:  $269  (over 500 issues)
1yr:  $169    (over 250 issues)
6 mths: $99 (over 125 issues)
To pay by cheque, make cheque payable to "Stewart Thomson"
Mail to:
Stewart Thomson / 1276 Lakeview Drive / Oakville, Ontario L6H 2M8 Canada
Stewart Thomson is a retired Merrill Lynch broker. Stewart writes the Graceland Updates daily between 4am-7am. They are sent out around 8am-9am. The newsletter is attractively priced and the format is a unique numbered point form.  Giving clarity of each point and saving valuable reading time.
Risks, Disclaimers, Legal
Stewart Thomson is no longer an investment advisor. The information provided by Stewart and Graceland Updates is for general information purposes only. Before taking any action on any investment, it is imperative that you consult with multiple properly licensed, experienced and qualified investment advisors and get numerous opinions before taking any action. Your minimum risk on any investment in the world is: 100% loss of all your money. You may be taking or preparing to take leveraged positions in investments and not know it, exposing yourself to unlimited risks. This is highly concerning if you are an investor in any derivatives products. There is an approx. $700 trillion OTC Derivatives Iceberg with a tiny portion written off officially. The bottom line:  
Are You Prepared?
More from Silver Phoenix 500