Silver Confirms Gold's Breakout
As of yesterday, gold had advanced roughly $100 in 2014 for a gain of 8.3%. Silver was up $1.00 in the same time period for a smaller gain of around 5%.
It is rare to see silver underperform gold, as it usually offers leverage in either direction to the movement of the gold price.
This failure of silver to breakout to the same degree as gold was concerning many precious metals investors. However, the price appreciation was coming against the backdrop of a sharp correction in the stock market and overall economic weakness, so it made sense that silver would be underperforming initially. After all, roughly 50% of silver's demand is industrial versus only around 10% for gold.
In a very bullish move this morning, we are seeing silver catch up to gold and confirm the breakout in precious metals. Gold is up $15 or just over 1%, while silver is up $0.70 or 3.4%. This brings silver's year-to-date gain to 9% or just shy of gold's performance at 9.7%. In other words, in just one day silver has nearly caught up to the gains of gold thus far in 2014!
What is even more remarkable about these gains is the technical bullishness. Gold had previously broken through the long-term downward-sloping trend line around $1,265 and the 100-day moving average earlier this week. As of this morning, it has also broken through even more important resistance at the 200-day moving average.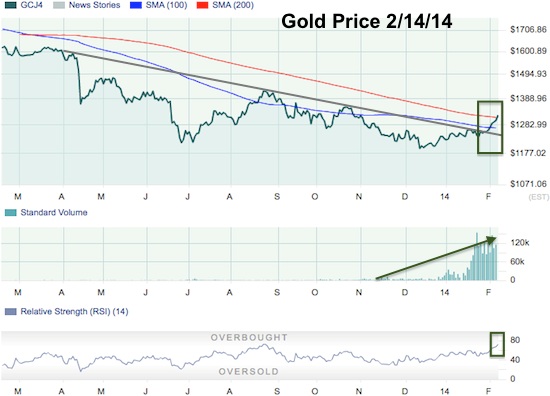 Silver at $21.20 today has managed to break through all of those technical resistance points in a single day. It blew through the downward-sloping trend line around $20.50, the 100-day moving average of $20.60 and the 200-day moving average of $21.14.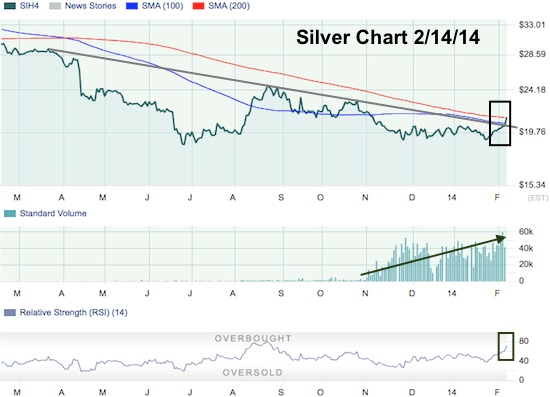 Of course, we can't rule out the possibility of a price smash down by the close today, particularly in markets with such concentrated and leveraged paper short positions. But all signs are pointing to a major breakout in precious metals with both the RSI and MACD momentum indicators suggesting there is room to continue higher. Furthermore, the advance in 2014 is occurring with very strong volume, making it less likely that we are witnessing a false breakout or dead-cat bounce.
Mining stocks have been offering strong leverage to the advance in the gold and silver price thus far in 2014. While gold is up 9.7%, the popular gold miner's ETF (GDX) is up more than 25%. Many of the junior miners and streaming/royalty companies that we track in the Gold Stock Bull portfolio are up 30% or more in the past six weeks. But I believe the train is just now leaving the station and there is plenty of upside remaining over the next few months and throughout 2014. We could easily see many of the best-in-breed mining stocks triple or more by year end if gold and silver prices start climbing back toward previous highs.
At Gold Stock Bull, we advocate holding physical gold and silver in your possession first and foremost. However, mining stocks continue to trade at the most undervalued levels (relative to the metals) since the beginning of this bull market in 2001. While they have started breaking out over the past month, the charts suggest there is tremendous upside potential ahead. We prefer averaging into new positions in small tranches as opposed to going 'all in' on a single day.
******** 
Jason Hamlin - Founder - GoldStockBull
More from Silver Phoenix 500