Silver Eagle Sales Climb 87% Higher in October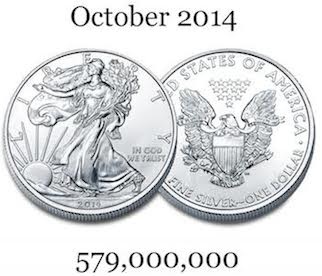 Silver Eagle sales for the month of October were the highest of the year at 5,790,000. This is up 40% versus September and a whopping 87.5% versus October of last year. With 38 million Silver Eagles sold thus far in 2014, the 2013 record of 42.7 million coins may very well be broken.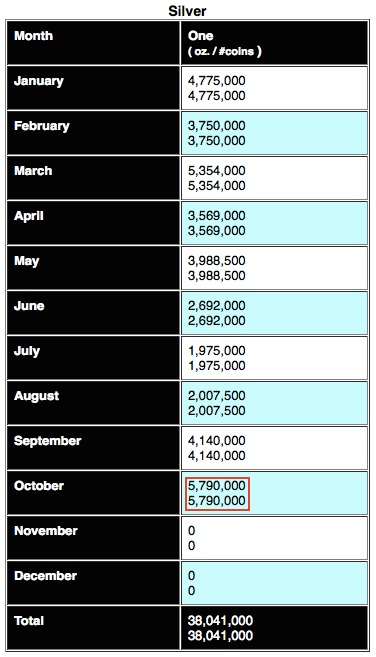 Investors appear to be taking advantage of the dip in silver and depressed paper prices. Several dealers are now reporting that premiums are climbing rapidly and the more popular silver coins are out of stock and on backorder.  Cornerstone Bullion reported that:
Demand for physical metals (both coins and bars) has skyrocketed in the last 24 hours, causing higher premiums and delayed delivery on precious metals industry-wide.
The chart below shows the wild roller coaster ride that silver has been on over the past 5 years. Notice that the price is currently testing support around the $15-$16 range, where it had previously dipped and consolidated in early 2010. Analysts are coming out of the woodwork forecasting silver in the single digits, but at some point the supply and demand fundamentals are going to collide with the paper prices. I have a feeling that we are witnessing the capitulation stage now.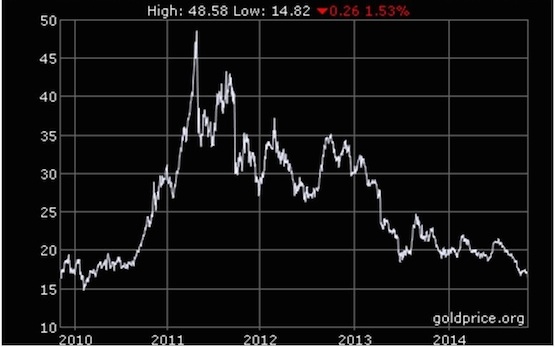 ******** 
Jason Hamlin - Founder - GoldStockBull
*******
More from Silver Phoenix 500