Silver Futures Find Support Above $4.40
In a recent silver market report we noted that September silver futures were coming up on an important test of a major supporting floor. We stated our opinion that "if broken, it will all but take the remaining wind out of the silver market's sails. At the time of our last writing September silver had closed slightly below $4.60 and we noted that a test of the nearby $4.50-$4.53 benchmark area beckoned. Sure enough, these lows were tested in the days immediately following and even exceeded slightly. The bottom rim of our parabolic bowl (which we drew in the daily chart from the early June highs down to the August lows) was penetrated on both a closing and an intra-day basis.
After the downside penetration below $4.50, we redrew the parabola (see article "Silver's defining moment" from last week) and discovered deep 12-week bowl with prices resting right up against the lower rim of the bowl, to the right of center. We pointed out that when prices bottom to the right of center it is typically bearish, and so it was in the case of the silver market last week. Silver declined to an intra-day low slightly beneath $4.40 before finding immediate support above $4.40 on a closing basis. September silver bottomed last week above $4.40 yet below the previous support of $4.48-$4.50. This shows immediate weakness still remains in the market that must be worked off before silver can enjoy a sustained rally. However, the 2-day double bottom low near $4.40 is a positive and a preliminary signal that silver may have finally found its legs.
Another reason we believe silver may have finally seen its bottom is the current configuration of parabolic curves in the daily chart. Take a look at the current interaction between the dominant bowl and dome in the September silver futures chart.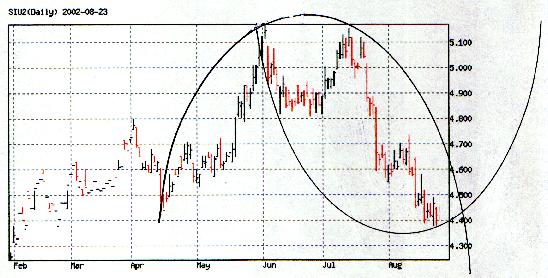 As long as silver can find support above $4.40 over the next few days it will be in line to break through the final declining phase of the 20-week-type parabolic dome, which is ending. The current bowl pattern in the chart is poised to carry prices to higher highs once the correction is over (likely by or before the week of Sept. 9). Indeed, silver will be poised to rally strongly into the fall if it can stay above its recent lows heading in September. If it does so, silver can be expected to join gold futures on the upside during the next rally phase.
More from Silver Phoenix 500