Is Silver Heading To A Turning Point?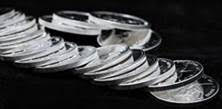 May is over, and the month's results on the price of silver are in: a period of slight growth for the precious metal despite early lagging in the month. Starting in the upper $16 per troy ounce range, silver briefly moved to about $17.50 by the end of the month before tapering off a bit and finishing in familiar lower-$17 per troy ounce territory.
While the month of May was relatively eventful for the metal as compared to April, there's no guarantee that June will be like either of the two months. In fact, there may be some evidence that some big moves are brewing in the price of silver—and where it heads will be vital to silver's performance in 2017.
Supply And Demand: Moving In Favor Of Silver?
Silver's denomination in U.S. dollars is always a vital point of interest to precious metal investors. But supply and demand may be just as if not more important when it comes down to it. The trouble many precious metal investors have is that there are so many elements that factor into the supply and demand of silver that it's hard to identify where and when the pendulum might swing next.
Townhall sees potential for supply and demand to turn in favor of silver's price. Pointing out a "20.7 million-ounce deficit" between supply and demand, the article posted just today at the beginning of the month sees some optimism for those who already hold silver. If silver is indeed becoming more scarce than its level of demand would suggest, that bodes well for the performance of silver's price throughout the month and perhaps throughout the entire summer as well.
Putting The Price of Silver In Context
As of right now, June 1st, the price of silver is at a modest level compared to its performance earlier in the year. Though silver has plunged to the $16 per troy ounce range before, it has also been in the upper $18 per troy ounce range as recently as April. That suggests there is room to go in either direction. Those who believe that silver is enormously underpriced or overpriced may be surprised to see that silver's moves in June end up being modest, if that indeed proves to be the case.
Reading The Tea Leaves As Silver Moves Ahead
Another interesting report from the Townhall article is the sale of American Eagle silver coins rebounding in May when compared to April. That may be due to a temporary lag in the price of silver to begin the month, as April was generally a stronger month in terms of duration of high silver prices.
If that's true, it could signal that precious metals investors are once again growing optimistic about the prospects of silver, even ahead of the Federal Reserve meetings to take place this month, which may in fact raise the US interest rates. It's possible that this decision will highly impact the price of silver, but if silver's price does have supply and demand working in its favor, the price of silver in late June may have more durability than some experts believe.
******** 
More from Silver Phoenix 500