Silver Market Update
Silver had been looking frail before last week's breakdown, now it looks downright weak. It had been underperforming gold persistently in recent months, and the steep drop last week has greatly increased the risk of it breaking to new lows before much longer.
A bearish article on the PM sector was posted on the site on the 8th, which included a specific warning about silver dropping away as it was seen to be failing at a resistance level after a relief rally. This article contained the following chart…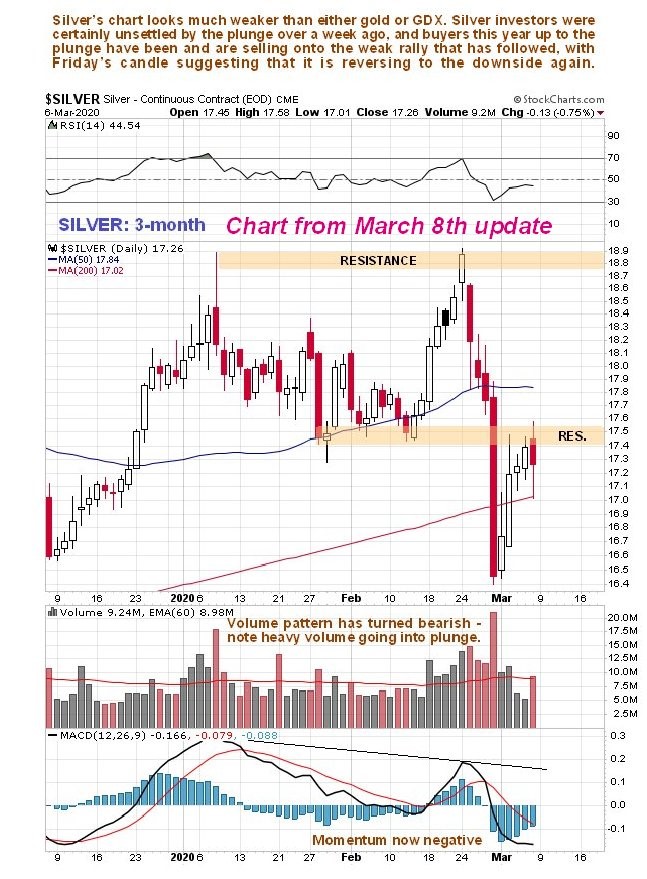 Last week silver plunged on Thursday and Friday after crashing the support level shown on its latest 3-month chart. This is now a grim picture and although it may rally a little or consolidate, perhaps in a bear Flag, to alleviate the current deeply oversold condition, the trend is down.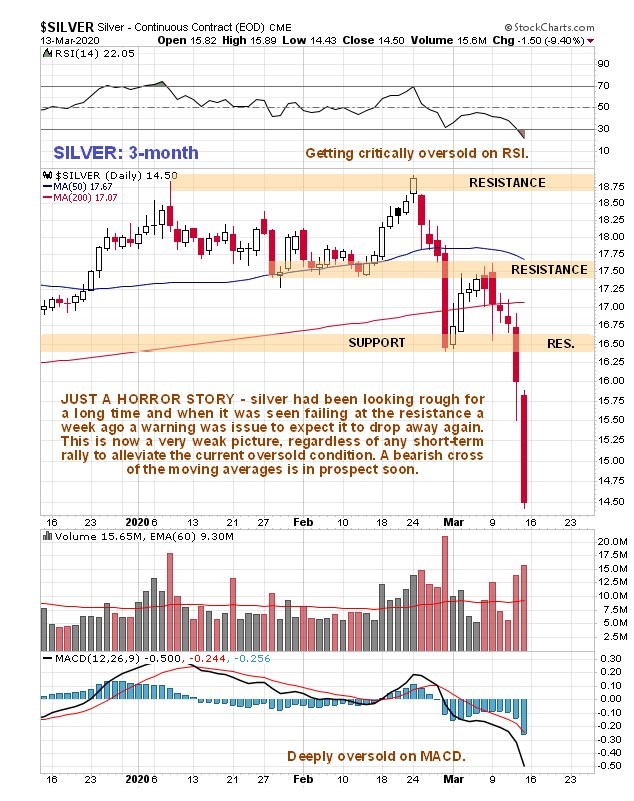 The 10-year chart is equally grim as it shows that the steep drop last week is aborting the promising pattern that had developed, which was a giant Double Bottom that would have been capable of supporting a major bullmarket, but the market disintegration caused by the coronavirus triggering the implosion of the "everything bubble" has put paid to that. The steep drop towards the lows on this chart raises the specter of a break to new lows before much longer, regardless of whether it finds support temporarily at the lows and perhaps bounces, or not.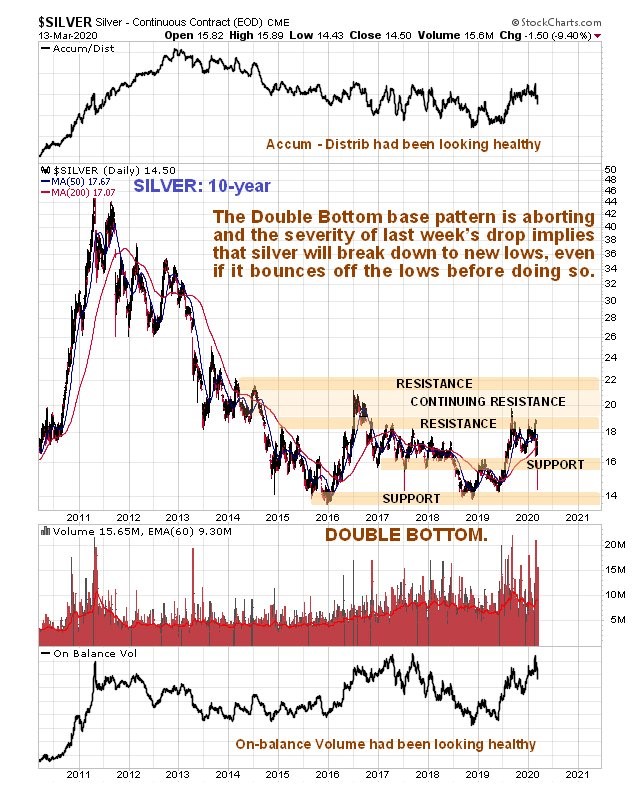 A bright spot for silver is that its latest COT chart shows considerable improvement, with the Large Specs, having had their hopes dashed again, folding their tent and heading off into the sunset, and remember that these figures are for the close last Tuesday, and so don't take account of Thursday's and Friday's steep drops, so we can expect them to be better still now (and at the next showing).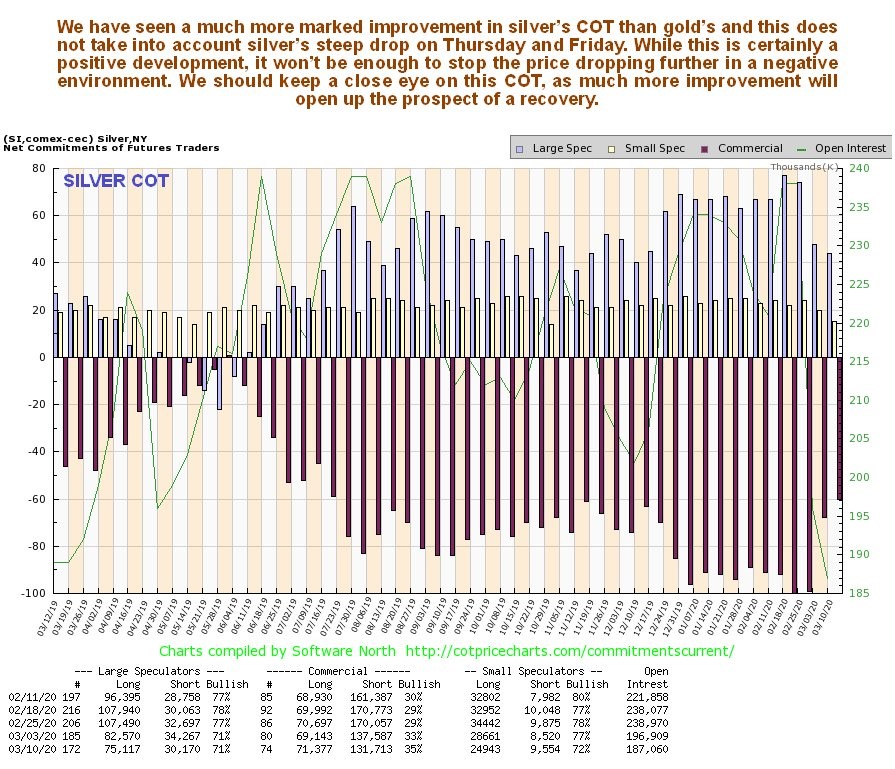 We will end on an encouraging note. The latest chart for the silver to gold ratio shows that it has now dropped to record lows. Very low readings on this ratio always to lead to sector bullmarkets and this being so it is reasonable to surmise that immediately the global market crash phase is done, silver will take off like a rocket, as it did after the 2008 – 2009 crash. At the time of writing it has just been announced that the Fed has slashed rates by 100 bps to zero. While obviously an act of desperation it remains to be seen whether this will do the trick and flip markets to the upside in a sustainable manner. We will have to wait and see initially how futures and the Far-East react. If this move fails we are likely to see the most brutal meltdown in history.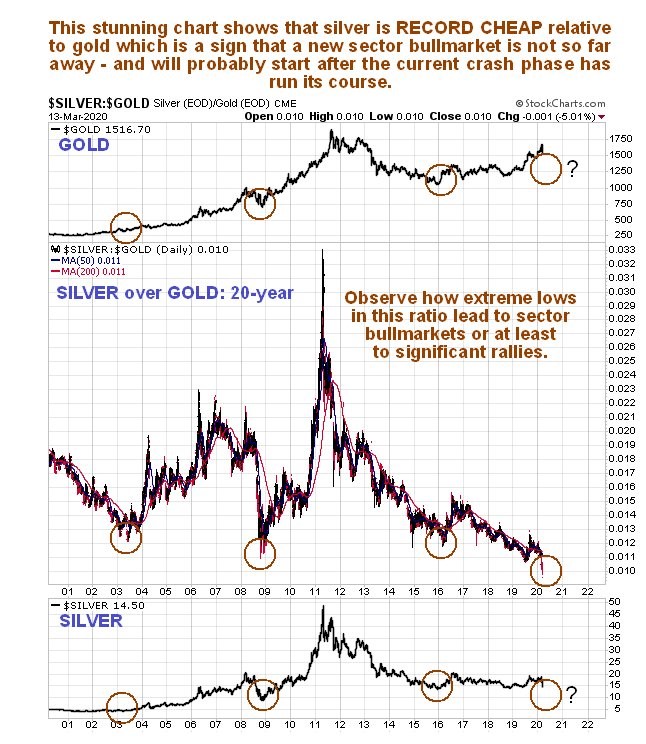 *********
More from Silver Phoenix 500