Silver Price: Even More To Like Than Gold?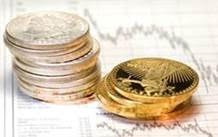 2017 has thus far shown signs of life for both silver and gold, just as we saw in 2016. And while there's plenty of optimism in the gold markets, the more intriguing question seems to be about silver: Does it have more room to move upward…and if so, how much might it go up?
As it turns out, silver bugs who have always liked the white precious metal more than its more expensive counterpart may be on to something, given the current market conditions. Let's dig further into the current price of silver:
Another "Bullish Factor" Showing In The Silver Markets
Theodore Butler, a silver analyst, recently pointed out that there is another indicator that silver may go up in the future: a potential mismatch between paper silver supplies and the actual world supplies. Butler calls silver's price "low," writing "I'm still inclined to think that a great rush for actual delivery on COMEX silver contracts is likely to come from industrial users once a physical shortage becomes apparent, but the important point is that some combination of a delivery rush or a short squeeze is certain to come."
This issue is complex, and certainly will raise eyebrows for any silver investor, but it could potentially point toward an increased price in silver, given what we know about silver supplies.
Is Silver A Good Way To Get In On A Gold Rally?
Daryl Guppy for CNBC writes that the rebound for gold has now "well established," but that the real opportunity for growth may come in the gold markets. Pointing out that silver "lags" the behavior of the price of gold, and which resistance points silver's price hits, and there may be optimistic price targets for silver again, possibly pushing it back up closer to peak 2016 levels.
With silver, these price increases represent a larger percentage of the overall price of the precious metal, which means that there may be better opportunities for growing investments when investors turn their attention away from the yellow metal and back to silver.
This Week: More Data For Silver
Pointing to an upcoming "data deluge," EconomicCalendar.com points to a lot of events this week, from yesterday's inflation report from the Commerce Department to Janet Yellin's testimony on the US economy.
This news always has far-reaching implications for the economy as a whole, but the inflation data should be of particular interest to anyone investing in precious metals. If inflation soars (and CNBC claims it's "back"), there may be more reason to think investors will flock to safe havens like silver and gold.
The sum of all of this news: an intriguing precious metal that looks a lot like an opportunity as it currently stands. Although 2016's performance in precious metals is not an indicator of future success, it does appear that precious metals are at least going to make a push to find those highs again. There is a long way to go. Moreover, there's no telling how the headlines will shape the economic calendar of 2017.
******** 
More from Silver Phoenix 500