Silver Price Forecast: Is The Current Dip Due For An End?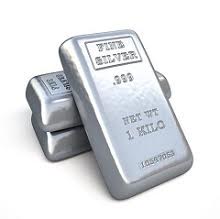 The trend for silver has been downward since mid-April, and early signs in May aren't promising. We've written about the dip of silver in this space before, but the question many investors are now asking is whether or not this dip is going to find its bottom soon—or if this represents a new bearish trend for silver that could see an extended stay throughout the summer of 2017.
Tracking The Recent Silver Price Decrease
It starts with understanding how silver ended up in the $16.60 range, which is where it was trading early this morning (Wednesday, May 3rd). After starting the month around the $16.80 mark—down from an April high that saw the sliver price  well over $18 per troy ounce—silver has taken another dip even lower.
Long-term investors of sliver know better than to overreact to a few days of trading, simply because the new month started on Monday. It's important to avoid these psychological milestones and perceive trends where they may not be.
However, tracking silver's recent price decrease takes us back to mid-April, when the price of silver began falling like a stone. That's two weeks straight of price drops in silver, notes Paul Robinson of DailyFX.com, and a price fall of about 10%. Going into yesterday, there were twelve consecutive days of decreases for the precious metal.
But when forecasting silver, investors have to ask whether this is a true trend, or simply silver trying to find its most recent bottom.
Elements In Silver's Potential Return
There are a number of variables investors look to when gauging the true health of the price of silver. The first is its ratio to gold. As we've seen recently, gold itself hasn't been performing too strongly in the marketplace, either decreasing or holding on to its gains by a thread. The losses in gold haven't been as dramatic, however, which points to an increase in the gold to silver price ratio—which, in turn, could be good for sliver's long-term prospects, even if precious metals are not yet taking off.
Another variable to pay attention to: the U.S. Dollar Index, which has shown some signs of health this morning. That often leads to precious metals, priced in US Dollars, underperforming. However, the index over the past month has declined, despite the recent leveling off. That suggests there's more at play in the price of silver.
Where Silver Goes From Here
Predicting silver prices is a bit like predicting the weather beyond a few days – i.e. the more you try to predict it with certainty, the more it gets away from you. Although there are plenty of signs that silver may either hold or continue falling through May, there are few reasons that indicate current investors in silver should be sufficiently scared to make major moves. Although silver may continue to dip, that dip could also represent a tremendous opportunity should the price of silver regain even just half of its two-week losses. Now, more than ever, it will be important to watch international headlines, economic news, and the direction of precious metals.
More from Silver Phoenix 500