Silver Price Forecast: Targeting $20 in 2019, $50 During 2020 and $169 by 2025

The Silver Bull Awakens
Gold outperformed silver by a wide margin during the first half of 2019. While gold was up 8%, silver actually fell nearly 2%. This pushed the gold/silver ratio to a 26-year high near 94, which is more than 50% higher than the average ratio over the past few decades. Silver had become significantly undervalued relative to the price of gold, hitting this extremity just a few weeks ago.
But that all changed this week.
Silver prices are suddenly outperforming gold in a big way. While gold is up 0.5% to $1,422 in the past 5 days, silver is up 5% to $16 per ounce. Positive retail sales data released this week and the Federal Reserve reversing course on interest rates are both contributing to silver's rise.
But the bulk of the buying pressure is coming from the realization that silver had become vastly undervalued relative to gold and has finally awakened from it slumber. This could be a significant event that marks the end of silver's underperformance and the start of a new bull cycle for silver. 
If so, silver has plenty of catching up to do to match gold's year-to-date performance. And silver typically leads gold during major bull cycle breakouts, so this news is bullish for the sector as well. 
On the technical chart, we can see that silver bounced off a higher low at trendline support at the end of May. It then pushed through resistance at both the 100-day and 200-day moving averages, as well as the long-term resistance trendline.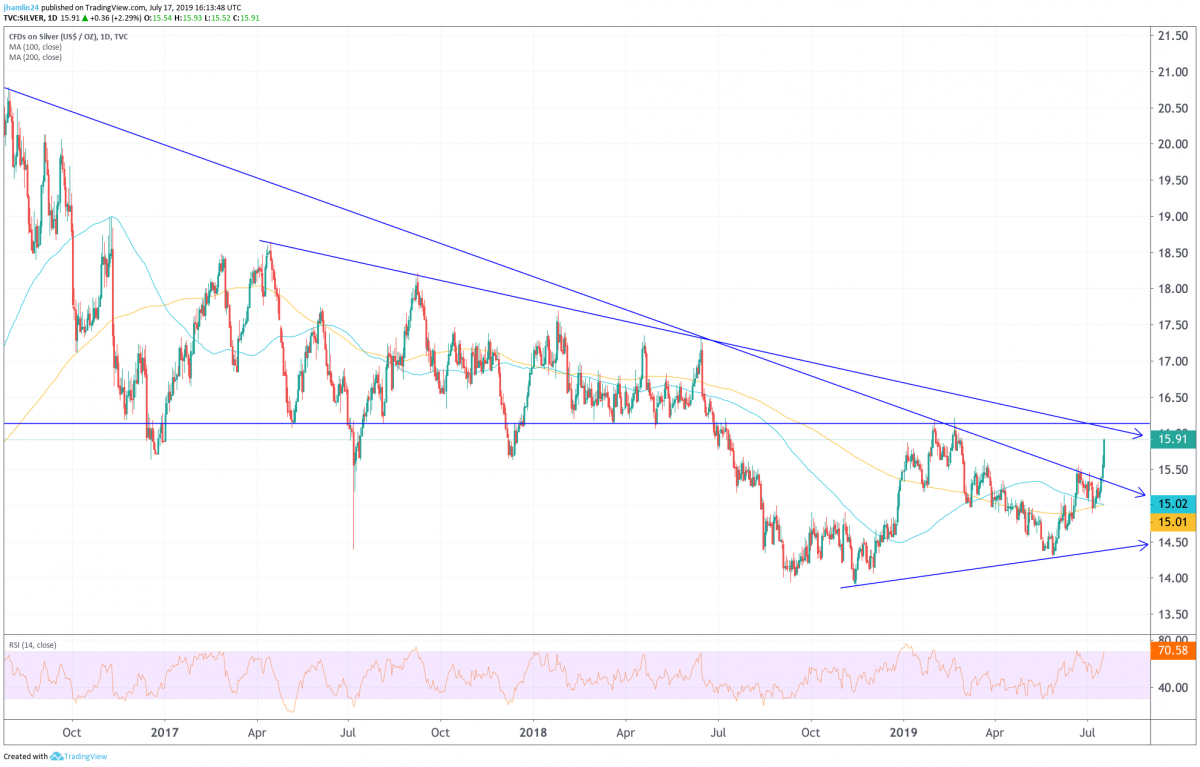 Silver faces one more key level of resistance in the $16.15 to $16.20 area. This is the 2019 high and a double top, so it is a significant level of resistance for silver to overcome.
The RSI momentum indicator became overbought on Wednesday with a reading of 70.5. So we could get a near-term correction and short period of consolidation before the next move higher. We ideally want to see prior resistance in the $15.50 to $15.65 range turn into support going forward.
But there is no doubt that the silver bull has awakened and when silver finally breaks out, the move tends to be very explosive! I think we could see silver climb above $20 by year-end and make a move back toward $50 over the next 18 months.
What is the longer-term potential for the silver price?
To answer this question, we can look back at the last major bull market in silver that occurred from late 2001 to late 2011. During this 10-year span, the price of silver rocketed 12.5x higher from $4 to a high near $50 per ounce.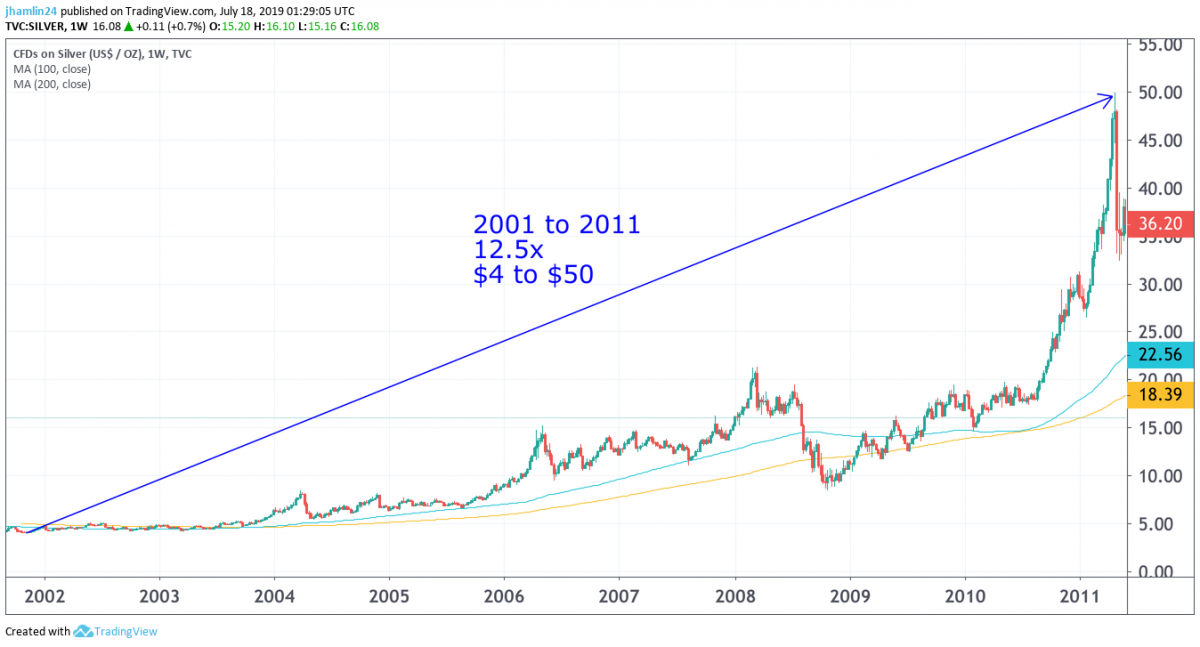 If we can expect similar performance this time around, the silver price could reach $169 per ounce within the next 6.5 years. 
This price forecast simply takes the December 2015 low around $13.50 and multiplies it by 12.5 to get the price target of $169. And instead of forecasting 10 years out from today, we use the December 2015 low as the starting point. Thus, the target of $169 is expected to be reached at some point by the end of 2025. 
Of course, there is no guarantee that the next bull run will be as powerful as the last one. And some analysts believe the magnitude will be lower since we are working off a higher base price. But we are also working off a much larger monetary base and debt load. So, it is conceivable that the next bull run in silver could be even more powerful than the last one.
Taking Advantage of Leverage from Mining Stocks
While our forecast for silver price gains are robust enough on their own, the potential returns from deeply undervalued silver mining stocks is even more astounding. While mining stocks do not always offer strong leverage to the underlying move in the metal price, the leverage is usually most pronounced during the initial phases of new bull market cycles.
Despite the silver price underperforming gold during most of this year, silver stocks have performed exceptionally well. While silver is up just 3% year-to-date, the Global X Silver Miners ETF (SIL) is up 13%. This equates to leverage of 4.4x for silver miners. The leverage has been closer to 2x in recent months, but this still provides a way for investors to amplify gains during silver bull markets.
Of course, we aim to outperform the gains of popular mining stock ETFs. Two of our silver mining stock picks are up more than 40% in the past month and another is up more than 40% in the past week alone! In these examples, we are generating leverage of 5x to 10x the advance in the silver price.
This is precisely why we have increased exposure in the Gold Stock Bull portfolio over the past week. We hold a small handful of best-in-breed junior and mid-tier silver mining stocks that I believe will greatly outperform their peers over the next few years. If you would like to receive our research, newsletter, portfolio and trade alerts, please click here for instant access. 
********
More from Silver Phoenix 500