Silver Price Sustains March Gains In First Week Of April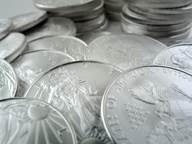 Although there have been some pessimistic signs for silver in the news as of late—and we'll tackle those in today's article—the price of silver itself has hardly moved after spiking at the end of March. That's kept the price of silver in the lower portion of about $18/troy ounce. Since a precious metal at silver's price doesn't stay in one place too long, the only questions are: 1) how did silver wind up at this spot and 2) where is sliver headed for here?
Recent Headlines Mixed For Silver?
Silver's refusal to budge over the past week or so is evident on this chart courtesy of APMEX.com:

Thus far, April's price for silver has been stable and hasn't sacrificed any of the optimistic gains made in late March, especially compared to the March low, around $17 per troy ounce.
What's confusing at the moment is that there have been plenty of mixed headlines, including a lot of talk about consumption vs. imports and demand. We see that Seeking Alpha is looking for a potential rally in the precious metal, however, which suggests that some investors are taking a "wait and see" approach. That is certainly reflected in the stability of the price over the past week or so.
But as noted earlier, silver is not a metal to linger at one price point for long. The remaining question is, where is silver headed?
CNBC Op-Ed: Potential For Silver
Daryl Guppy, in a recent Op-Ed for CNBC, points out that silver has been an easy way for investors to make money recently, bouncing up and down and always seeming to find traction around the $17 per troy ounce price point. But the Op-Ed also wonders if we're on the cusp of something even greater in the price of silver.
Pointing out that silver's resistance levels are currently at $18.75 and then $21.00, it's clear that Guppy believes there is plenty of room for silver to move up. If so, that means the current "hold" in the silver prices may be an ideal time to get in—if investors believe that the precious metal is set to make another climb.
Silver About To Make A Move?
The least likely scenario seems to be that silver won't move at all—that it will simply stay at the current levels in the lower $18 per troy ounce range. Since silver is the most modestly-priced precious metal in the markets, it seems particularly vulnerable to volatility. That should bear out over the next week, and indeed, frequent readers should check this space to get a bird's eye view of the weekly silver trend since today's mixed predictions.
The current price of silver is high relative to March, however, so it will take another big boost in the price for silver to get moving. With good economic news hitting the waves this morning—businesses adding a quarter of a million jobs in March—there is potential that the demand for silver as a hedge may remain low. But there is plenty of April to go.
More from Silver Phoenix 500