Silver Price: Time To Call 2017 a Finished Year?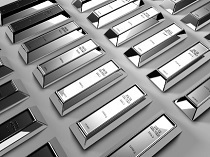 The price of silver, historically low and volatile relative to the price of gold, has been a little bit strange lately. It's not that the metal is fluctuating beyond belief—in fact, it's the opposite. Silver's price range throughout 2017 has been narrow, which means investors haven't been able to make heads or tails of the metal.
Narrower Trading Range Means Less Volatility
Seeking Alpha pointed out that silver's recent performance has seen less volatility for the precious metal. A high of about $18 and a half per troy ounce in April, paired with a low of $15.15 per troy ounce in July, shows that silver has not moved much as of late. Usually, silver tends to be the more volatile of the two big precious metals, which means that those investors looking for big movement in silver—either way—have been disappointed by the precious metal's performance in the latter half of 2017.
The article pointed out that the fundamental here is finding more buyers than sellers of silver—and the precious metal has not been able to do that for the good portion of a year. That may be why so many analysts are now pointing to next year as the potential opportunity for volatility and even growth for silver. That, in turn, makes silver's current price a buying opportunity for those who do believe that the metal will go up in 2018.
Is Silver's 2017 Price Almost Complete?
It's tempting to try and predict where silver will go from here, particularly if there is an unexpected move from the Federal Reserve come December. The current news from CNBC still sees a rate hike as "perfectly reasonable" for that month, which has some in the markets believing that the fluctuation that comes from a rate hike is already "priced in" to the current markets.
This leads us to ask a question about silver's price: is it doomed to do nothing in the remainder of 2017? If recent fluctuations—or lack thereof—are to be believed, silver may in fact hover around the $17 per troy ounce for another month and a half, which in turn means volatility will be low.
Opportunities with Low Volatility
The good news for silver investors is that this kind of projected stability could potentially give a larger window for buying up silver than can usually be expected. Silver investors who buy up the metal or silver stocks regularly know how frustrating it can be to purchase when silver is at a recent high, only to see the gains end and silver retreat back to its usual range. Stability presents a slower buying opportunity which means investors don't have to put as much money aside for silver investments—in fact, they can do it piecemeal, particularly for those who believe that 2018 will be a much more positive year for the metal.
No one knows what the future will bring, but given the recent news in the silver price, it may simply be that this precious metal will remain stable until the turn of the new year.
More from Silver Phoenix 500