Silver Price Update
At the same time that gold broke out of a coiling pattern to the upside on Friday, silver broke out of a Symmetrical Triangle pattern shown on its 6-month chart below. Volume was lacking on this breakout, however, and the same reservations that apply to the outlook for gold also apply to silver, namely that its COTs look more bearish then bullish, and that Hedgers positions in the dollar index are still calling for it to rally. On the other hand, gold proxy GLD did make a volume breakout on Friday, and what's good for gold is usually good for silver. Although these conflicting factors make the situation somewhat ambiguous, there is a favorable trading setup here, because silver is still quite close to the apex of the Symmetrical Triangle, so it is possible to open long positions with fairly close stops beneath the apex of the triangle in case the breakout was false. Gold's price pattern now looks quite favorable, with it looking set to run to a resistance level towards the top of an uptrend channel, and if that happens, silver should follow suit and advance towards its early September highs at about $18.25, perhaps stopping short at about $18.00 for a reason we will observe on its 2-year chart. Point for a stop for traders going long is about $16.70.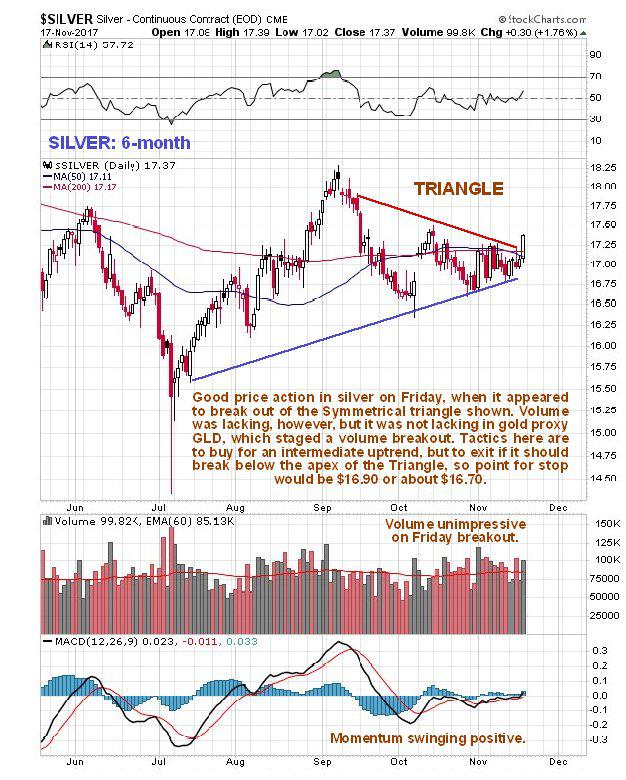 On silver's 2-year chart we can see that it looks considerably weaker than gold, and its trend is at best neutral overall, and any short-term rally is thought likely to top out close to the upper boundary of the much larger Triangle shown on this chart at about $18.00. Such a rally would "not be much to write home about".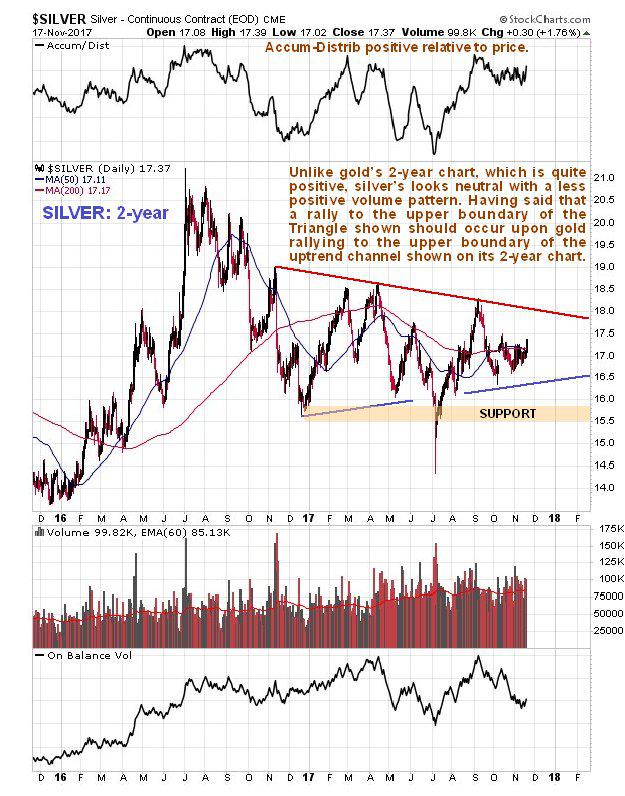 Although a near-term rally in silver in sympathy with gold looks quite likely, we can see why it is unlikely to get very far on its latest COT chart. COT positions on this chart look more bearish than bullish, and any near-term rally is likely to quickly take them to extremes.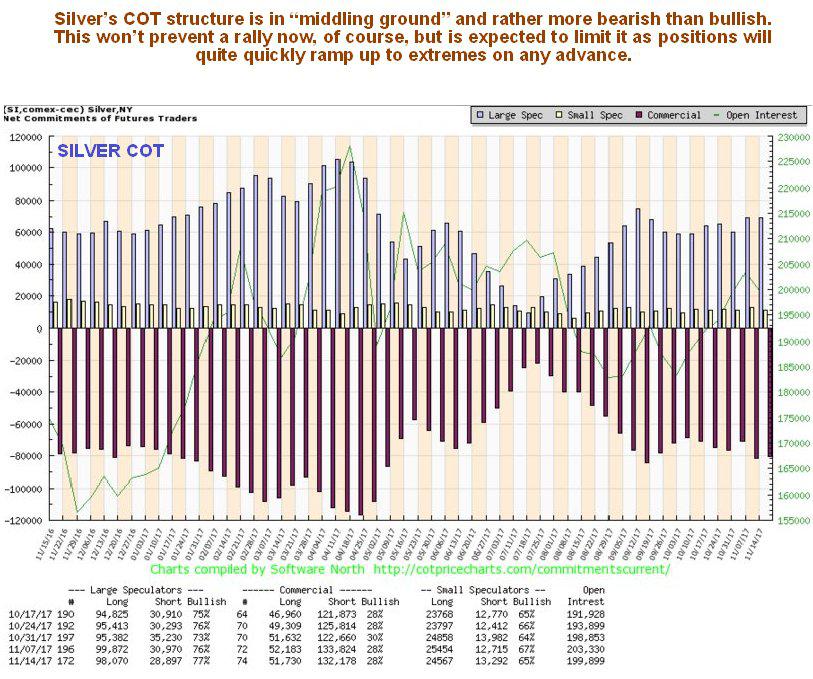 Click on chart to popup a larger clearer version.
The conclusion is that although silver may be starting a rally here, it still looks weak compared to gold. Consequently, the rally is thought unlikely to get very far, especially as it is blighted by a still rather bearish COT structure. And moreover like gold, the white metal continues to be threatened by a dollar rally. So it looks like it will be going along with gold "just for the ride".
*********  
More from Silver Phoenix 500