Silver Speculators Push Bullish Bets To 21-Week High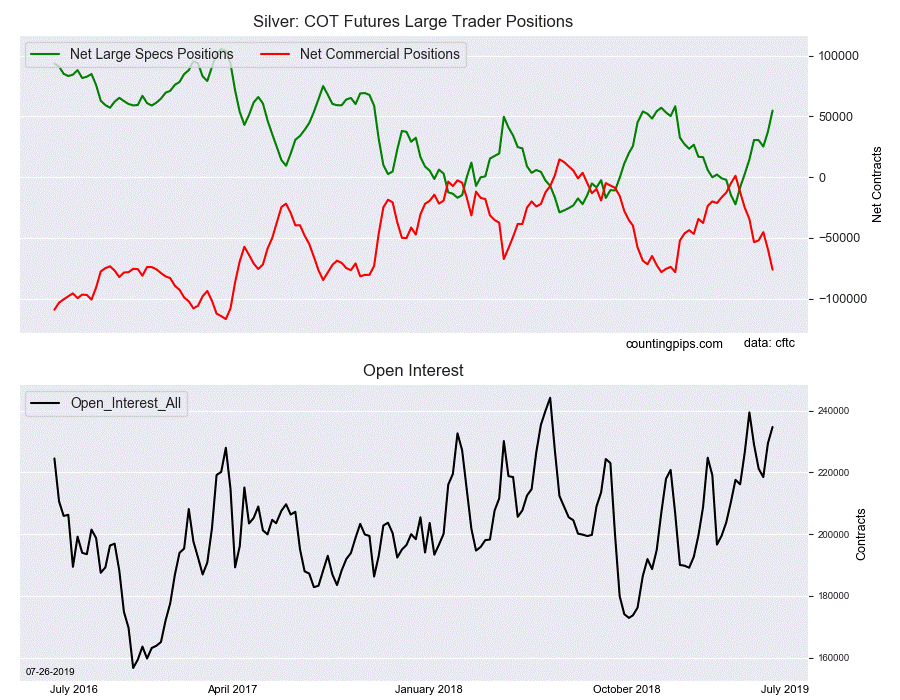 Silver COT Futures Large Traders Positions
Silver Non-Commercial Speculator Positions:
Large precious metals speculators sharply raised their bullish net positions in the Silver futures markets this week, according to the latest Commitment of Traders (COT) data released by the Commodity Futures Trading Commission (CFTC) on Friday.
The non-commercial futures contracts of Silver futures, traded by large speculators and hedge funds, totaled a net position of 54,761 contracts in the data reported through Tuesday, July 23rd. This was a weekly jump of 17,336 net contracts from the previous week which had a total of 37,425 net contracts.
The week's net position was the result of the gross bullish position (longs) gaining by 9,680 contracts (to a weekly total of 110,129 contracts) and the gross bearish position (shorts) lowering by -7,656 contracts for the week (to a total of 55,368 contracts).
The large speculators added to their existing bullish positions for a second straight week and by a total of +29,610 contracts over that period. Bullish bets have now risen by at least +10,000 contracts in six out of the past eight weeks and that positive sentiment has taken the net position from -8,443 contracts on June 4th to a total of +54,761 contracts this week.
The current bullish position is at the best level since February 26th when the total was +58,313 contracts.
Silver Commercial Positions
The commercial traders' position, hedgers or traders engaged in buying and selling for business purposes, totaled a net position of -76,138 contracts on the week. This was a weekly drop of -16,781 contracts from the total net of -59,357 contracts reported the previous week.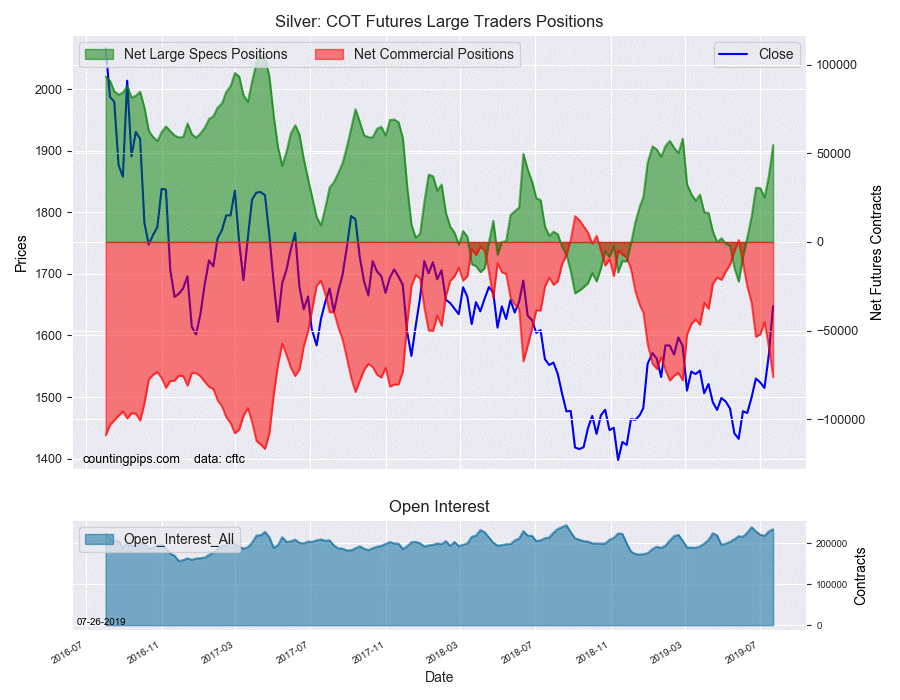 Silver COT Futures Large Traders Positions
Silver Futures
Over the same weekly reporting time-frame, from Tuesday to Tuesday, the Silver Futures (Front Month) closed at approximately $1647.60 which was a boost of $79.80 from the previous close of $1567.80, according to unofficial market data.
*********
More from Silver Phoenix 500