Silver Speculators Sharply Boosted Bearish Bets To Most Since November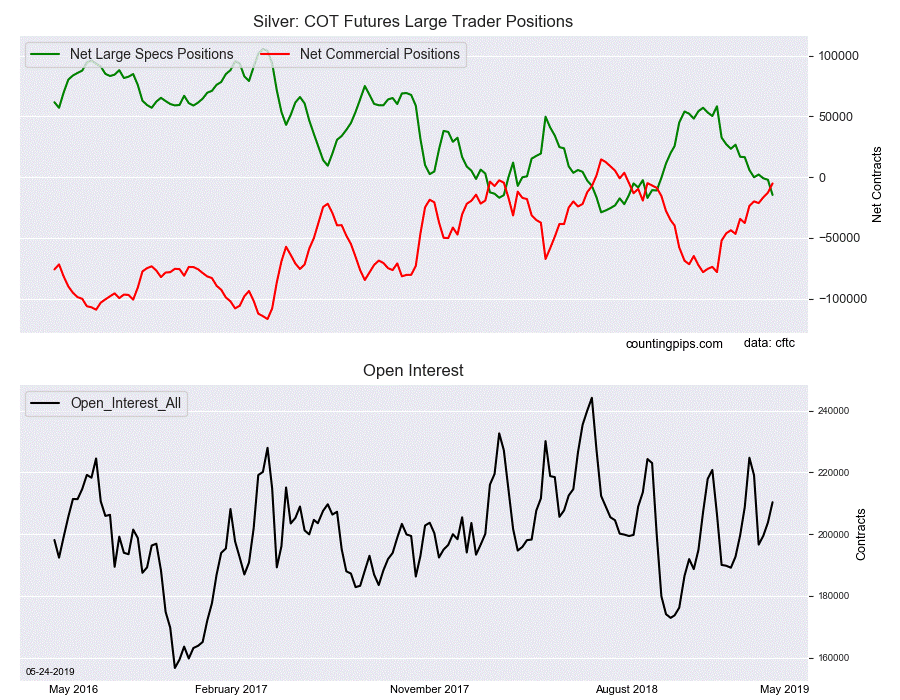 Silver COT Futures Large Trader Positions
Silver Non-Commercial Speculator Positions
Large precious metals speculators sharply added to their bearish net positions in the Silver futures markets this week, according to the latest Commitment of Traders (COT) data released by the Commodity Futures Trading Commission (CFTC) on Friday.
The non-commercial futures contracts of Silver futures, traded by large speculators and hedge funds, totaled a net position of -14,662 contracts in the data reported through Tuesday, May 21st. This was a weekly change of -12,453 net contracts from the previous week which had a total of -2,209 net contracts.
The week's net position was the result of the gross bullish position (longs) falling by -2,060 contracts (to a weekly total of 75,482 contracts) while the gross bearish position (shorts) increased by 10,393 contracts for the week (to a total of 90,144 contracts).
The net speculative position has now had rising bearish bets three straight weeks and for eight out of the past nine weeks as speculator sentiment for Silver has clearly turned negative.
This week's fall by over -12,000 net positions was the largest one-week decline of the past eleven weeks and puts the current standing at the most bearish level since November 13th of 2018 (-17,145 contracts). Silver net positions spent a total of seventeen weeks in bearish territory from August to early December before turning bullish in December (and strongly bullish during the December stock selloff).
Silver Commercial Positions
The commercial traders' position, hedgers or traders engaged in buying and selling for business purposes, totaled a net position of -5,183 contracts on the week. This was a weekly gain of 7,595 contracts from the total net of -12,778 contracts reported the previous week.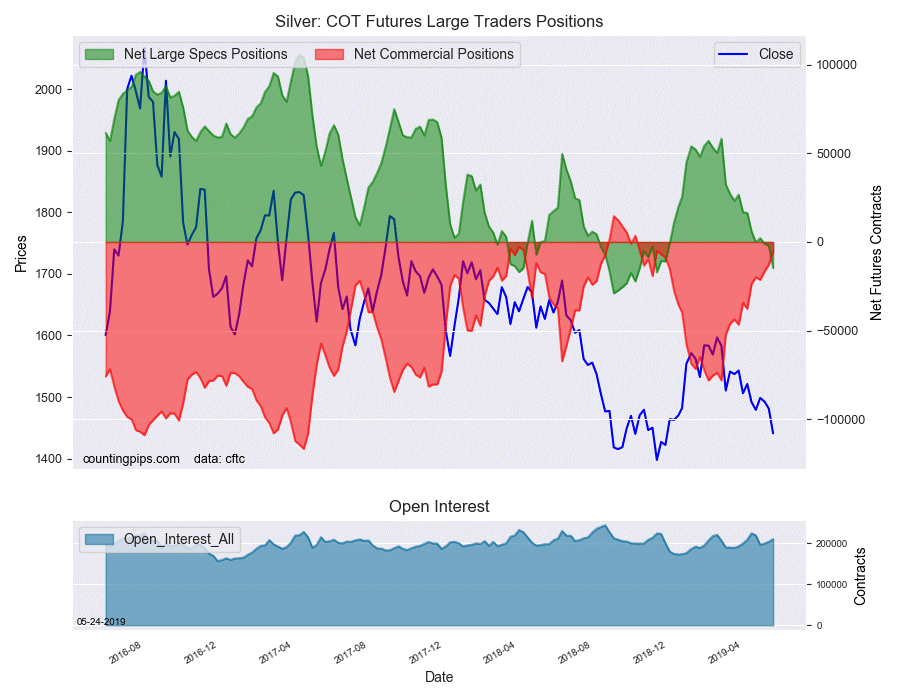 Silver COT Futures Large Trader Positions
Silver Futures
Over the same weekly reporting time-frame, from Tuesday to Tuesday, the Silver Futures (Front Month) closed at approximately $1441.00 which was a loss of $-40.20 from the previous close of $1481.20, according to unofficial market data.
*********
More from Silver Phoenix 500