Tick, Tock, Tax Time
In 2014, Americans will pay $3 trillion in federal taxes and $1.5 trillion in state taxes. Believe it or not, according to the Tax Foundation, that means more of your income is being spent on taxes than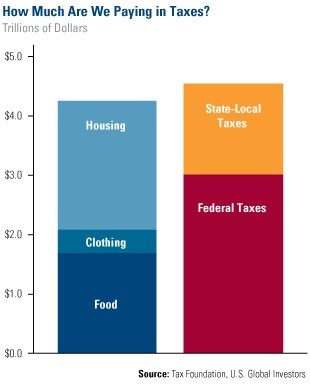 on food, clothing and housing combined!
Ever wonder where that money goes? My friend Terry Savage points out this interesting graphic of just how the federal government spent your tax dollars.
Time to Pay Up
In fact, today marks the official deadline for taxpayers to file their 2013 returns to the Internal Revenue Service (IRS) without penalty, lending a sigh of relief to many that the process is over, but leaving others still in panic mode.
Changes in the IRS tax brackets from 2013 to 2014 were minimal for the most part, with many Americans remaining in their same income bracket.
As I wrote about earlier this year, what's interesting is to see exactly how much the different income brackets are paying in taxes. Did you know the top 1 percent of American income earners pay increasingly more in taxes than the bottom 90 percent? In 1980 the bottom 90 percent paid about half, compared to less than a third in 2011.
Our Tax Table Handout details the 2014 tax rates and brackets, along with information about savings and retirement plans. If you are unsure where you fall, I encourage you to take a look, especially at deferral limits.
Tax Freedom Day
Whether or not you are celebrating the completion of your tax filings today, there is yet another tax-related date to mark on your April calendar. April 21, known as Tax Freedom Day, is only six days away.
This day signifies when the United States, as a whole, has earned enough money to pay its tax bill for that specific year, says the Tax Foundation. According to the group, the determination of whether the taxes are paid, and thus what day Tax Freedom Day lands on, is based on a formula that divides federal, state and local taxes by U.S. income.
Although April 21 marks the Tax Freedom Day of the entire United States, each and every state has its own Tax Freedom Day as well. To simplify this, your state's Tax Freedom Day is the day when residents of your state have worked long enough to pay all tax obligations at the federal, state and local level.
This depends on a variety of factors, but mainly relates back to the individual state's tax policies as well as income brackets.
For example, in Texas, we have already reached our Tax Freedom Day which landed on April 13. Has your state reached its Tax Freedom Day yet? Check out the Tax Foundation website to learn where your state falls on the calendar.
The later your state's Tax Freedom Day, the more money income earners are paying in taxes. Unfortunately this also means that the later the date, the less money taxpayers are able to save and reinvest in their communities.
Alleviating the Tax Burden
Understandably, "tax talk" isn't the most popular conversation around the dinner table, but understanding the rules and knowing where your money goes, is important.
Don't be overwhelmed by the big picture. One way to alleviate the tax burden is through investing in municipal bonds. At U.S. Global Investors, our Near-Term Tax Free Fund (NEARX) invests in municipal bonds with relatively short maturities.
In addition to monthly dividend income exempt from federal taxes, the fund has a track record of growth over time and is highly rated by Morningstar.
Remaining educated and curious about federal and local taxes, and knowing your options when it comes to investing, can help you prepare each time April rolls, especially when the clock starts ticking towards tax time.
Bond funds are subject to interest-rate risk; their value declines as interest rates rise. Tax-exempt income is federal income tax free. A portion of this income may be subject to state and local income taxes, and if applicable, may subject certain investors to the Alternative Minimum Tax as well. The Near-Term Tax Free Fund may invest up to 20% of its assets in securities that pay taxable interest. Income or fund distributions attributable to capital gains are usually subject to both state and federal income taxes. The Near-Term Tax Free Fund may be exposed to risks related to a concentration of investments in a particular state or geographic area. These investments present risks resulting from changes in economic conditions of the region or issuer.
All opinions expressed and data provided are subject to change without notice. Some of these opinions may not be appropriate to every investor. By clicking the link above, you will be directed to a third-party website. U.S. Global Investors does not endorse all information supplied by this website and is not responsible for its content. The information in this post does not constitute tax advice and is provided for informational purposes only.
********
Please consider carefully a fund's investment objectives, risks, charges and expenses. For this and other important information, obtain a fund prospectus by visiting www.usfunds.com or by calling 1-800-US-FUNDS (1-800-873-8637). Read it carefully before investing. Distributed by U.S. Global Brokerage, Inc.
More from Silver Phoenix 500