What Thanksgiving Cranberries And Bitcoin Have In Common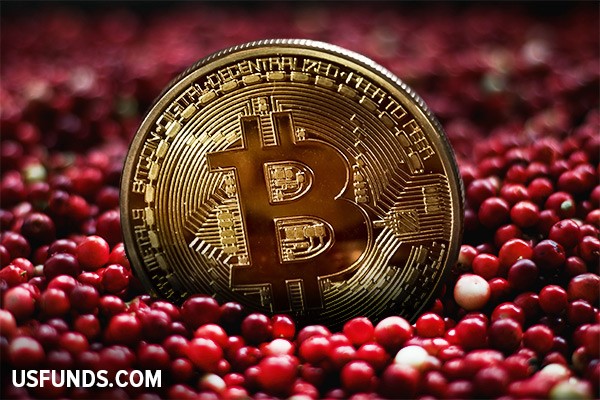 Football is as much a part of Thanksgiving as turkey and family are, and nearly as old as the holiday itself. It was President Abraham Lincoln who proclaimed Thanksgiving a national holiday in 1863, saying that he hoped all Americans would carve out some time to bless the "widows, orphans, mourners or sufferers in the lamentable civil strife in which we are unavoidably engaged."
In 1876, a little more than a decade after the end of that "civil strife," students from Yale and Princeton met in Hoboken, New Jersey, to play what is believed to be the first football game held on Thanksgiving Day. Yale ended up besting its fellow Ivy League competitor, two "goals" to zero.
At the time, "football" still more closely resembled rugby than the sport we enjoy today. But a tradition was born. On subsequent Thanksgivings, the Yale-Princeton matchups generated so much cash in ticket sales that they funded the two universities' athletic programs for the rest of the year.
The model was such a success that the National Football League (NFL) made sure to carry on the tradition upon its founding in 1920. Professional football has been played on Turkey Day ever since, except for those in the years from 1941 to 1945.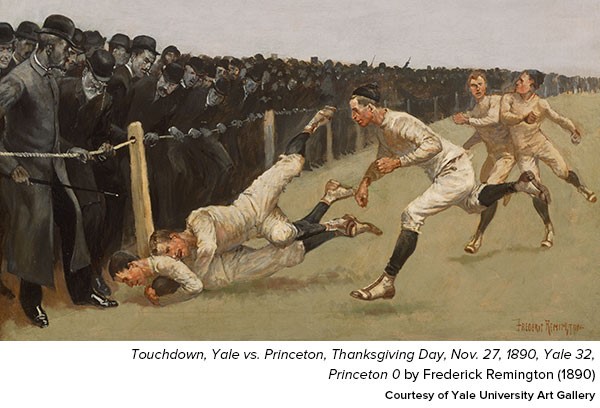 The Cost of Thanksgiving Just Came Down for the Third Straight Year…
For most families, football comes second to the real Thanksgiving pastime—eating. But unlike ticket prices for an NFL game, which have gone up about 50 percent in the past 10 years, the cost of enjoying a Thanksgiving meal got slightly cheaper in 2018.
According to the American Farm Bureau Federation (AFBF), the cost of a typical Turkey Day feast for 10 people deflated about $0.22 from last year to $48.90. That's the third straight year of declines, and the lowest level since 2010.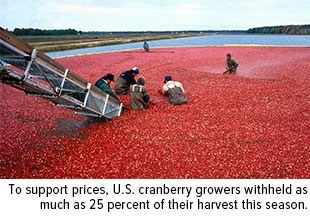 More affordable energy and an oversupply in the turkey market contributed to lower food prices, as did the trade dispute between the U.S. and China. You would think that tariffs on Chinese products would raise prices, but as the Wall Street Journal explains, "China's retaliatory moves are having the opposite effect."
"Tariffs on U.S. agricultural products have dampened Chinese demand, boosting supplies of some staples of the Thanksgiving table," writes the WSJ's Justin Lahart. Because of the supply glut, cranberry growers in particular have seen prices fall below the cost of production, estimated at $35 per barrel—which is bad for the farmers, obviously, but good for American consumers. As much as 25 percent of the U.S. supply of cranberries had to be dumped this season in order to support prices.
…But Christmas Continues to See Inflation
Cranberries are one thing, a partridge in a pear tree is another.
Every year for the past 35 years, PNC Financial Services has priced out all the items listed in the holiday song "The 12 Days of Christmas." The cost of all 364 gifts, from turtle doves to pipers piping, rose 1.2 percent this year to $39,094.93. That's almost double what the same items cost back in 1984.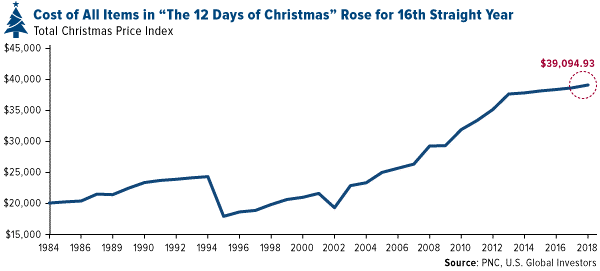 Interestingly, just as the U.S. Bureau of Labor Statistics excludes food and energy from its "core" consumer price index (CPI) because they tend to be more volatile than the other items, PNC excludes the price of swans from its Christmas index for the very same reason.
The gift that rose the most from Christmas 2017 was the six geese a-laying. They'll set you back $390 this year, 8.3 percent more than last year.
The gift that fell the most, meanwhile, was the five gold rings. They cost $750, down 9.1 percent from $825 in 2017. That's good news for jewelers such as newcomer Menē, which prices its merchandise based on the gold and platinum weight value. 
Bitcoin Miners Await a Recovery in Prices
Like the cranberry growers, many bitcoin miners are choosing to limit supply as prices right now are lower than operating costs. Bitcoin fell below $5,000 last Saturday, then below $4,000 on Saturday. These are levels we haven't seen in over a year. The average cost of mining a single bitcoin, meanwhile, is estimated to be between $6,000 and $7,000, meaning miners are operating at a loss.
The global bitcoin hash rate, therefore, is rolling over as smaller miners shut down rigs and await a recovery in prices. The hash rate, which measures how much power the bitcoin network is consuming, is now at August levels. It's worth pointing out, though, that the rate is still up sharply this year, even as the world's largest cryptocurrency has struggled to find the momentum that carried it to nearly $20,000 last December.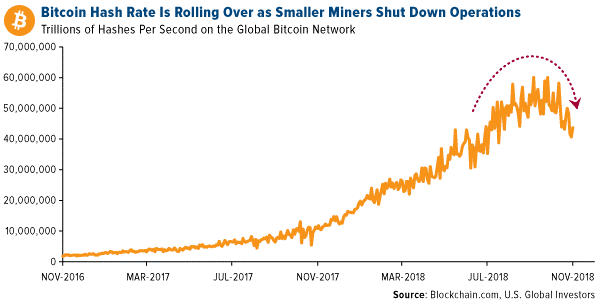 This should be good news for the bigger players in the industry, most notably HIVE Blockchain Technologies, since they'll control a larger share of the market.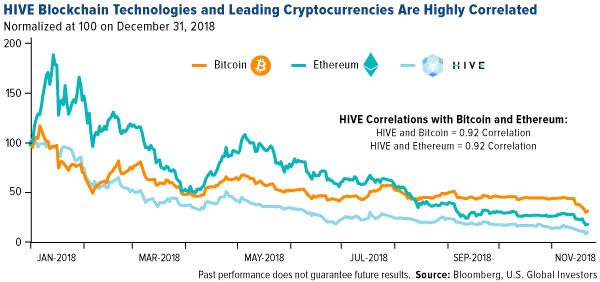 Vancouver-based HIVE, the first publicly listed blockchain infrastructure company, is a pure play blockchain and Ethereum investment for the capital markets. As such, many investors trade HIVE as an easy proxy for those digital coins. In the chart above, you can see that its share price shares a very strong correlation with both bitcoin and Ethereum. For 2018, HIVE had a correlation coefficient of 0.92 with those two coins. A correlation of 1.0 would mean that the two assets trade perfectly in sync. When cryptocurrencies begin to recovery, then, it seems logical to expect that HIVE would follow suit.
For more on blockchain and bitcoin, be sure to subscribe to our award-winning Investor Alert by clicking here!
The Consumer Price Index (CPI) is one of the most widely recognized price measures for tracking the price of a market basket of goods and services purchased by individuals. The weights of components are based on consumer spending patterns.
Frank Holmes has been appointed non-executive chairman of the Board of Directors of HIVE Blockchain Technologies. Effective 8/31/2018, Frank Holmes serves as interim executive chairman of HIVE. Both Mr. Holmes and U.S. Global Investors own shares of HIVE, directly and indirectly. Investing in crypto-coins or tokens is highly speculative and the market is largely unregulated.
The Christmas Price Index is a tongue-in-cheek economic indicator, maintained by the U.S. bank PNC Wealth Management, which tracks the cost of the items in the carol "The Twelve Days of Christmas."
*********
Holdings may change daily. Holdings are reported as of the most recent quarter-end. The following securities mentioned in the article were held by one or more accounts managed by U.S. Global Investors as of 9/30/2018: Mene Inc.
All opinions expressed and data provided are subject to change without notice. Some of these opinions may not be appropriate to every investor. By clicking the link(s) above, you will be directed to a third-party website(s). U.S. Global Investors does not endorse all information supplied by this/these website(s) and is not responsible for its/their content.
U.S. Global Investors, Inc. is an investment adviser registered with the Securities and Exchange Commission ("SEC"). This does not mean that we are sponsored, recommended, or approved by the SEC, or that our abilities or qualifications in any respect have been passed upon by the SEC or any officer of the SEC.

This commentary should not be considered a solicitation or offering of any investment product.

Certain materials in this commentary may contain dated information. The information provided was current at the time of publication.
********
More from Silver Phoenix 500