Why Energy Is Catching The Market's Eye
Over the last month the energy sector has outperformed the market, and as you can see in the chart below, has done so by 6.5 percent. Year-to-date the sector is beating the S&P500 Index by over 3 percent.
In a spectacularly performing market during 2013, energy lacked some of the incredible performance seen throughout the other sectors, but recently it has turned up, catching the attention of the market yet again.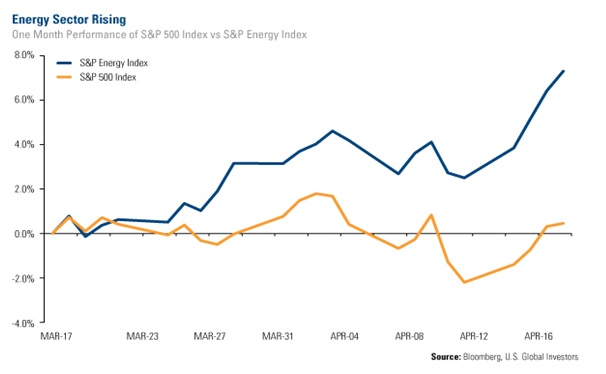 What's causing this sudden shift in relative strength?
As our Director of Research John Derrick describes in our recent video on the Periodic Table of Sector Returns, it is not unusual to see sectors move from top to bottom from one year to the next. For example, energy ranked as one of the top-performing sectors from 2004 through 2007, but quickly lost momentum in 2008 when it was hit the hardest after the financial crisis. In 2012 and 2013 energy turned in some solid numbers, but lagged in comparison to the other sectors.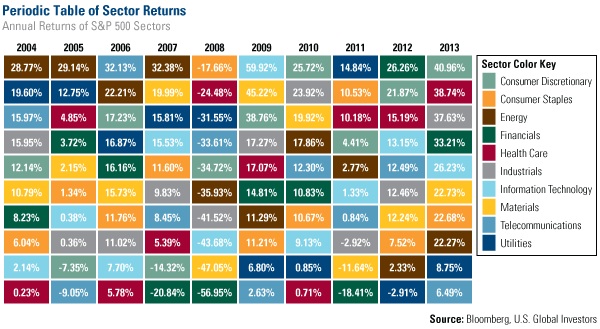 In looking at an overview of market performance, it's important to recognize what caused the moves. For example, one reason the energy sector is climbing back up, could be due to the broader market rotation that we've noticed recently, from growth stocks to value stocks.
Growth stocks are generally successful companies that are expected to continue growing their earnings, usually at a rate that outpaces the market, causing investors to pay more for them. Value stocks rarely outpace the market as much as growth stocks do. Investors see potential in buying these cheaper names, ones that trade at lower price-to-earnings (P/E) ratios than the S&P average, because they still have the potential to significantly outperform over time.
As I mentioned, in the past few weeks high-growth names have pulled back, while value names are steadily gaining momentum. One of the main reasons for this rotation is that some investors view the valuations of growth names as too high, especially in comparison to the value companies.
******** 
Please consider carefully a fund's investment objectives, risks, charges and expenses. For this and other important information, obtain a fund prospectus by visiting www.usfunds.com or by calling 1-800-US-FUNDS (1-800-873-8637). Read it carefully before investing. Distributed by U.S. Global Brokerage, Inc.
Past performance does not guarantee future results.
Foreign and emerging market investing involves special risks such as currency fluctuation and less public disclosure, as well as economic and political risk. Because the Global Resources Fund concentrates its investments in a specific industry, the fund may be subject to greater risks and fluctuations than a portfolio representing a broader range of industries.
Fund portfolios are actively managed, and holdings may change daily. Holdings are reported as of the most recent quarter-end. Holdings in the Global Resources as a percentage of net assets as of 03/31/14: EOG Resources 2.37%, Halliburton Co 1.87%, Pacific Rubiales Energy Corp  0.25%, Schlumberger Ltd 3.46%, Valero Energy Corp 0.29%.
All opinions expressed and data provided are subject to change without notice. Some of these opinions may not be appropriate to every investor. The S&P 500 Stock Index is a widely recognized capitalization-weighted index of 500 common stock prices in U.S. companies. The S&P 500 Energy Index is a capitalization-weighted index that tracks the companies in the energy sector as a subset of the S&P 500.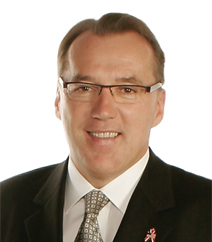 Frank Holmes is the CEO and Chief Investment Officer of U.S. Global Investors. Mr. Holmes purchased a controlling interest in U.S. Global Investors in 1989 and became the firm's chief investment officer in 1999. Under his guidance, the company's funds have received numerous awards and honors including more than two dozen Lipper Fund Awards and certificates. In 2006, Mr. Holmes was selected mining fund manager of the year by the Mining Journal. He is also the co-author of "The Goldwatcher: Demystifying Gold Investing." Mr. Holmes is engaged in a number of international philanthropies. He is a member of the President's Circle and on the investment committee of the International Crisis Group, which works to resolve conflict around the world. He is also an advisor to the William J. Clinton Foundation on sustainable development in countries with resource-based economies. Mr. Holmes is a native of Toronto and is a graduate of the University of Western Ontario with a bachelor's degree in economics. He is a former president and chairman of the Toronto Society of the Investment Dealers Association. Mr. Holmes is a much-sought-after keynote speaker at national and international investment conferences. He is also a regular commentator on the financial television networks CNBC, Bloomberg and Fox Business, and has been profiled by Fortune, Barron's, The Financial Times and other publications. Visit the U.S. Global Investors website at http://www.usfunds.com.
More from Silver Phoenix 500: