Why Silver Prices Could Easily Double From Here
In the first 10 months of this year, the U.S. Mint sold 39.2 million ounces of silver in coins. In the same period last year, the Mint only sold 28.94 million ounces of silver in coins. A general negativity by investors surrounding silver this year has not stopped people from buying silver coins. In fact, demand is up 35% so far in 2013. (Source: U.S. Mint web site, last accessed November 1, 2013.)
Meanwhile, if I look at the chart of the gold-to-silver ratio—which shows how much silver is needed to buy one ounce of gold bullion—silver prices look undervalued. (I've posted the chart for my readers below.)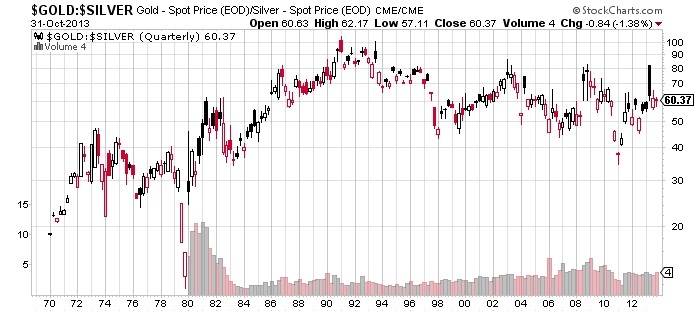 Chart courtesy of www.StockCharts.com
At present, it would take 60 ounces of silver to buy one ounce of gold bullion. The 200-year historical average is 37 ounces of silver to buy one ounce of gold bullion. (Source: Market Watch, July 19, 2013.) If we go back to the historical average, and we eventually will, silver prices would have to rise to $35.00 an ounce given the current price of gold bullion.
And if we look at the "natural gold-to-silver ratio," that's the amount of silver in the earth's crust compared to gold, then the ratio is 17 to one. Yes, in that case silver would have to increase in price to $77.00 an ounce!
The more realistic picture, dear reader, is for silver to go back to its record high reached in April 2011 of $48.70 an once—that's more than twice the current price of silver.
Since silver prices fell this spring, silver producers don't have much incentive to explore for more silver—they have started to cut back on their production. So supply is soft for silver, demand is rising, and investor sentiment is very negative—the perfect scenario for silver prices to start rising again.
It's also very interesting to note that for gold bullion prices to get back to their peak of $1,900 an ounce, they would have to increase 44% from today's gold bullion price. But for silver prices to get back to their peak of $48.70 an ounce, they would have to rise 132% from today's prices. Silver prices have been much harder hit than gold prices—and that tells me silver has more upside potential.
There have been many instances when the adage "buy when there's blood on the street" has turned out to be the best investment strategy. March of 2009 was one great example of this—there were not a lot of stock advisors saying buy stock back then as panic had set in. In the midst of this panic, the greatest buying opportunity was born.
These days, I hear stock advisors saying companies operating in the eurozone are a good buy. The words I hear thrown around are "good value" and "cheap." My opinion on the eurozone stocks is very different. I feel the worst is yet to come for many companies operating in the weaker eurozone countries, especially the Italian banks.
I'm sticking to my original belief that the euro region is still in outright trouble and that the economic slowdown the region is experiencing could continue for a long time.
Yes, there is speculation the euro region is slowly getting out of its economic slowdown, but that opinion is not backed by the statistics—the numbers are telling a different story.
The unemployment picture in the area is not improving! In September, there were 19.47 million people unemployed in the eurozone. The unemployment rate remained at 12.2% in September, unchanged from August. (Source: Eurostat, October 31, 2013.)
What's worrisome is the fact that the biggest economic hubs in the eurozone are seeing their unemployment rate increase. In France, the second-biggest economy in the region, the unemployment rate has risen seven percent from the same period a year ago. In September, the jobless rate in France stood at 11.1% compared to 10.4% in September of 2012. The unemployment rate in Italy, the third-biggest hub in the euro region, has increased from 10.9% in September 2012 to 12.5% in September of this year!
The root problem that created the economic slowdown in the eurozone remains—bad debt. According to Pricewaterhousecooper (PwC), the amount of bad loans has increased to 30% of all loans in Greece. At the end of 2012, this number stood at 25%, and it was 18% at the end of 2011. (Source: Kathimerini, October 31, 2013.)
To this day, there appears to be no light at the end of the tunnel for the eurozone. Buying companies operating in the region right now is risky, because we have yet to hit bottom in the eurozone. In 2009, in America, there was "blood in the street" and we hit bottom. I don't think the eurozone has quite hit bottom yet.
Courtesy of Michael Lombardi, MBA,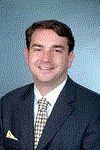 Michael bought his first stock when he was 17 years old. He quickly saw $2,000 of savings from summer jobs turn into $1,000. Determined not to lose money again on a stock, Michael started researching the market intensely, reading every book he could find on the topic and taking every course he could afford. It didn't take long for Michael to start making money with stocks, and that led Michael to launch a newsletter on the stock market. Some of the stock recommendations in Michael's various financial newsletters have posted gains in excess of 500%! Michael has authored and published over one thousand articles on investment and money management. Michael became an active investor in real estate, art, precious metals and various businesses. Michael received his Chartered Financial Planner designation from the Financial Planners Standards Council of Canada and his MBA from the Graduate Business School, Heriot-Watt University, Edinburgh, Scotland.
More from Silver Phoenix 500: