Gold, Silver, Copper Analysis: XAU/USD Nears $2,000, XAG/USD Value Surges
NEW YORK (November 17) Gold prices rose modestly on Friday, nearing $2,000 per ounce, marking their strongest week since early October. This 2.5% to 3% increase is fueled by weaker U.S. inflation data and expectations of a Federal Reserve rate hike pause, amidst global recession fears.
However, rising U.S. jobless claims and potential future rate policies keep investors cautious. Despite a possible Fed pause, prolonged high rates could dampen gold's appeal due to higher holding costs.
Concurrently, copper prices are stable, with futures slightly up at $3.6978 a pound, driven by positive developments in China's economy and substantial monetary stimulus from its central bank.
Gold Prices Forecast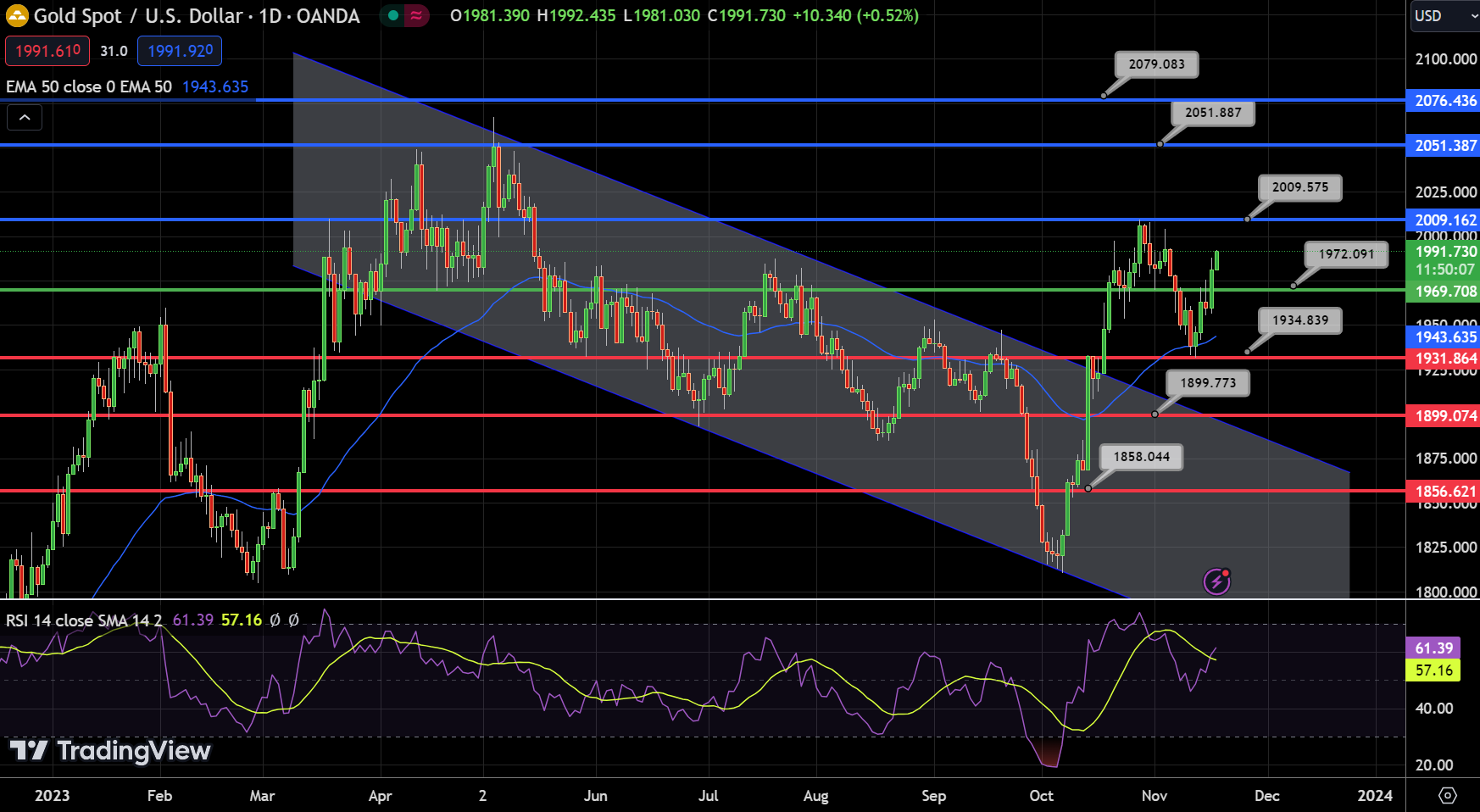 GOLD – Chart
In the commodities market, gold exhibits a bright sheen, posting a 0.58% increase, with its price hitting $1992 in the latest session. The precious metal has found its fulcrum at a pivot point of $1,972, signaling a potential for further climbs if it can breach the immediate resistance pegged at $2,010.
Additional barriers await at $2,052 and $2,079, with support levels formed at $1,935 and stretching down to $1,858, should the market turn.
Technical indicators align with the current uptick, as the Relative Strength Index (RSI) reads at 61, suggesting a healthy bullish bias without straying into overbought territory.
The MACD echoes this sentiment, with a current value indicating an uptrend as gold positions itself comfortably above the 50-day EMA of $1,967.
Gold's chart patterns, including a 'bounce-off' above the $1940 50 EMA line and a 'three white soldiers' formation, reinforce the bullish outlook.
As the market digests these signals, the expectation is that gold may soon challenge the upper resistance levels, provided the bullish momentum sustains above the $1,972 mark.
Silver Prices Forecast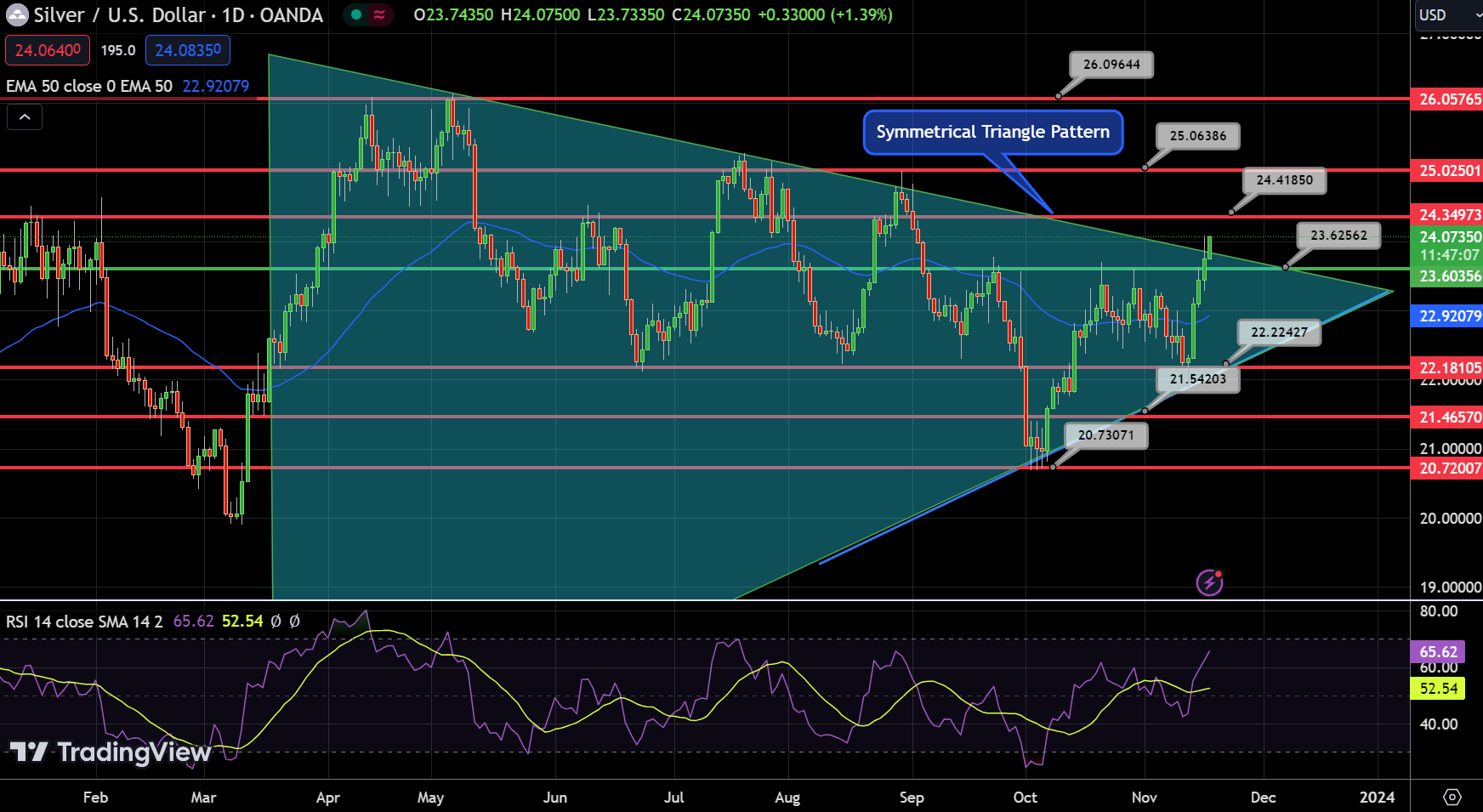 Silver – Chart
Silver's radiance shines in the trading realm with a significant 1.39% surge to $24.064, reflecting renewed investor confidence. The precious metal now rests above a calculated pivot point of $23.63, eyeing a progression towards the immediate resistance at $24.42.
Should the bullish current persist, the path could lead to further resistance at $25.06, and perhaps even the $26.10 echelon.
The technical milieu is favorable, with the Relative Strength Index (RSI) at a robust 65, indicating bullish momentum yet tempered enough to avoid overbought concerns.
The MACD's slight nudge above the signal line corroborates the upward trajectory, affirming the positive trend as silver gleams above the 50-day EMA of $23.06.
Chart analysis reveals a symmetrical triangle pattern break at $23.60, proposing a steadfast uptrend. As the market contemplates this formation, silver is projected to maintain its luster, potentially testing higher resistances, granted it sustains its shimmer above the $23.25 threshold.
Copper Prices Forecast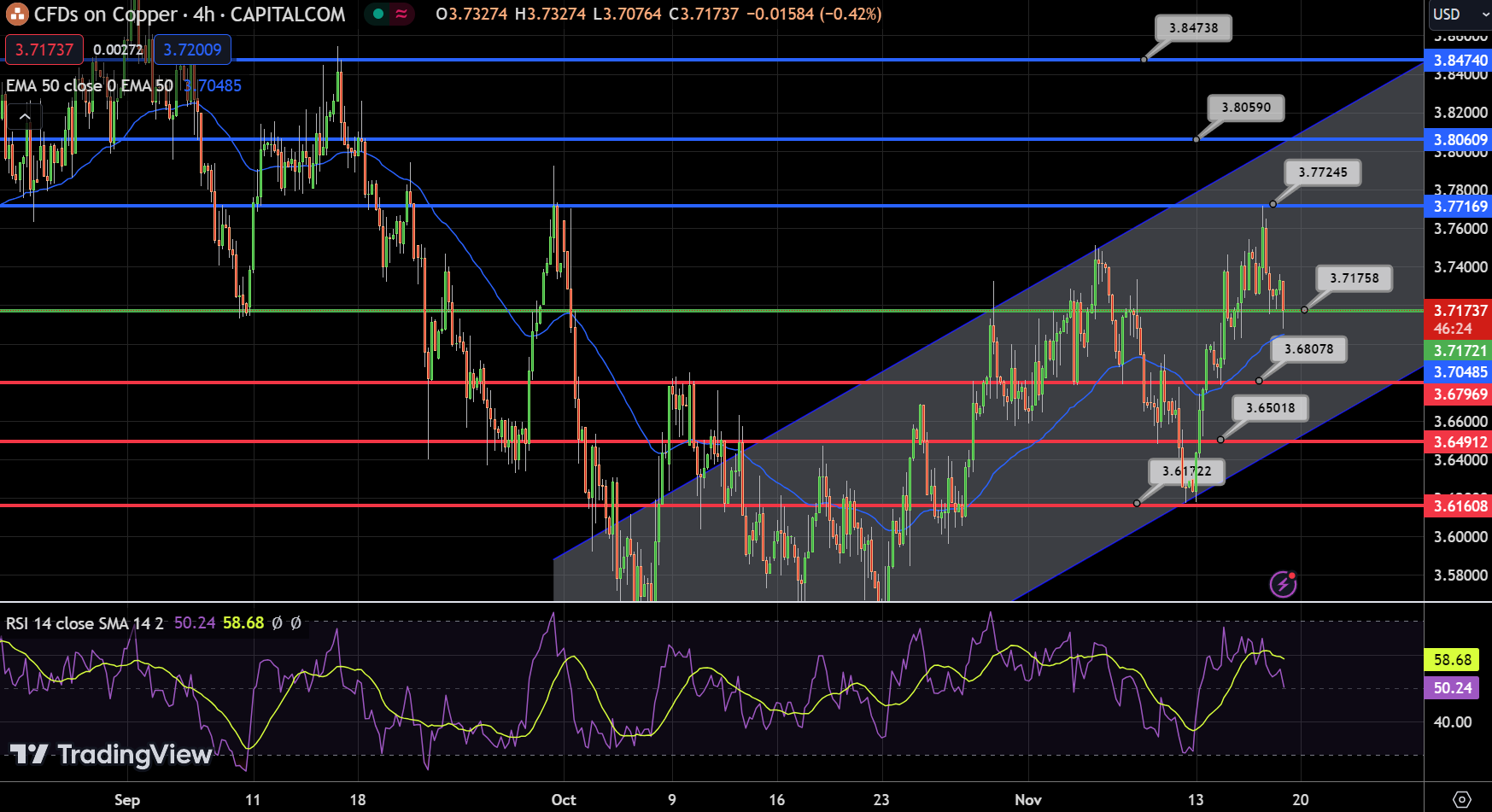 Copper – Chart
In the metals market, Copper has experienced a marginal decline, edging down by 0.05% to a trading price of $3.70. This slight retreat places it just below the pivot point of $3.72, suggesting a tentative stance among traders.
Key resistance levels at $3.77 and $3.81 are the immediate hurdles copper faces on its path to recovery, with a more distant resistance at $3.85.
The Relative Strength Index (RSI) presents a neutral stance at 50, implying a balance between buying and selling pressures. The MACD's slight dip below the signal line could be hinting at a brewing bearish sentiment, yet the close of candles above the 0-day EMA at $3.70 could indicate an underlying bullish tendency.
Chart analysis shows an upward channel that may be bolstering the buying trend, with the potential for copper to maintain bullishness above the $3.70 mark. The upcoming sessions are anticipated to be crucial in determining whether copper can push past its current resistance points.
FXEmpire