"We Are On the Cusp Of An Explosion in the Silver Price" – John Embry
Not everybody is believing the positive spin being put on recent financial market data. In fact some would go as far as to say that it is "propaganda" being spread in the mainstream media in an election year for the US.  At least that is what John Embry concluded in a recent interview.
For those that are not familiar with Embry, he is the chief investment strategist at Sprott Asset Management and Sprott Gold and Precious Minerals Fund, and a highly respected precious metals industry expert with nearly 50 years of experience.
Embry believes that, while stock markets have gone back to near record levels in the US, the fact that interest rates remain at depression levels in most industrialised countries, including the US, is telling the real economic story.
He also highlights the stellar performance of silver mining stocks as an indicator of what might be in store for the silver price.
"The absolutely spectacular performance of silver mining equities so far this year tells the real story.  I firmly believe we are on the cusp of an explosion in the silver price that will ultimately see silver trade at many multiples of the current $20 price (new all-time highs).  And if the hyperinflation occurs, which I believe is inevitable due to the current global monetary policy, who knows how high the price can go?"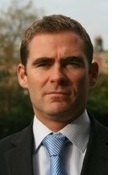 Mark O'Byrne is executive and research director of www.GoldCore.com which he founded in 2003. GoldCore have become one of the leading gold brokers in the world and have over 4,000 clients in over 40 countries and with over $200 million in assets under management and storage.We offer mass affluent, HNW, UHNW and institutional investors including family offices, gold, silver, platinum and palladium bullion in London, Zurich, Singapore, Hong Kong, Dubai and Perth.
More from Silver Phoenix 500: