Mid Week Gold, Silver, Oil & Nat Gas Trading Report
Commodities so far this week have not changed much. But I can point out a few things for us to watch Thursday and Friday.
Precious Metals
- Gold GLD fund - Silver SLV Fund - PM Stocks GDX Fund
We could start to see a shift between the price relationship between gold and the broad market. I pointed this out last week mentioning that gold and silver are starting to hold up in value, while stocks sell off on big days. For example, Wednesday's sell-off in equities did not have much effect on precious metals. This is what we want to see. It means money is moving out of stocks and into gold and silver bullion as a safe haven.
These three charts of GLD, SLV and GDX show Wednesday's price action as gold and silver moved higher while precious metal stocks sold down with the rest of the market. This is generally a bearish indicator for gold and silver but because I am starting to see this happen more often and traders are ready for the market to top any day, I am seeing this as a bullish indicator. If the market starts to slide I have a feeling investors will be dumping a lot more money into gold and silver.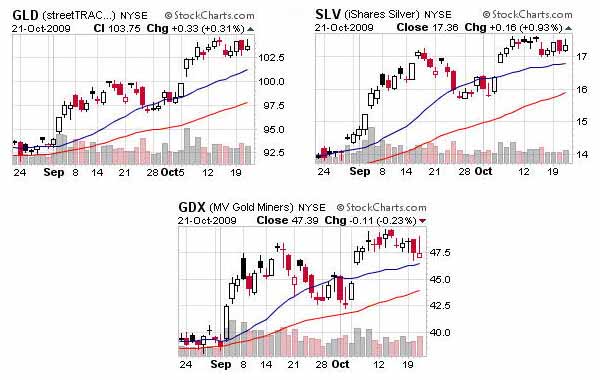 Energy - Oil USO Fund - Energy Stocks XLE Fund
We are seeing a similar pattern in the energy sector. Oil had a nice move higher today while energy stocks sold off. Stocks are starting to fall out of favor. That being said, I do think I have found an oil play which could rocket higher in the coming days a possible 10 bagger. I will be providing this information in my service Thursday or Friday this week.

Natural Gas - UNG Fund
Natural gas is still in a bear market and trading under a major resistance trend line. This commodity could go either way so I am going to wait for the odds to be more on my side before jumping on board with a long or a short trade.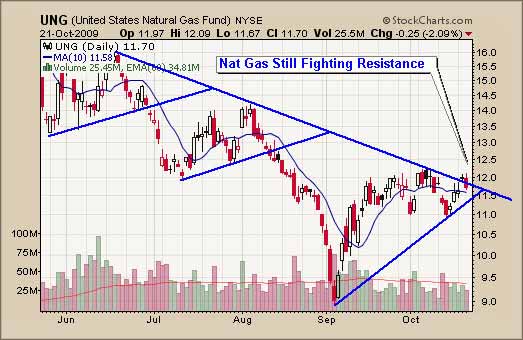 Mid-Week Gold, Silver, Oil and Nat Gas Conclusion
The market is starting to look and feel top heavy with many indicators and price action patterns giving cross signals. While the market could continue to rocket higher with new money getting dumped in from average investors because of solid 3rd quarter earnings, we must be cautious by tightening our stops and take some profits off the table. Until we get a short term oversold market condition I am trading very conservatively.
Waiting for a good trade is crucial in trading. If you always want to trade and force positions when the market is choppy you end up with lower probability trades.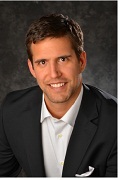 Chris Vermeulen, founder of AlgoTrades Systems., is an internationally recognized market technical analyst and trader. Involved in the markets since 1997. Chris' mission is to help his clients boost their investment performance while reducing market exposure and portfolio volatility. Chris is also the founder of TheGoldAndOilGuy.com, a financial education and investment newsletter service. Chris is responsible for market research and trade alerts for of its newsletter publication. Through years of research, trading and helping thousands of individual investors around the world. He designed an automated algorithmic trading system for the S&P500 index, which solves his client's biggest problem related to investing in the stock market: the ability to profit in both a rising and falling market. He is the author of the popular book "Technical Trading Mastery – 7 Steps To Win With Logic". He has also been featured on the cover of AmalgaTrader Magazine, Futures Magazine, Gold-Eagle, Safe Haven,The Street, Kitco, Financial Sense, Dick Davis Investment Digest and dozens of other financial websites. Chris is a graduate of Seneca College where he specialized in business operations management.
More from Silver Phoenix 500: