Is Silver A Better Bet Than Gold In The Near Future? (Part 1)

In the week beginning April 18th, 2016, silver was on fire, rising sharply and forcing 'Wall Street' to take note of its move.  And even though many investors believe that gold and silver are one and the same, one can hold either in your portfolio and earn the same returns? The truth is far from that!
In reality, both silver and gold are considered precious metals -- and over the long-term, they have a high degree of 'correlation' in their movements. However, both offer opportunities at different times.in the short-term for the active investor,
The chart below clearly that once the bull market starts in precious metals, silver beats gold hands down. From 2005 to the highs in 2011, gold achieved an impressive 350% returns.  Whereas for the same period, silver recorded an astounding 700% return.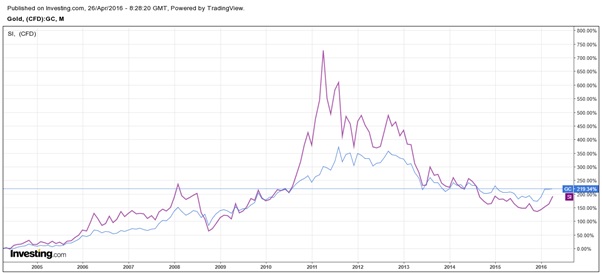 My subscribers are aware that we are extremely bullish on the precious metals over the next few years when the global economies enter 'The Great Financial Reset'. Gold will be in a sustained bull market for years to come and will reach levels…which now seem inconceivable.
History suggests that if gold witnesses a resounding bull market, silver will surely outperform it.
However, occasionally, investors will benefit if they trade in and out of both these markets. At times, holding silver is more profitable than gold and at other times, it is the other way around.
Consider this, if one would have bought gold during the start of this year, one would have made an impressive 16% returns in the first two months' as shown in the chart below. However, silver would have made only 12% return for the same two-month period.
Since then, I raised a 'red flag' regarding a short-term top developing in gold. Subsequently, gold prices have been range-bound with a downward bias.
On the other hand, silver has soared April 18th, 2016, netting an investor a 16% gain in this month, which beats most other asset classes, including gold.  Today, 'Commercial Traders', as determined by their large position, have not been this bearish on silver since 2008. This is when silver declined from $21 per ounce all the way down to $8…just before silver had a multi-year rally topping in 2011. It is imperative to note they set a new record short position last week!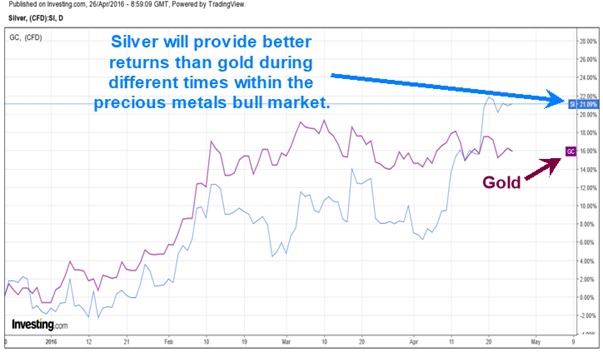 Concluding Thoughts
In a couple days, I will be posting Part 2 of this article here on this website to show you what exactly is likely to happen and when for both gold and silver. Trading and investing is not as simple as many think. Just because you or someone you follow is bullish on an investment does not mean it is a good buy. Timing is everything in the markets… and knowing when and where to buy and sell is the key to long-term success.
The important question you should be asking yourself is whether precious metals are headed lower? This I will share with you in a couple days, stay tuned.
********
Get my analysis and trade ideas delivered to your inbox by visiting www.TheGoldAndOilGuy.com
********
FREE Silver Phoenix 500 Newsletter!
Fresh insights on the Silver market and the economy
Leading authors from around the world
Always free
Stay informed!!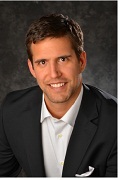 Chris Vermeulen, founder of AlgoTrades Systems., is an internationally recognized market technical analyst and trader. Involved in the markets since 1997. Chris' mission is to help his clients boost their investment performance while reducing market exposure and portfolio volatility. Chris is also the founder of TheGoldAndOilGuy.com, a financial education and investment newsletter service. Chris is responsible for market research and trade alerts for of its newsletter publication. Through years of research, trading and helping thousands of individual investors around the world. He designed an automated algorithmic trading system for the S&P500 index, which solves his client's biggest problem related to investing in the stock market: the ability to profit in both a rising and falling market. He is the author of the popular book "Technical Trading Mastery – 7 Steps To Win With Logic". He has also been featured on the cover of AmalgaTrader Magazine, Futures Magazine, Gold-Eagle, Safe Haven,The Street, Kitco, Financial Sense, Dick Davis Investment Digest and dozens of other financial websites. Chris is a graduate of Seneca College where he specialized in business operations management.
More from Silver Phoenix 500: