2020: Year Of The Silver Metal Rat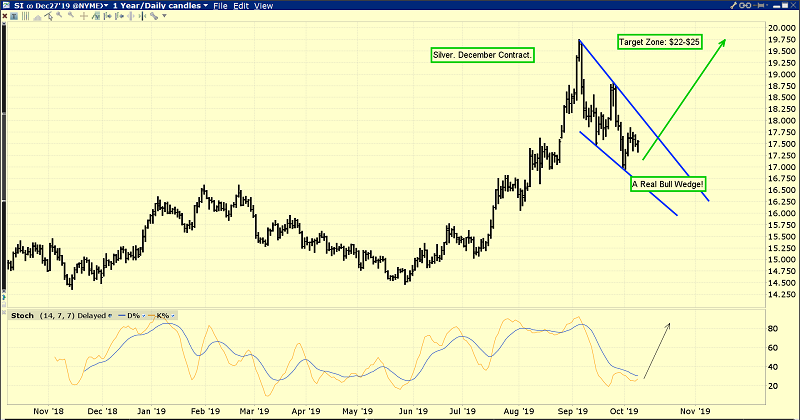 The world's most exciting daily chart.  The magnificent silver chart.
A significant bull wedge is in play, and the target zone is well above the $19.75 area highs!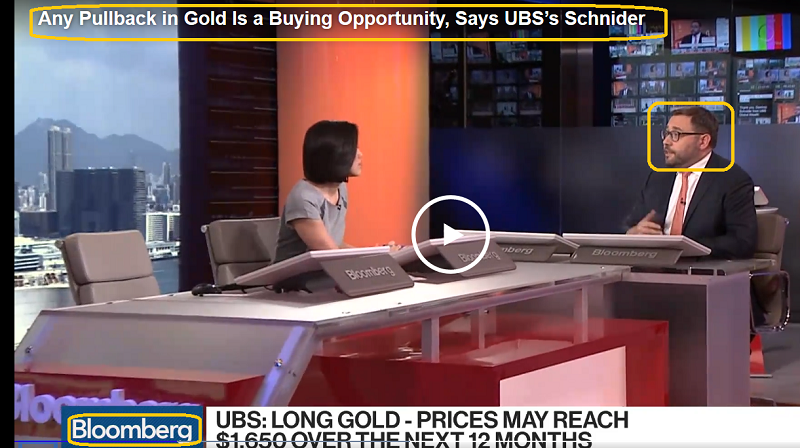 UBS heavyweight analyst Dom Schnider has a $1650 target for 2020, and $1550 for December of this year.
Gold clearly has substantial institutional interest now, and rightly so.
Interestingly, basis the latest COT report, the banks have covered a substantial amount of short positions.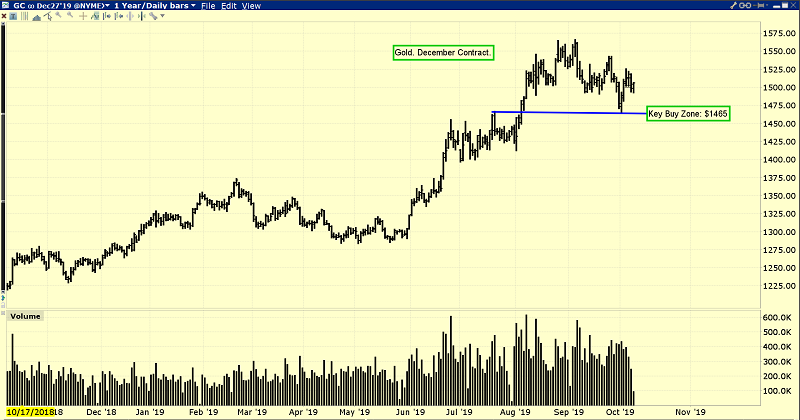 The daily gold chart. Gold has blasted higher after touching the $1465 key support zone, which I outlined as a "buy zone of champions".
It's important not to clutter the gold charts with too many trendlines and oscillators.  That's because gold is a simple but volatile asset.
Investors who want to get rich with gold should focus on basic support zones on the daily and weekly charts.
Now, most analysts are looking for a big surge higher or a very deep correction.
Amongst technicians, I'm probably alone in forecasting a mild consolidation here, and then a decent $100/ounce rally into the $1650 area.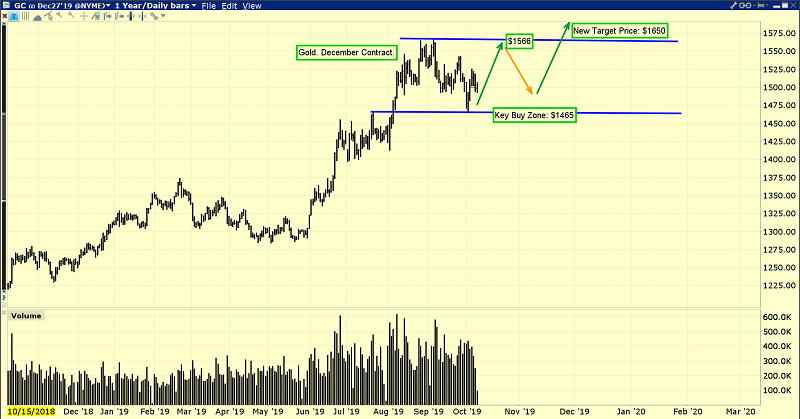 The scenario on the daily gold chart.
My technical scenario fits with the UBS fundamental view, and my fundamental analysis of the gold market is also similar.  The bottom line: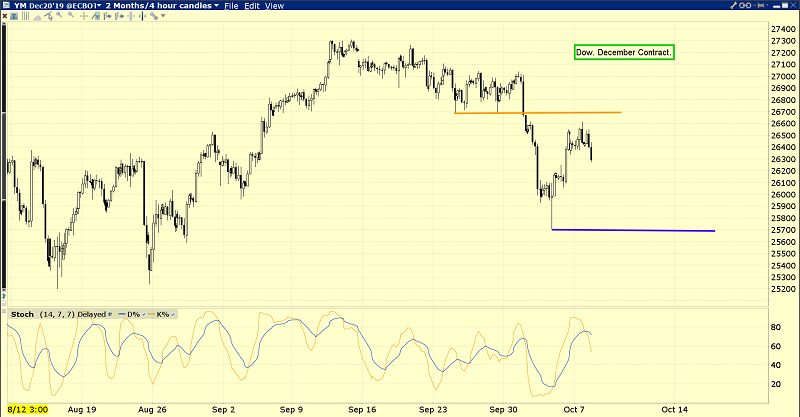 The short-term US stock market chart.
While the technical picture is weak and the month of October is dangerous in the late stage of the business cycle, it's probably too early to get excited about a recession or a US stock market crash.
The Chinese zodiac describes 2020 as the year of the "Metal Rat" and this is the year that I'm forecasting US stock markets will come under considerably more stress than they face now.
A US election lurks ahead, and I refer to the US democrat presidential candidates as "demorats", due to their socialist lean. Rats also have a history of eating paper and cotton (think fiat).
Gold is plodding higher as central banks cut rates mildly but steadily.  A return of QE is likely, but this time it will be modest and function more as a long-term crutch for governments that refuse to cut spending or debt.
While anything is possible, I don't think gold market investors who missed the $1167-$1566 rally are likely to get an opportunity to rebuy gold at prices much below $1465.
I'm also predicting that a rally to $1650 is now much more likely than a decline to $1350.  Having said that, investors who are looking for vastly higher prices in 2020 (like $2000+) could also be disappointed. 
I'm forecasting consistent but modest upside action that will again showcase gold, silver, and the miners as the best major assets to own.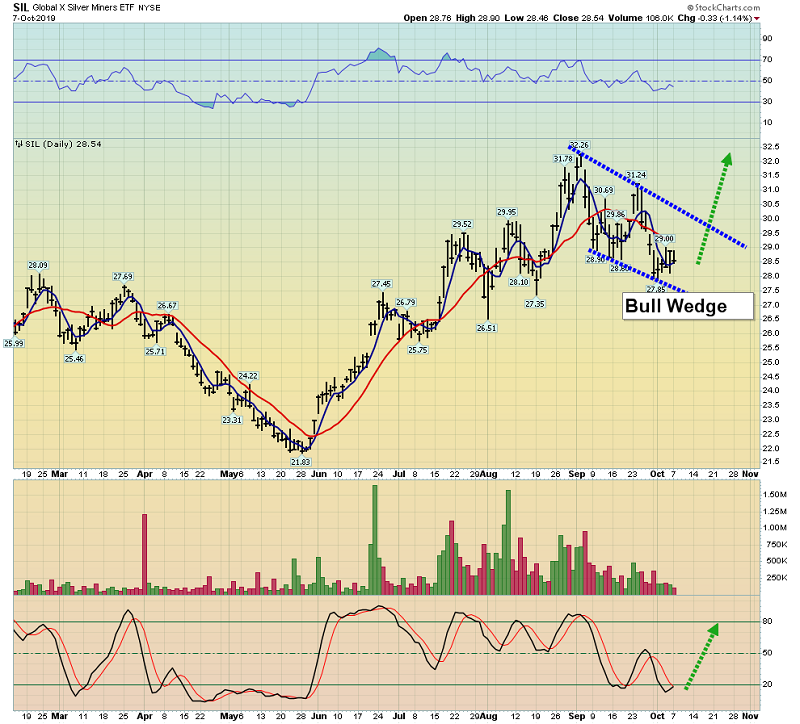 The silver stocks ETF chart.
As the US election nears, I expect Trump and his competitors to begin making promises to significantly ramp up spending and debt.
That's going to occur against the background of economic growth slowing to sub 2% and a Fed that engages in mild but ongoing rate cuts.
I don't expect a major rise in inflation in 2020, but I think institutional money managers will show enough concern about it to make silver and the miners of this awesome metal the world's top performing asset in 2020, the year of the metal rat!
Special Offer For Gold-Eagle Readers:  Please send me an Email to freereports4@gracelandupdates.com and I'll send you my free "Silver Metal Rats Devour Fiat!" report.  I highlight six of the best miners on the planet that are poised for massive upside action, with key buy and sell points of action for each stock!
Note: We are privacy oriented.  We accept cheques, credit card, and if needed, PayPal.
Written between 4am-7am.  5-6 issues per week.  Emailed at aprox 9am daily.
Email:
Rate Sheet (us funds):
Lifetime: $999
2yr:  $299     (over 500 issues)
1yr:  $199     (over 250 issues)
6 mths: $129 (over 125 issues)
To pay by credit card/paypal, please click this link:
https://gracelandupdates.com/subscribe-pp/
To pay by cheque, make cheque payable to "Stewart Thomson"
Mail to:
Stewart Thomson / 1276 Lakeview Drive / Oakville, Ontario L6H 2M8 Canada
Stewart Thomson is a retired Merrill Lynch broker. Stewart writes the Graceland Updates daily between 4am-7am. They are sent out around 8am-9am. The newsletter is attractively priced and the format is a unique numbered point form.  Giving clarity of each point and saving valuable reading time.
Risks, Disclaimers, Legal
Stewart Thomson is no longer an investment advisor. The information provided by Stewart and Graceland Updates is for general information purposes only. Before taking any action on any investment, it is imperative that you consult with multiple properly licensed, experienced and qualified investment advisors and get numerous opinions before taking any action. Your minimum risk on any investment in the world is: 100% loss of all your money. You may be taking or preparing to take leveraged positions in investments and not know it, exposing yourself to unlimited risks. This is highly concerning if you are an investor in any derivatives products. There is an approx $700 trillion OTC Derivatives Iceberg with a tiny portion written off officially. The bottom line:  
Are You Prepared?
********
More from Silver Phoenix 500