$300 Silver Target?
NEWS- The retail sales number didn't produce the reversal day in Gold and Silver like anticipated.



GOLD DAILY- We will have a confirmed bottom if gold can close over $1,238.70 in the next few days, without breaking below $1,216.50. I will keep a close eye on things as they develop.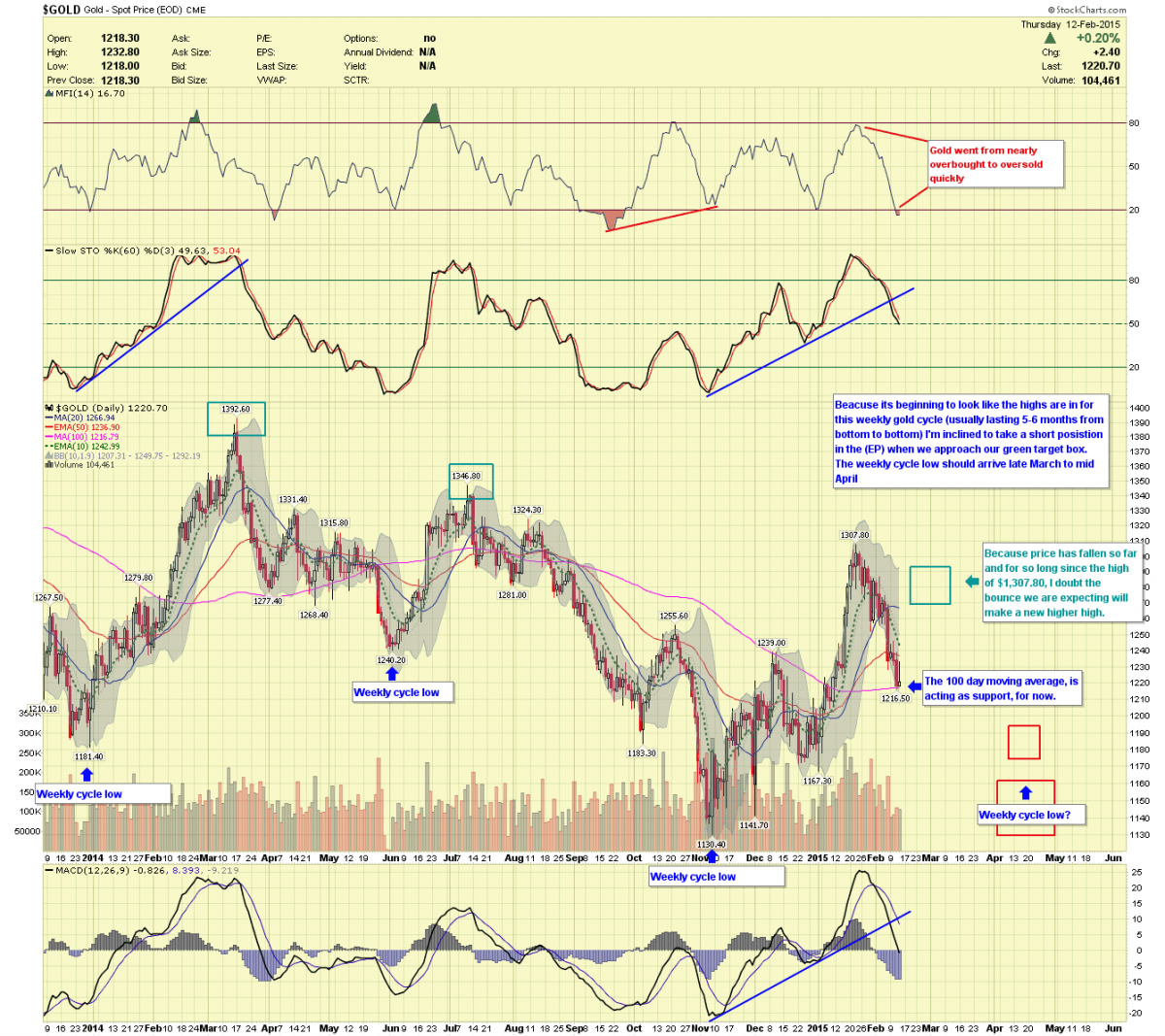 SILVER MONTHLY- This monthly chart goes back to 1970, I couldn't help but notice a cup with handle formation. The target of this massive formation is around $300/oz, the problem is there isn't a distinct way to determine the timing. I have a timing window of between 2023 and 2024 using other methods, can price climb that far and that fast?
The fuel that my feed such a fire is today's social media outlets, the last bull market in 1980 had people panicking and waiting in line at Gold and Silver coin shops. Customers offered money to better their place in line, just hoping the coin shop wouldn't run out before their turn.
When the news outlets arrived to cover the story, citizens didn't want to be filmed or interviewed because they had called in sick to work. It's my opinion that a similar panic today would spread exponentially via social media, potentially creating the energy and emotions needed to reach such a lofty price.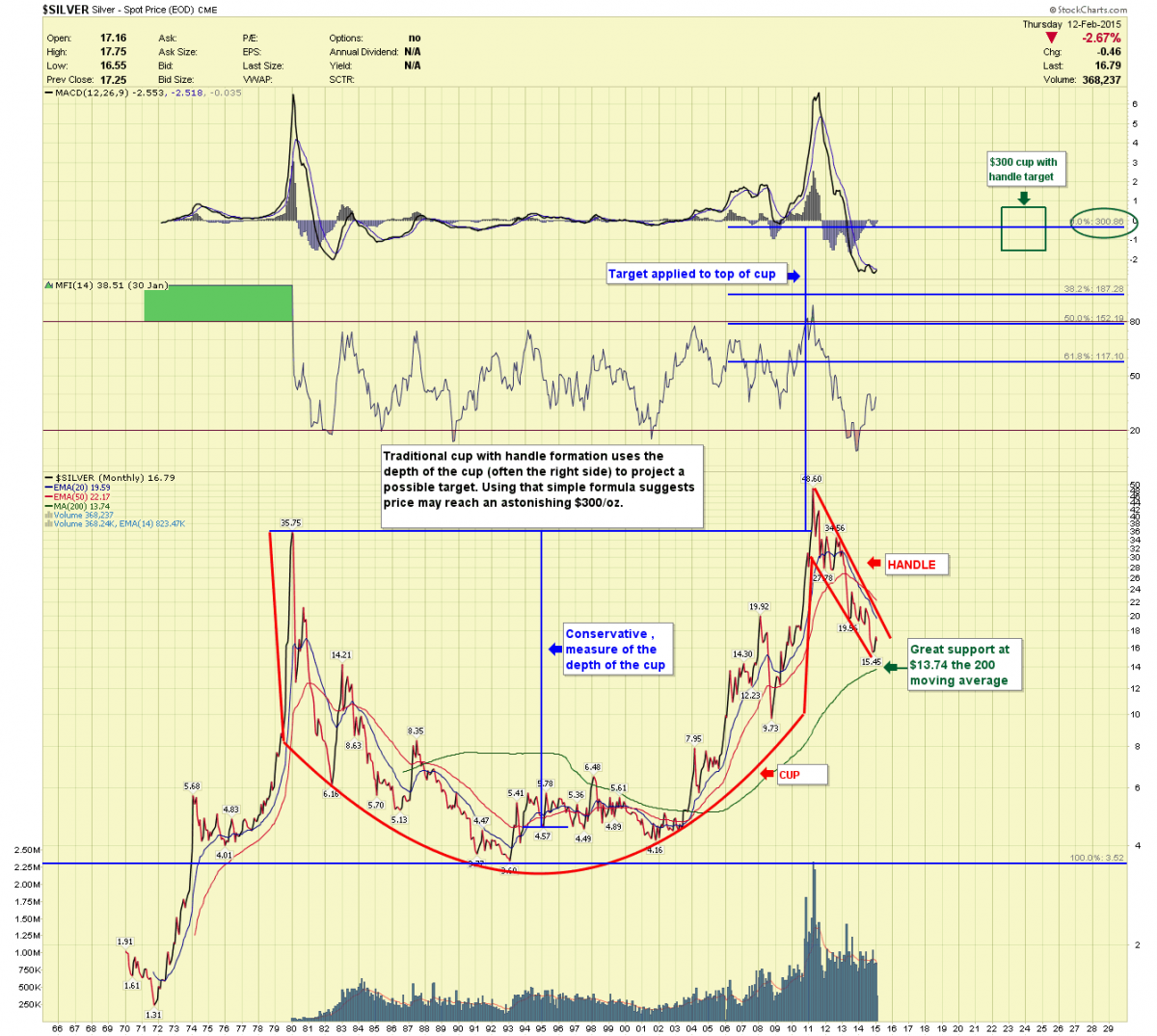 SILVER DAILY- For a confirmed low in silver, price needs to close above $17.45 without trading below $16.54. As with Gold, I will watch and update the PREMIUM subscribers to any moves the Example Portfolio (EP) is making.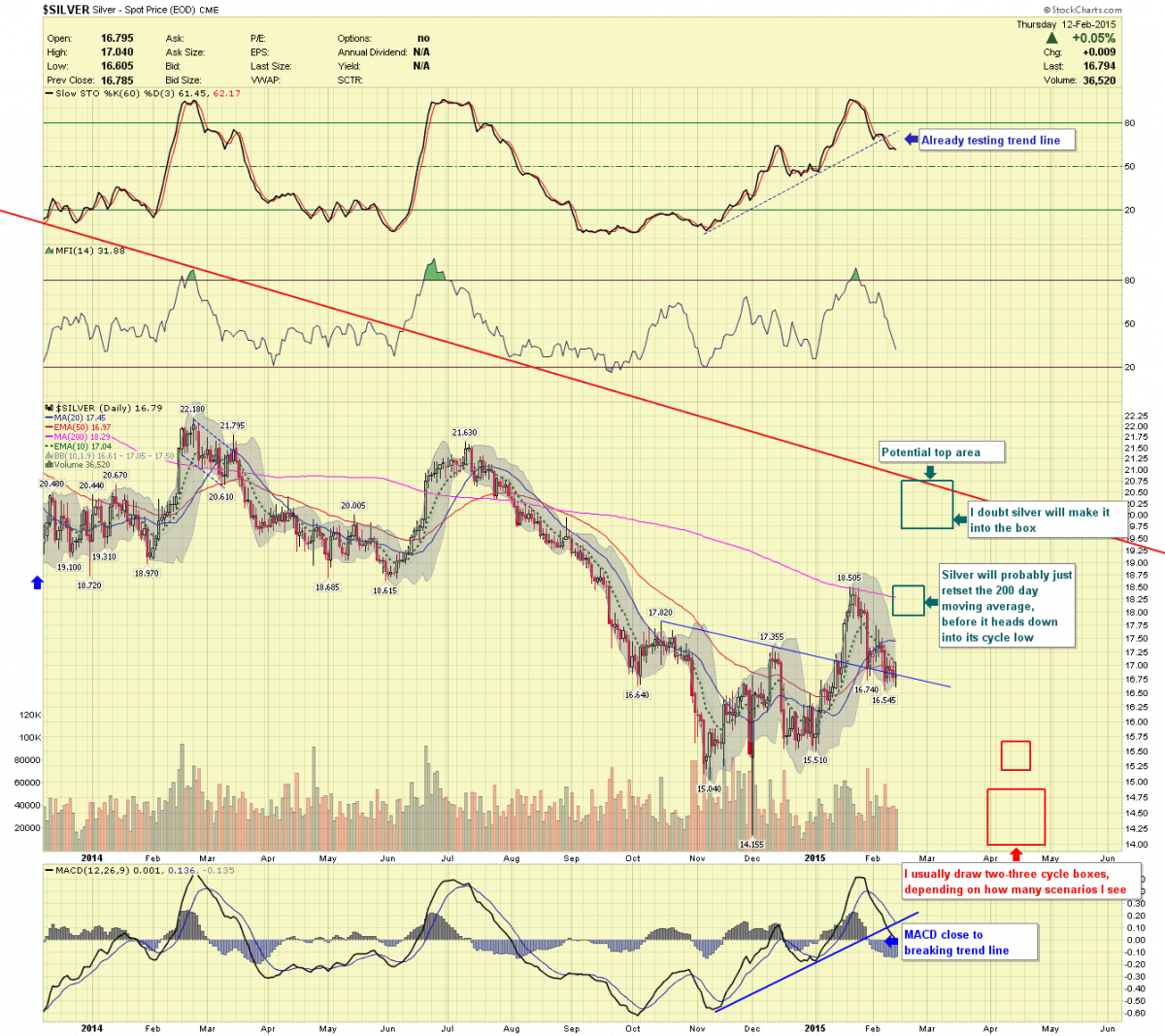 GDX DAILY- Price was up slightly today. Hopefully, we get some follow through. As with Gold, I was expecting a bigger pop-up today after the retail sales release. Let's see what tomorrow brings.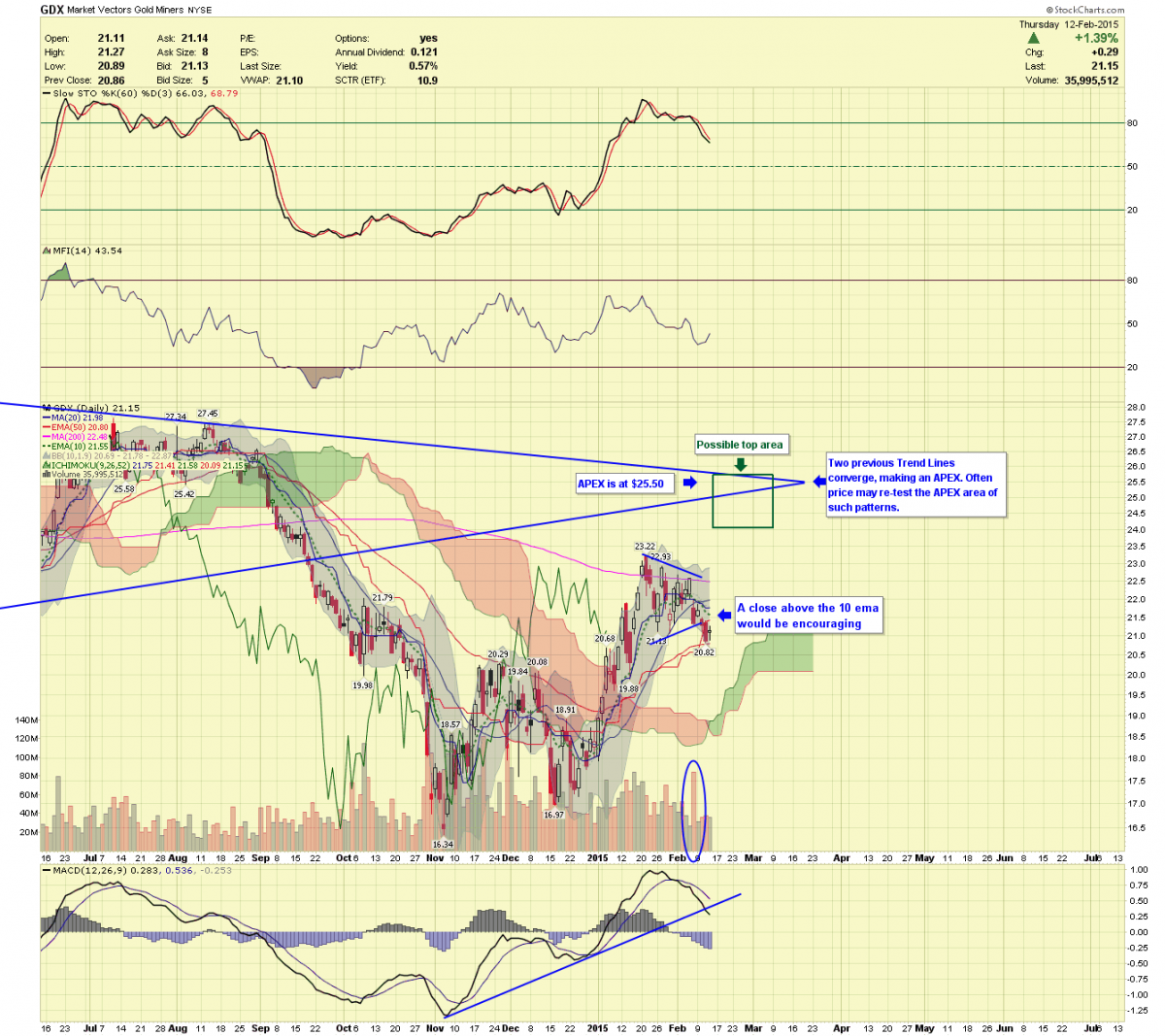 GDXJ DAILY- A close above the 10-day exponential moving average ($27.06), would go a long way in confirming a bottom. Price is behaving better than GDX as it hasn't taken out it previous low like GDX has.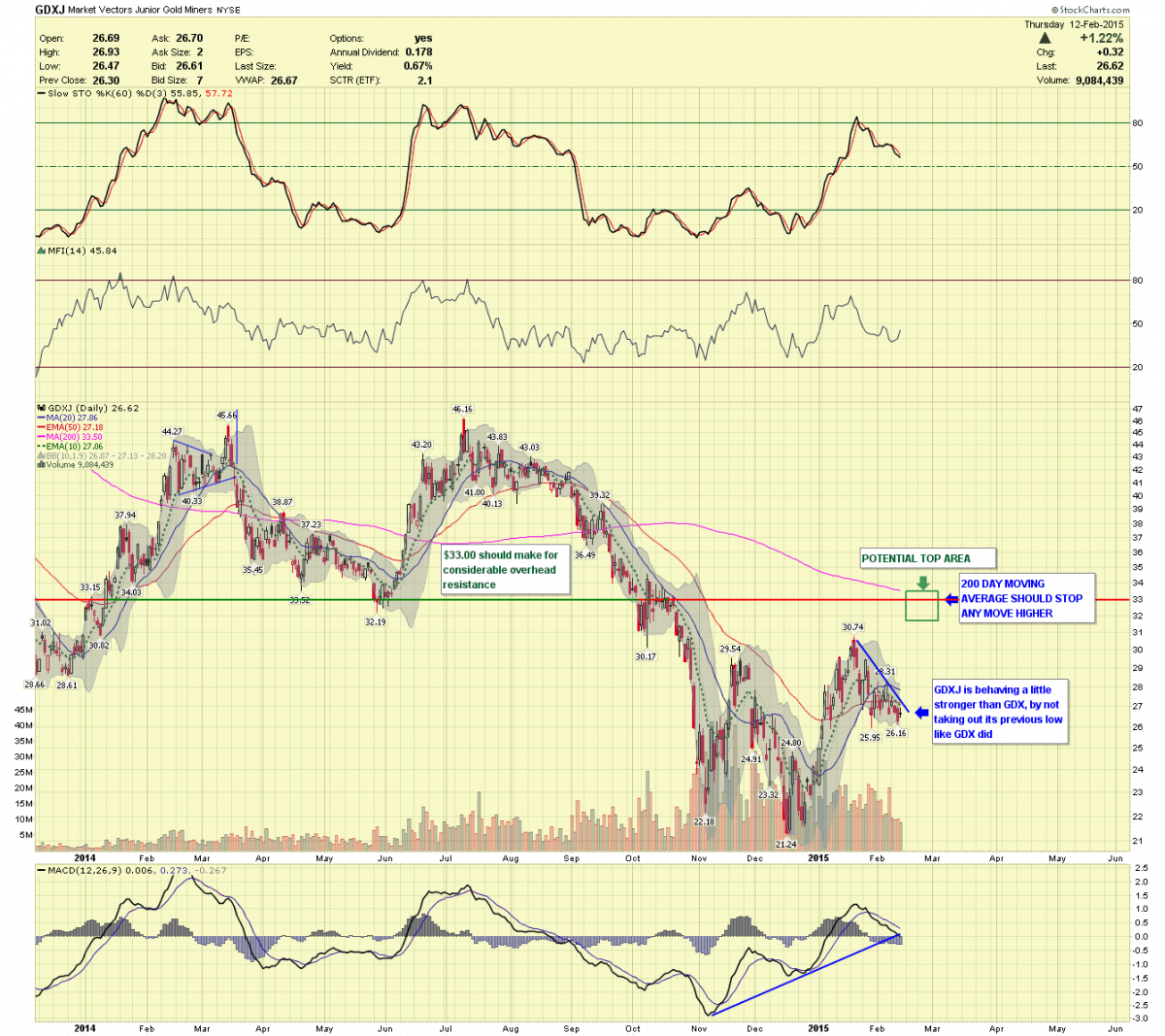 The (EP) is looking for trades, but nothing to mention at the moment.



********
DISCLAIMER
The EXAMPLE PORTFOLIO (EP) is a PaperMoney practice account courtesy of TD Ameritrade Think or Swim. It is used solely for informational and educational purposes. It is by no means intended to be construed as a solicitation or an offer to buy or sell any securities or any related financial instruments.
We recommend that visitors, and or subscribers consult with a licensed and qualified professional before making any investment decisions. Investing is risky, and the "EXAMPLE PORTFOLIO (EP)" does not give specific trading advice.
More from Silver Phoenix 500