Big Moves Coming In The Stock Market!
After reading today's market action, I realized that we were due a bigger move down this week than I originally had anticipated. I have been short the market somewhat from last week from near 2120 SPX, but not heavily so.  I sold my leveraged long positions I picked up around 2073/78 on April 17 at 2118 Thursday for a nice 8% profit (all verifiable). The reason I'm writing is to update what I'm seeing going forward, not to gloat over my recent market gains.
Today's move to 2125.92 did not shake me out. I remained steadfastly bearish going forward this morning.  It is the action of the market into the afternoon that had me realizing that we were going down a lot further than I had thought and now I'm thinking we go down to SPX 2056 by Wednesday, April 29, 2015. This date was mentioned on my weekend report.
I think the moves both up and down in the near future are going to get quite dramatic with the bulls having a slight edge. I believe it is going to be great for traders like me, but for the average buy and hold person not so much.
I drew up an hourly chart of the S&P 500 with all the Elliott Wave denotation as well as an explanation of the market cycles.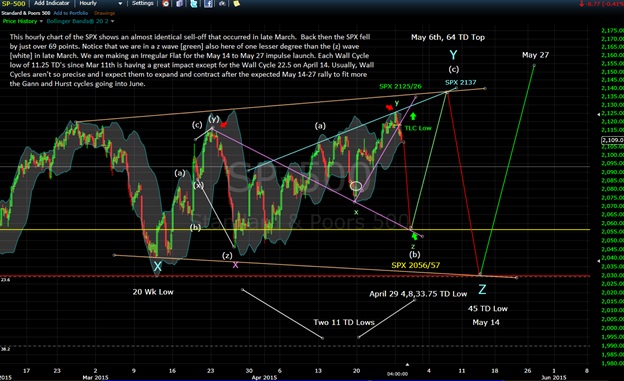 I keep saying: it is no longer a buy and hold market but….
********
Courtesy of www.blustarcharts.weebly.com  This web site is also updated periodically as events unfold.
 Copyright 2015 BluStar Market Timer. All Rights Reserved.
Disclaimer: The information provided by the BluStar Market Timer is to be used for educational purposes only.  We do not recommend the buying or selling of any securities, are not registered investment advisers and do not offer investment advice. Stock market investing is considered risky.  Market timers can and do make mistakes. Past performance is never a guarantee of future performance.
More from Silver Phoenix 500