From Boom To Bust In The Blink Of An Eye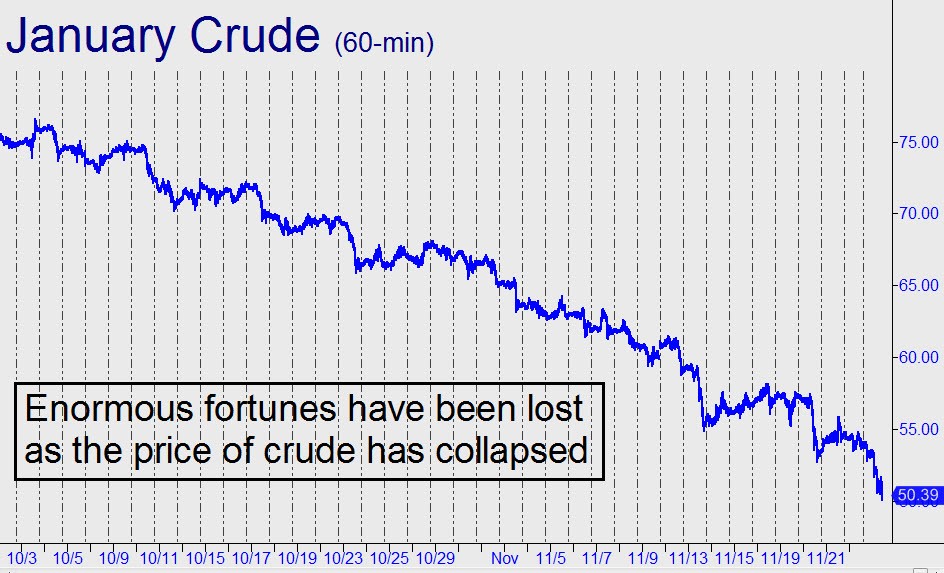 Friday's holiday-shortened session provided ample time for bulls to get their butts kicked. It's unusual to see stocks get whacked the day after Thanksgiving, but perhaps such occurrences will become the norm as this bear market unfolds. If it proves to be as extraordinary as the bull market that preceded it, we shouldn't be surprised to see bad days that are uglier than even old-timers can remember. Friday was not so bad, actually, considering that crude oil fell by nearly $5 a barrel.  The Dow was down a measly 178 points in sympathy, suggesting that those who bought the dip, providing modest support, were too stupid to panic.
A Fortune Has Vanished
Enormous fortunes have already been lost as the price of crude has collapsed from $76 to $50 in less than two months. The energy sector was where the big money went in search of leverage after the real estate collapse of 2007-08. Now that bet is imploding, generating a whiff not only of a global economic downturn that has been gathering strength and which will soon engulf the U.S., but also of a catastrophic debt deflation that has grown increasingly likely since the late 1970s.
The Fed will tighten one last time in December, just to be seen as walking the walk. The central bank's final turn of the screw will be perceived eventually as the straw that broke the camel's back, but at least the markets will not have tightening to worry about as they continue to fall. To give Trump his due, he has adroitly set up the Fed as the fall guy for the coming recession — not that there is ever anyone else to blame for America's insane boom-and-bust cycles. Historians will debate whether the Fed was too tight, but a much more important question — i.e., Why do we even need a Fed to continuously inflate our currency? — will go unasked. Where is Ron Paul when you need him?
*********
If you don't subscribe but want a peak behind the headlines, click here for a free two-week trial to Rick's Picks. It will give you instant access to all features and services, including a 24/7 chat room where great traders from around the world share ideas that can help you profit.
More from Silver Phoenix 500