CRYPTO-CRASH…Lambs To The Slaughter
Since the warning about Cryptos was posted on the site over a week ago, entitled The Cryptocrash and Gold, Cryptos have plunged about 30% and more still if you factor in overnight losses, not helped of course by the expected development of China banning them. So now what? – is this the start of the bursting of this monstrous bubble?
It could be – looking at the 6-month chart for the Bitcoin Investment Trust, which serves as a Bitcoin proxy, we can see that the volume pattern around this latest peak definitely looks negative compared to that around the last peak back in June, with modest volume on the rally and heavy volume on the decline this month. However, moving averages are in bullish alignment and the price has dropped back close to a zone of significant support, where it is short-term oversold, so we will probably see a bounce soon, which could be sizable and result in significant percentage gains from here, as it is unlikely that the bulls have been completely vanquished yet. Fundamentally, China's move to ban them may be followed by restrictive regulations in Western countries as governments try to gain control of them, which is another reason why these heavy losses may mark the beginning of the end for this Ponzi scheme.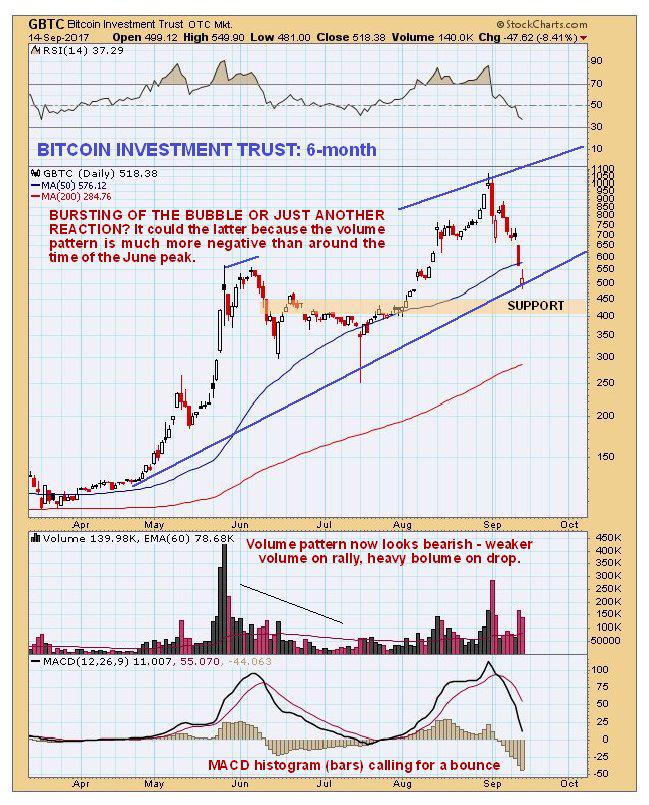 If Cryptos do decide that they are going to crash, they won't respect support levels or normal oversold limits, they will plunge right through them. This is very possible soon given the frenzied interest in them in the recent past.
If any of you do decide you want to play Cryptos for a rebound as a trade here, make sure you employ close stops. Otherwise they should be avoided. The bursting of the Crypto bubble should be good for the Precious Metals sector because some of the money that would otherwise have been destined for it, has instead been sluiced off into Cryptos.
********  
More from Silver Phoenix 500