Financial Terrorism In The UK – Collusion Between Government, Regulators And Two Bailed-Out UK Banks
Scottish businessman, Neil Mitchell has waged a long battle for justice for UK victims of RBS, the UK taxpayer owned bank that was found to have forced viable businesses into bankruptcy.
Mitchell suspects the bank may have also practiced such tactics in America and he tells the Keiser Report about this and how he is taking his case across the Atlantic.
The British government did not want reports to be seen as it showed the scale of collusion between UK banks and the government.
UK parliamentary hearings have been held into some of the most 'inappropriate' behavior by the Royal Bank of Scotland toward the small and medium-sized enterprises that they — allegedly — helped put out of business.
Internal memos recently published prove that RBS managers encouraged their bank executives to sell clients services they 'normally cannot afford.' Many were pushed into bankruptcy but not before the same memo shows managers suggested clients 'go hang themselves.'
Neil Mitchell's business was one of these clients. He, along with many others, are taking group litigation to pursue the bank for their losses, which he puts at over £120 billion. Next up is US justice. Watch the video above to hear what Mitchell plans.
*********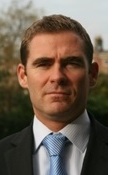 Mark O'Byrne is executive and research director of www.GoldCore.com which he founded in 2003. GoldCore have become one of the leading gold brokers in the world and have over 4,000 clients in over 40 countries and with over $200 million in assets under management and storage.We offer mass affluent, HNW, UHNW and institutional investors including family offices, gold, silver, platinum and palladium bullion in London, Zurich, Singapore, Hong Kong, Dubai and Perth.
More from Silver Phoenix 500: