Gold, Silver, Oil & Nat Gas Technical Trading Setups
Commodities are trying to hold their ground and could go either way quickly. There is a lot of chatter going on about gold and silver. I am hearing extreme theories from everyone I talk with. Generally when I see the market get jumpy we tend to see volatility increase which translates into sharp rallies or sell offs.
My finger is on the trigger for Gold
Below are two charts of gold (GLD fund). The first one is what I would like to see before we have a low risk setup. This chart will not only lower the overall risk but increase the odds that the rally will provide more profit. Buying after a pullback actually helps to lower the down side risk because many sellers have been flushed out.
The chart below shows what could very likely happen tomorrow. If prices move higher and the intraday price action generates a low risk entry point I will be sending out an alert. This type of setup has a lower win rate but many times the rallies from these are quick and powerful. Locking in a profit is crucial when trading steeper trend line rallies.
My finger is on the trigger for Silver
Silver has already started to move to the upside but the intraday price action did not generate a low risk buy signal. It was very close on Friday but not enough. This chart below shows what I would like to see happen to silver.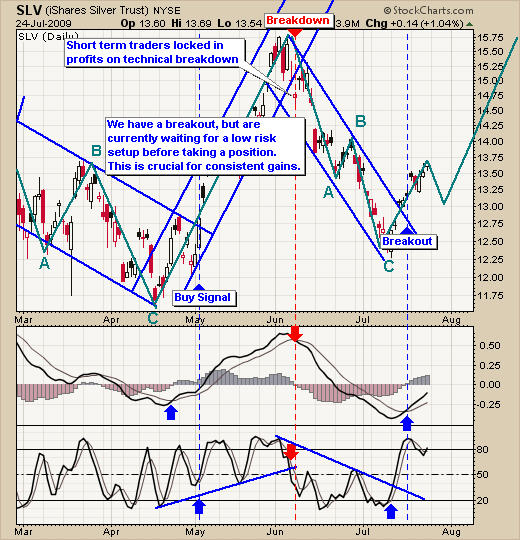 The Silver chart below is currently trying to start a new rally higher and just may happen on Monday. I will be sending out an alert if we get the proper price action tomorrow.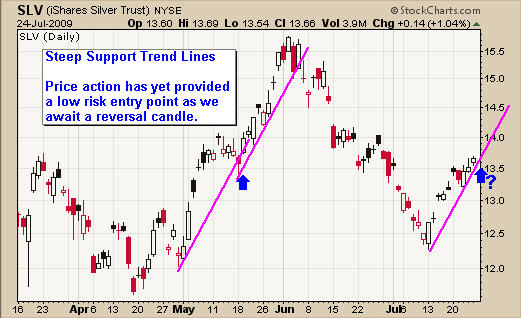 Crude Oil
Crude oil has had a solid rally higher and is now trading at both Trend line resistance and price level resistance. Currently we are not near a setup.
Natural Gas
Natural gas had my attention several weeks ago but is now an underdog. We need more time for this commodity to bottom before we can get anything good from it.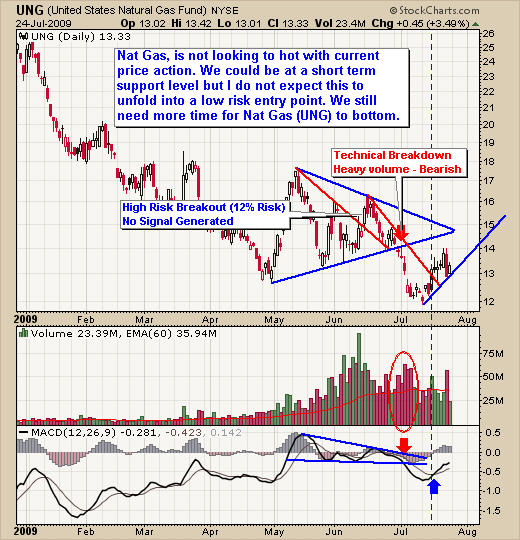 Technical Trading Conclusion
Overall commodities have made up some lost ground in the past couple weeks, but are now trading at short term resistance levels. What does that mean? Well the odds are in favor that we will see some profit taking pulling prices down a little and allowing for a low risk setup before taking another run higher.
Gold and Silver could be exciting tomorrow depending on the intraday price action. I will keep members posted as the day unfolds.
If you would like to receive my Free Trading Reports or my Trading Signals Newsletter please visit my website at: www.GoldAndOilGuy.com
More from Silver Phoenix 500