Gold, Silver, Oil, SP500 & the Dollar Long-Term Trends
Trading with multiple time frames - Every now and then it's always a good idea to look at some different time frames to be sure you have a solid understanding for the longer term trends in play. I will admit that it's easy to get caught up in trading the shorter time frames like the 1,10, and 60 minute charts especially when there are large intraday movements. But every night you must reset your thinking by looking at the bigger picture.
Below are weekly and daily charts which I think provide a big picture view of things.
SPY - SP500 Index Fund - Weekly Chart
You will see that in both 2009 and 2010 we saw a 5-8% correction down to the key moving averages. I feel that we are in store for a similar pullback in 2011. After that we will most likely continue higher.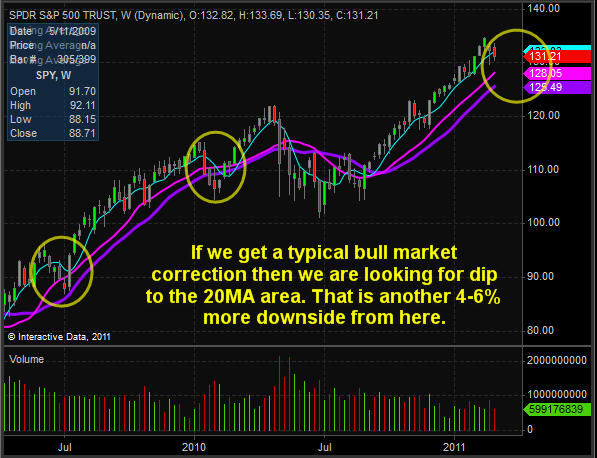 US Dollar Index - Weekly Chart
The dollar is trading down at a key support level which I am keeping a close eye on. If we get a close below this trend line then we should see the dollar sell off sharply which in turn will trigger another leg higher in commodities across the board.
Crude Oil - Weekly Chart
Crude oil has really taken off because of the fears coming out of the Middle East. From the looks of it the next key pivot level is the $110 level.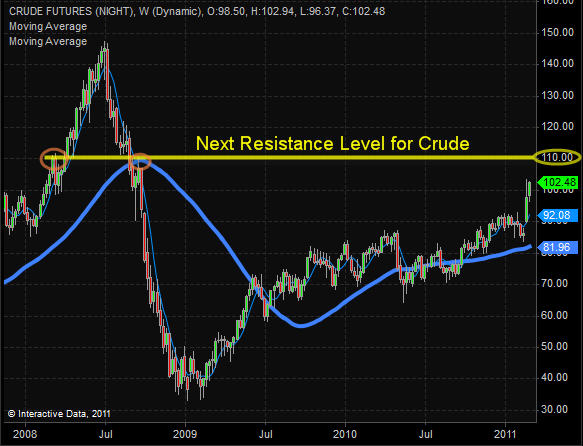 Gold - Daily Chart
Both gold and silver have made new highs but after such a run I expect we see a quick pullback before they go higher. Gold and silver are the two investments I think everyone should hold a core position for the long run no matter what happens to the price. But, if we do get a nice quick pullback into the key moving averages then I think it's a great spot get involved with more money.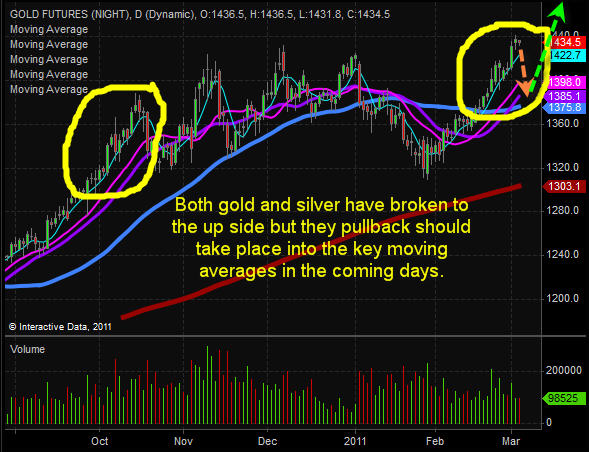 Mid-Week Trend Report
In short, I am bullish on stocks and commodities and bearish on the dollar and bonds. The one issue I see going forward is that if the dollar breaks down it will most likely help boost oil prices which in turn puts downward pressure on stocks… So depending on how things unfold in the Middle East and a falling dollar, we may not see higher stock prices. Some individuals are forecasting $150-220 per barrel and I know if it gets back up there it will definitely slow the economy and stock prices down…
That's it for now, but if you would like to these reports sent to your inbox be sure to join my free newsletter: www.thegoldandoilguy.com/trade-money-emotions.php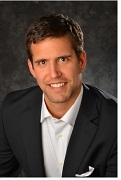 Chris Vermeulen has been involved in the markets since 1997 and is the founder of Technical Traders Ltd. He is an internationally recognized technical analyst, trader, and is the author of the book: 7 Steps to Win With Logic
Through years of research, trading and helping individual traders around the world. He learned that many traders have great trading ideas, but they lack one thing, they struggle to execute trades in a systematic way for consistent results. Chris helps educate traders with a three-hour video course that can change your trading results for the better.
His mission is to help his clients boost their trading performance while reducing market exposure and portfolio volatility.
He is a regular speaker on HoweStreet.com, and the FinancialSurvivorNetwork radio shows. Chris was also featured on the cover of AmalgaTrader Magazine, and contributes articles to several financial hubs like MoneyShow.com.
More from Silver Phoenix 500: