Hyperinflation In Art Investment Market As Picasso Sells For $179 Million
- Picasso's "Les Femme d'Alger" sells for a record $179 million

- Most expensive painting ever sold at auction

- Hyperinflation in art market as painting appreciated nearly $150 million in 20 years …

- Reports in February of the private sale of Gauguin's "When Will You Marry" for $300 million

- Art price volumes doubled since 2009

- As currencies debase super rich seek out stores of value

- Gold remains accessible store of value for middle classes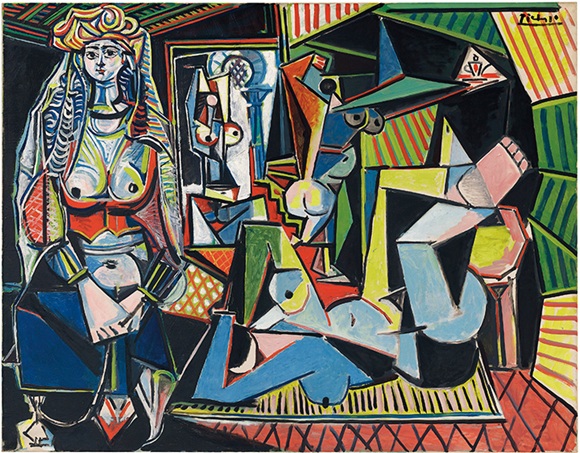 Pablo Picasso's "Les Femme d' Alger"
Pablo Picasso's "Les Femme d' Alger" sold at Christie's in New York last night for $179 million – the highest price ever paid at auction for a painting.
It smashed the record previously held by Francis Bacon's "Three Studies of Lucian Freud" which sold for $142 million in 2013.
The painting appreciated nearly $150 million in less than 20 years. Hyperinflation appears to be taking hold in the art investment market.
Painted in 1955, Les Femmes d' Alger is based on Delacroix's 1843 painting "Femmes d'Alger dans leur Appartement" a sensuous depiction of how the European imagined a harem scene with luxuriantly dressed woman smoking hashish from a hookah. Picasso's depiction is more overtly erotic exploring the strange psychology of sexual fascination with the female form.
The record breaking price for the piece reflects the ever expanding bubble in high end art. In February, Bloomberg reported that Gauguin's "When Will You Marry" was rumoured to have been sold to the Qatar Museum Authority for almost $300 million – one of the highest prices ever paid for a painting.
Keanu Reeves and "When Will You Marry" Painting
Indeed, the sale of high end art has more than doubled in price volume since 2009. Back then art sales totaled $6.3 billion. In the intervening period, with QE cash sloshing around the markets, further enriching the world's super wealthy, prices for luxury art have surged and last year the total market was priced at $16.3 billion.
This surge in price has been mirrored by the rise in prices for luxury property in London and other major cities as the super-rich seek stores of value for their cash.
The trend of rising prices in luxury art is succinctly described by the Washington Post:
"The steady inflation of the art market can be summed up with a quick glance at the list of most expensive auctioned works. At number five is a Picasso sold for $106.5 million in 2010. Number four is Edvard Munch's iconic "The Scream" sold for $120 million in 2012. A year later, Francis Bacon's "Three Studies of Lucian Freud" reached $142.4 million. And then there were the two heavy hitters from Monday's auction: Picasso's "Women of Algiers (Version O)" for $179.4 million and Alberto Giacometti's "Man Pointing" for $141.3 million, which is the most expensive sculpture ever sold at auction."
There is risk for art "investors" to continue to shell out enormous sums of cash in a market that appears increasingly frothy.
However, as with luxury property, we suspect that these well informed individuals are seeking out art as a store of value because ultimately, even at highly inflated prices, it may turn out to be less risky than holding cash in a bank that can be devalued and is may be subject to deposit bail-ins.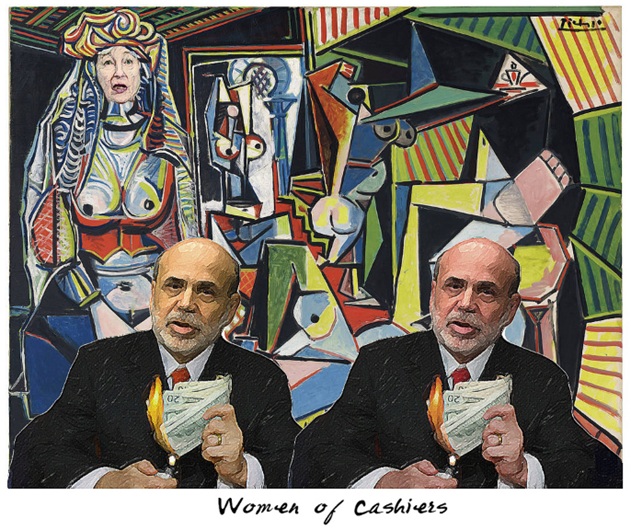 William Banzai "Women of Cashiers"
The art market looks very toppy. It is subject to sentiment like all markets today and this could lead to sharp price falls should jitters begin to creep in regarding very high valuations. As a diversification, art has some merit as it is not correlated with financial assets, but only as a small part of an overall portfolio.
For those of us who cannot afford a Picasso – as the great heritage of western ideas and art continue to be shuttered away into private Xanadus – gold remains an accessible and ideal store of value.
Indeed history shows that it is one of the, if not the, ultimate store of value.
MARKET UPDATE
Today's AM LBMA Gold Price was USD 1,184.45, EUR 1,051.07 and GBP 755.49 per ounce.

Yesterday's AM LBMA Gold Price was USD 1,184.75, EUR 1,062.20 and GBP 768.37 per ounce.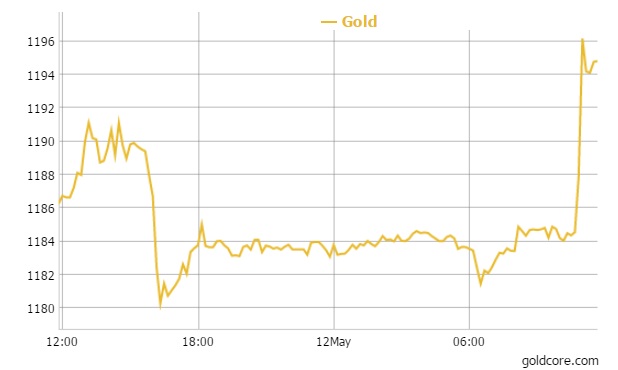 Gold in USD – 1 Day
Gold fell $5.10 or 0.43 percent yesterday to $1,183.40 an ounce, and silver slipped $0.20 or 1.21 percent to $16.28 an ounce. Gold in Singapore was at $1,182.83 an ounce near the end of day trading in Asia prior to flat lining in Europe before a sharp spike in gold soon after the LBMA gold price was fixed.
Significant volatility and sharp price moves in the global bond markets herald coming volatility. This may be making investors nervous. The bond market volatility seen in recent days may at last be benefitting gold.
Government bonds sold off again today leading to sharp falls in stock markets. Japanese government bonds fell sharply overnight after the weakest auction since the Lehman collapse saw yields rise sharply from nearly zero percent levels.
Gold fell with equities yesterday and the small dip may have been the result of less safe haven bids as Greece made a $837 million payment to the IMF a day early.
Some form of Grexit remains on the cards as Greek Finance Minister Yanis Varoufakis said the liquidity situation was "terribly urgent" and a deal to release further funds was needed in the next couple of weeks.
The SPDR Gold Trust, the world's largest gold-backed ETF saw its largest decline this year on Friday, a signal of bearish sentiment.
June 16-17 is the U.S. Federal Reserve's next policy meeting. San Francisco Federal Reserve President John Williams made comments that the Fed is unlikely to provide any warning ahead of an increase to interest rates, claiming that the Fed needs to "get out of this business of telegraphing decisions in advance."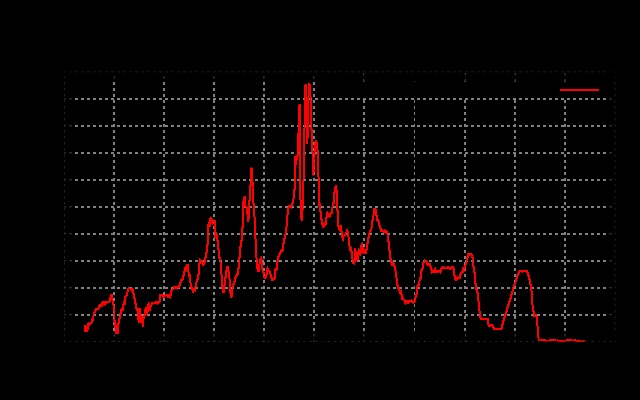 Although the problem with Fed communications is not the timing but rather the frequently contradictory nature of such communications and the fact that they frequently fail to do what they say they will do – having promised to increase interest rates since 2009.
In European late morning trading precious metals are higher in dollar terms. Gold is up 1 percent at $1,195.69 an ounce. Silver is up 1.03 percent at $16.46 and platinum is up 0.93 percent at $1,136.90.
******** 
Courtesy of http://www.goldcore.com/us
More from Silver Phoenix 500